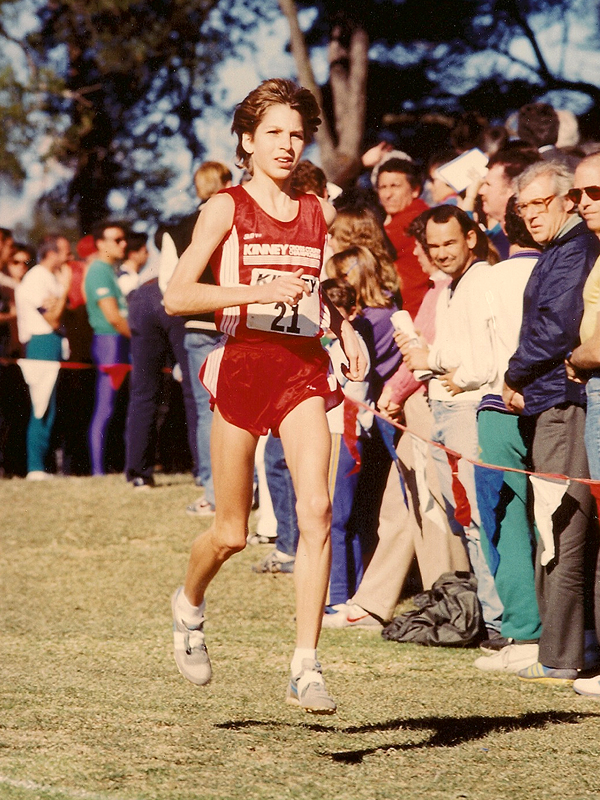 If anyone knew what the Footlocker Cross Country Championships were all about, it was Sean McGorty.
In 2011, as a Chantilly High School junior, he earned a trip to San Diego with a sixth place finish in the south regional meet. He had heard all about the race from Ahmed Bile, an Annandale Atom making his second trip. Two of his high school mentors who ran for Chantilly, Brad Siragusa and Eric Post, were Footlocker veterans with plenty of advice. As proud as they all were, nobody was quite as thrilled that he'd be staying at the Hotel del Coranado as his mother. And it wasn't just because she was proud of her son.
Vicki Verinder McGorty stayed there herself in 1983, when, as a senior at Langely High School, she raced Balboa Park's course for the Kinney National Championships, before it was run by Footlocker.
"I was outkicked my junior year and didn't go," she said. "Watching Sean kick it in his junior year, I was so nervous he wouldn't make it. It's such a cool experience and I'm so glad he got to go twice."
They were the first parent-child tandem to have qualified for the high school national championship meet, which underscores the tradition the Northern Virginia has built at the national level. On top of 84 qualifications, the region has a two-time girls champion in Langley's Erin Keogh and runner-ups in West Springfield's Sharif Karie, South Lakes' Alan Webb and, in 2012, McGorty. It's part recognition and part networking for runners and an easy way for college coaches to see recruits face off.
This year five Northern Virginia runners, including West Springfield senior Caroline Alcorta, Lake Braddock seniors Hannah Christen and Katy Kunc, Thomas Edison senior Louis Colson and George C. Marshall senior Mackenzie Haight qualified for the national meet. Another area senior, Tai Dinger, of DC's St. Albans School, qualified out of the northeast region.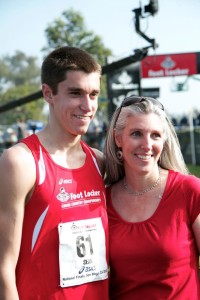 "Making this meet gets you excited for the future," said McGorty, who is now a freshman at Stanford University, along with fellow Footlocker qualifier Sophie Chase of Lake Braddock. "You look at who else from around here has made it and they're great runners who have done well in college and after. It's exciting to have a chance to follow in their footsteps or even exceed what they did."
In the 35 years since the race started, the field has expanded to 40 runners in each race, from 32 and 28, with qualifiers coming from four regions. Maryland and Washington, D.C. both compete in the northeast region, and Maryland has had winner in Sherwood's Solomon Haile in 2008 and a 1994 runner up in Walter Johnson's Sally Glynn.
Max Mayo, the south regional meet director, said Virginia's strong showing at the race, including a win by Richmond resident Charles Alexander in 1981, comes from the participation base that coaches built early in the meet's lifespan.
"Ron Helmer (former coach at Virginia High School in Bristol and Woodbridge High, along with Georgetown and now Indiana universities) brought his entire team here for a few years," Mayo said. "They'd have 25 of the 150 finishers and send a few kids to the finals."
Those kids would come back with stories that excited their peers.
McGorty's focused his first trip on making "the book," the yearly review of the race that includes the top 10 finishers. He met that goal with a 10th place finish and came back with higher aspirations after an undefeated fall season.
"Throughout my senior year, I wanted to finish in the top five," he said. "I got there and wanted to race for the win. It was the kind of race you remember for the rest of your life."
He came up a bit short in the last stretch, but he was in the best position to win of any athlete from the Washington area since Karie lost by two seconds in 1996. Even Webb, now the American record holder in the mile, was out it a mile into the 2000 championship, when his showdown with Dathan Ritzenhein and Ryan Hall received so much fanfare.
Erin Keogh Breitenbach won back-to-back titles in 1985 and 1986, in what was a golden age of running for Northern Virginia high school girls cross country. She was followed at the national meet by Annandale's Aimee Harms in fourth in 1985 and Lake Braddock's Wendy Neely in third the next year, and both years saw five girls from the area qualify. She won both titles by 24 and 23 seconds, respectively.
"I think we ran so fast because we came in at the tail end of when girls starting having so many opportunities to compete, before parents and coaches started holding their runners back," she said. "All we did was run consistently. It's surprised me these records are still there."
She lives in Austin, where she directs the health education department at A.T. Still University. She still races, including a 4:55 mile a few years ago. She arrived in Texas almost 30 years ago to run for the Longhorns along with Gabrielle Pohlmann of West Potomac who also qualified for Footlocker.
"They started the masters earlier than everyone else, because we're old and need to run before it gets too hot," she joked. "Afterward, I couldn't believe I'm still doing this, but it's part of who I am."
The Northern Region Cross Country/Track and Field Association keeps records of the fastest times at Burke Lake's 2.98 mile cross country course, and the lists of the 30+ best times are littered with national qualifiers. Breitenbach and Webb still lead the lists.
Laura Heiner Turner, who now lives in Washington state, qualified each of the four years she was at Centreville High School. Following a few team titles at Brigham Young University, she pursued a professional running career before starting a family. She knew about the race because her sister, Jessica, qualified when she was in eighth grade, and it was a goal ever since.
"I was so thrilled to make it there my first year, but I was a little intimidated," she said. "Once I got to San Diego, everyone was so nice, the older girls were really supportive and I knew that was something I wanted to keep going if I made it back."
Erin Swain Taylor won the south region meet in 1999 after "completely bombing" the year before and found the experience to be comparable, for a high schooler, to going to the Olympics. She ran at Lake Braddock and now lives in Arlington.
"When I was a senior, Dyestat was getting big and I would spend a lot of time on the Internet, reading about who was racing and what they had run" she said. "It was cool to get to meet them to talk about training and just spend time with people who were so focused on running fast."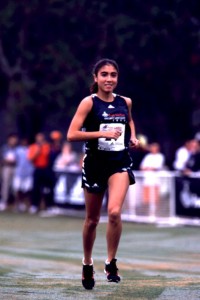 Centreville's Eric Post qualified in 1995 and 1996 and admitted the whole experience could be overwhelming, but it introduced runners to a new kind of intensity.
"It was 'the' race, everyone did it, and it was always the best of the best," Post said. "There was no question it included the best runners. You start to get a feel for how competitive people are. People had this 'I can beat anyone here' attitude, and that's what you need."
Post didn't realistically think he could contend for the win, so his goal was to win All-American honors with a top 15 finish.
"I had a pretty good idea how to handle things, hovered the top 20 mark the whole time," he said. "The clock gets thrown out the window, and that's what I love. Nobody care about the clock, you're just trying to beat people. You did what you can to do to be top eight at the regional meet. It's pure racing."
Alcorta finished 16th in her first trip last year and figures to be one of the top high school seniors in the country, with a victory in the south region meet to bolster those hopes. Though the competing Nike Cross National meet has popped up in the past few years, she has her eyes set on Footlocker at the end of the fall season.
"You have all of the best runners there and you really have to earn it because so few people make it," she said. "It's smaller than some of our meets against other schools."
For all the glory that comes with making the national final. Things can throw runners off of their game.
Post recalls: "It's hard to run your best race, the travel involved, there are a lot of factors to run your best race, it comes back to you just have to beat this guy, that guy, get the most out of yourself that day."
Osbourn Park's Kevin Ambrose had a memorable race that didn't turn out as he planned in 1981.
"It was one of the best and worst races of my career," he said. " It was the best because I finished in 15:16 for the 5k, a personal best for the year. It was the worst because I missed seeing the two-mile marker along the brushy trails in Orlando and I completely lost track of where I was in the race. I emerged from the brush to the home stretch with way too much leftover. I remember being absolutely furious as I sprinted the home stretch. That silly race still haunts me today with 'what ifs.'"
Boys
Girls
2013
Louis Colson, Thomas Edison; Mackenzie Haight, George C. Marshall
Caroline Alcorta, West Springfield, Hannah Christen and Katy Kunc, Lake Braddock
2012
Sean McGorty, Chantilly (2)
Sophie Chase, Lake Braddock (6); Alcorta (16); Allie Klimkiewicz, Oakton (33)
2011
McGorty (10); Ahmed Bile, Annandale (12)
Chase (11)
2010
Bile (14)
Chase (38)
2009
Kevin Dowd, Fairfax (18)
Paige Kvartunas, West Springfield (38)
2008
Leoule Degfae, Edison (12)
2006
Mike Spooner, West Springfield (23)
2005
Brad Siragusa, Chantilly (38)
2004
Melissa Dewey, Hayfield (13)
2003
Beth Fahey, Forest Park (27)
2002
Cara Keirnan, Potomac School (14)
2001
2000
Alan Webb, South Lakes (2)
1999
Webb (8)
Erin Swain, Lake Braddock (17)
1998
Kelley Otstot, Thomas Jefferson (27)
1997
Andrew McLeod, Oakton (29); Amlesom Teklai, West Potomac (32)
Liz Awtrey, Robinson (26)
1996
Sharif Karie, West Springfield (2);
Eric Post, Chantilly (14);
Eric Kweder, Edison (17)
Laura Heiner, Centreville (5); Awtrey (17);
Shannon Sarabyn, Centreville (26)
1995
Karie (2); Kweder (9); Eric Post (16); Chris Banks, West Springfield (20); Mark Rumple, Brooke Point (31)
Jackie Kerr, Thomas Jefferson (13); Heiner (15);
1994
Karie (9); Mohammen Musse, W.T. Woodson (21)
Kathy Newberry, Lake Braddock (27)
1993
Jim Colling, Chantilly (31)
Kerr (28); Katherine Helland, Paul VI (31);
Jessica Heiner, Centreville (DNF)
1991
Jama Bile, Fork Union/Fairfax resident (23)
Meghan McCarthy, Robinson (23)
1990
Ibrahim Aden, Fork Union/Fairfax resident (10)McCarthy (22)
1989
Aden, W.T. Woodson (20)
Alexa Lange, Herndon (15); McCarthy (21);
Jackie Concaugh, Annandale (27)
1988
McCarthy (12); Hollie Moore, Chantilly (18); Judy Stott, Langley (30); Andrea Lengi, James Madison (31)
1987
Anne Evans, South Lakes (23); Michelle Farmer, Woodbridge (30); Kim Desmond, Lake Braddock (31)
1986
Jeff Pajak, Annandale (21)
Erin Keogh, Langely (1); Wendy Neely, Lake Braddock (3); Gabrielle Pohlmann, West Potomac (28); Susan Volpe, Lake Braddock (30); Karen Sanfacon, W.T. Woodson (31)
1985
Andrew Hudson, Woodbridge (25);
Daniel Ireland, Woodbridge (30)
Keough (1); Aimee Harms, Annandale (4); Neely (11); Elizabeth Williams, Annandale (25); Pohlman (30)
1984
Keough (5); Kristi Cassell, Lake Braddock (31)
1983
Clifford Holtz, Annandale (25);
John Stein, Woodbridge (26)
Victoria Verinder, Langley (22)
1982
Andrea Volpe, Lake Braddock (4);
Alisa Harvey, Jefferson (28)
1981
Kevin Ambrose (19), Mark Rusciolelli (29), both Osbourn Park
Volpe (18)
1979
Dwight Stevens, T.C. Williams (3)
Recent Stories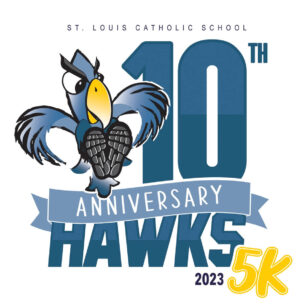 2023 will be the 10 year anniversary of the St. Louis Hawks 5K and Fun Run for Health & Wellness. The USATF certified course runs through the historic Hollin Hills neighborhood in Alexandria, VA.
The Hawks 5K goal, in conjunction