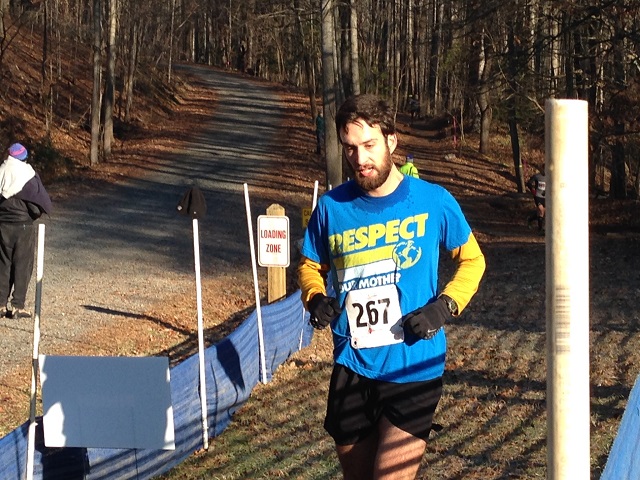 The Fall Backyard Burn Trail Running Series wrapped up Dec. 1 at Hemlock Overlook Regional Park in Clifton.
The race attracted local cross country runners and trail running aficionados. Runners in the 5.5 mile and 10.3 mile race encountered rugged conditions, with a few small patches of ice thrown in for good measure. The course took runners through hiking trails (including the Bull Run-Occoquan Trail), open fields, and dirt roads by the Occoquan River and Popes Head Creek.
Many runners agreed that the course was more difficult than others in the series due to the hills, rocks, and stream crossings.
"I heard some cursing in front of me and I knew to be careful," said Ivette Booher of Lorton, who competed in the 5.5 mile race. "It was fantastic, it was great weather for [the race]."
"I thought it was really challenging relative to the ones I've done in the past," commented Kate Blood of McLean.
Brent Bartlett of Falls Church won the 5.5 mile race with a time of 35:55. His wife, Marta Bartlett, was the first female finisher in the 5.5 mile race, finishing in 42:35. The Bartletts train together for the trail races, which they have been running for the last couple of years.
"I know the pace I could hold and went with it," Brent, a former cross-country athlete at SUNY Geneseo, said of his race strategy. "It's probably the hardest race [in the series], there were a lot of rocks and streams. The people who run it do a really good job of clearing the course."
Second place female finisher Jen Cortesi finished the 5.5 mile course in 43:58, trailed by Sarah Flynn, who finished in 44:46. Murjan Hammad came in second place overall in the 5.5 miler with a time of 38:36.
Third place overall finisher Danny Cooper of Falls Church ran his first Backyard Burn race on Sunday morning. Cooper, who completed the 5.5 mile race in 39:01, ran cross-country in high school and said that the course at Hemlock was challenging as a first-time competitor.
"My strategy was to stay close to people because I don't know the course at all and I didn't want to get off the path, but they marked it pretty well so that really wasn't an issue," Cooper said. "I didn't want to start out too strong because I'm not in the best shape I could be, so I didn't want to burn out in the middle of it. Two big hills could just wipe you out for the rest of the race, so I was trying not to crush it on the hills because I also didn't know which hills were coming up."
Woodson High School rowing coach Joe McMullin competed in the 10.3 mile race Sunday, finishing third overall with a time of 1:14:09. Jason Starr and Chad Wolf finished first and second overall in that race in 1:12:20 and 1:13:46, respectively.
McMullin began running competitively two years ago after running relays with his father, who is a triathlete. He competed in two other races in the Backyard Burn series last month at Wakefield and Prince William Forest Park.
"I like running these [races]," he said. "This is a nice transition [from rowing]. I'm doing races one weekend then regattas the next."
McMullin said his race-day strategy was to power up hills and said the race was well-coordinated.
"This race, I think was the hardest one," he said. "The people who run the race do a great job, there were plenty of water stations and plenty of bathrooms."
Sunday's race was a family affair for Claudia Escribano and her daughter, Caitlin Payne, who ran the 5.5 mile course.
Escribano, a long-time runner, inspired her daughter to start running cross country when she entered high school. Since then the pair, who live in Sterling, run together in local races including mud runs and trail races.
"I don't know that I would come out here if I didn't have someone to run with, so it's good to have her there," Escribano said. "We love these trail runs, these are awesome. I mean, they're hard as heck but they're fun."
"We run just for the fun of it," Payne said. Escribano and Payne also ran the Backyard Burn race at Prince William Forest Park on Nov. 17.
Although competitors agreed that the course at Hemlock was a challenge, some said it was a great race for those who enjoy trail running.
"The ice made it really difficult. I think this is a really unique race series. Depending on your level of fitness, you can still get a good run in," Blood said.
"It's really fun, a great vibe, and people cheer each other on," Fay Slattery of Alexandria said. "If somebody trips, everybody stops and asks if you're ok. It's really nice. I like the fall race series. It's like you have your own cross country season."
Recent Stories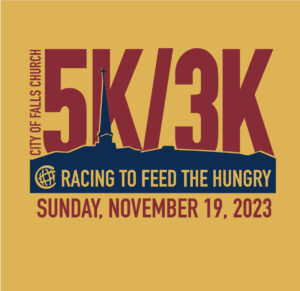 The out and back Falls Church City 5K/3K course is mostly flat on the W&OD Trail starting and finishing at 103 Columbia Street. Overall male and female winners earn free shoes and medals are awarded to all categories. Great family