Chris Hoyle, a senior who runs for Gonzaga College High School in Washington, is a team captain who leads by example.
In addition to being the top runner on the team this year, the Oak Hill, Va., resident mentors younger runners, calling them during schools breaks to make sure they're staying in shape, and tries to create the same inclusive atmosphere he found on the team when he joined as a freshman.
"He doesn't talk a lot, but he goes out there and gets the job done and the other kids can see he's 100 percent serious about running all the time," said John Ausema, the head coach of the cross country team.  "Every little part about being a good runner that some kids might ignore or skimp on and think nobody's watching, he's the guy who does all [button-red url="http://www.runwashington.com/2013/12/16/runwashington-high-school-cross-country-team/" target="_self" position="left"] More of the All-RunWashington team [/button-red]those things and makes sure he's 100 percent ready to have his best race."
After beginning the season with an extended case of bronchitis, Hoyle bounced back and finished third in the private schools championship and made the all-regional team at the Nike Regional Championship.
"There was a little bit of adversity in there. I guess he had an extended case of bronchitis in most of September and had trouble breathing," Ausema said. "He was still actually running pretty well, most people probably weren't even aware he was sick. He ended up being our top runner in almost every race."
Hoyle will graduate from Gonzaga in June and plans to continue running next year at the College of William and Mary in Williamsburg, Va.
Hoyle did not run competitively before high school, but his parents encouraged him to go out for the cross country team as a freshman after he enjoyed a local 5k race. He served as one of the team captains this year, something he's aspired to ever since joining the team as a freshman.
"I really enjoyed that because I remember looking up to the captains when I was a freshman, I always looked forward to becoming one," he said. "We just helped encourage the kids to get out there. Even in the off season, we'd be calling kids up to see what miles they've run each week, and that's been a lot of fun."
He remains involved in athletics and youth mentoring even in his spare time. This summer, he volunteered at the Reston Kid's Triathlon.
Despite spending about 25 hours a week with the cross country team, the student athlete also has to find time for school work, especially in economics, his favorite subject that he hopes to pursue in college. He is also part of the investment club and raises money for the medical missionary club through clothing drives and selling t-shirts.
"One of my friends started it last year, he just was looking for some friends to start it, and I said I'd love to do it," Hoyle said. "We meet once a month and talk about what to do with our money and the best way to give it to them. "
Recent Stories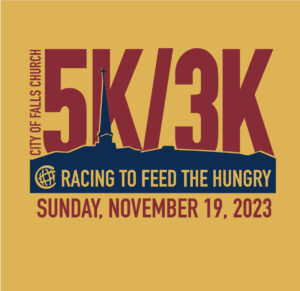 The out and back Falls Church City 5K/3K course is mostly flat on the W&OD Trail starting and finishing at 103 Columbia Street. Overall male and female winners earn free shoes and medals are awarded to all categories. Great family