Nikeya Green – Fairfax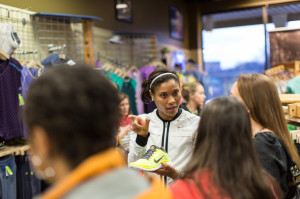 Nikeya Green began running when she was just 5, tagging along on her father's runs to get in shape for his Army physical fitness tests.
"Whenever he would train to get in shape, he would take me out for some of his runs," she said. "I used to have a bad habit of wanting to start out at a full-out sprint and then I'd be tired, but my dad taught me how to pace myself."
Green continued running and joined the track team at Hayfield High School in Alexandria. She went on to run in college at
Wake Forest, then ran professionally for six years, during which she followed a regimented training schedule. The Fairfax County resident now works as a running specialty rep for Nike and says her training has taken a backseat to her job, though she is working to get back into more regular training and find a way to balance work and fitness.
"I laugh; that's my fitness schedule right now," she said. "When I made the transition, started working for Nike in 2011, that became my priority, and I put running on the back burner … I've done things that keep me accountable throughout the year, but in general I don't have a locked in training schedule now."
Courtenay Brinckerhoff –  Alexandria
After Courtenay Brinckerhoff logs miles on the road, she heads online and logs her achievements on her running blog, "Running with Perseverance."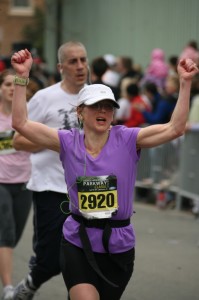 She started running in 2001 to lose weight after spending a lot of sedentary time in college and law school. Like many people, once she started, she got hooked for all the other benefits, like getting outside, exploring cities on vacation and meeting friends through running groups, she said. When she first started, Brinckerhoff struggled with injuries from doing too much too soon while training for her first Army Ten-Miler.
"I did it all wrong," she said. "I figured since I did an exercise class for an hour, I could run for an hour, so I just ran. I ended up with a bad injury, I could barely walk."
Her other advice for beginners is to find a good pair of running shoes that fits your foot type. She started her blog more than three years ago as a way to stay motivated during training.
"Part of it was personal accountability, even if only a handful of people are reading my blog," she said. "As I continued blogging and met more people in this blogging community, you hear about other people doing things, try things you wouldn't have tried on your own. You inspire each other to try new things."
Her blog, available at Got2Run4Me.com, gets about 10,000 hits a month. She writes race recaps, product reviews and recipes in addition to logging her workouts.
Cedric Cherry – Silver Spring
Cedric Cherry started running in 2011 to lose some weight and could barely run for 10 minutes without stopping on his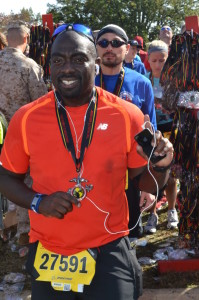 first try. Forty seven pounds, three marathons and a triathlon later, it's about way more than fitness for him.
"It's an awesome feeling to conquer that, especially as an adult," he said. "You feel like a kid again."
When he first started, he said he had a lot of questions and no one to turn to for answers. His wife looked to the Internet and suggested he try a run-walk-run method, which helped him build up his stamina. Even as he was improving, other runners flew by him on the running paths. He learned, however, that running isn't about drawing comparisons to others.
"Do it for you, don't do it for other people," he said. "Don't worry about what other people can do, you're in a race against yourself. Don't try to race other people, just work within you. It just all came together for me."
Cherry ran the Marine Corps Marathon 10k the same year he started running, and after his first race experience, he was totally hooked and felt he could officially call himself a runner.
"I think when you get into that first race and you're around all these people – short, tall, skinny, slow, fast — and you're like, 'this is awesome,'" he said. "I think that first race kind of clicked for me."
Following that race, he told his wife he wanted to finish a half marathon, which he did just a few months later in  December. At the finish line of the half, he had a goal to finish a marathon, and crossed the finish of the Flying Pig Marathon in Cincinnati, Ohio in 2012. He's also run two Marine Corps Marathons, most recently in 2013. Since then, running has led to more accomplishments and crushing more goals. Cherry learned how to swim as an adult and completed his first triathlon earlier this year. He's aiming for a half ironman next year.
"I think getting started is the hardest thing," he said. "The whole saying goes, 'It's not how you start, it's how you finish.' I actually believe it's how you start, you just have to start. Starting is winning, once you start it you've won because with me I feel healthier … I would tell people be yourself and have fun."
Katie Sheedy – Washington
Katie Sheedy first turned to running on the indoor track team as a way to stay in shape during the off-season in high school. The soccer player, however, soon started to love running as a sport in its own right.
"I started out as a sprinter, which is funny now because it seems like every year I ran I got longer and longer and now I do marathons," she said. "I ended up really falling in love with the sport itself; it definitely was so much more than keeping in shape."
While she first gravitated to speed workouts, Sheedy grew to enjoy catching up with friends during longer runs in high school. The Logan Circle resident now shares her runs with the greater D.C.-area running community and trains with the Capital Area Runners a few times a week. The former sprinter became a bona fide distance runner with a 2:52:52 at the 2013 Chicago Marathon. She also volunteers with Teens Run DC, an organization that pairs middle and high school students with adult mentors for a weekly run on Saturdays. The students also train during the week with teachers.
"We use running as a vehicle to help them set goals for themselves and feel positively about certain aspects of their lives," she said. "It's fun seeing how they grow as young adults and also as runners. A lot of them don't enjoy the running aspect when they first join the program, but some of the kids can run pretty competitively in their age group. It's really exciting to see them feel proud of themselves and excited about running."
Jason Levine – Washington
For Capitol Hill Classic race director Jason Levine, running is and always has been a family affair. He began running in 2009 as a way to get in shape and spend time with his daughter, then only a year old.
"I was overweight and I recognized that I had fallen out of shape and I decided to do something that could involve my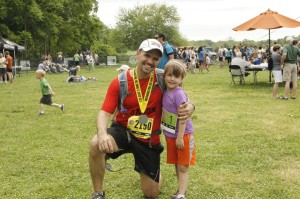 Jason Levine with his daughter Annabelle at the North Face Endurance Challenge. Photo: Shannon Culbertson
kid. As luck would have it within a day of that revelation someone on a parenting listserv wanted to give away a jogging stroller. I'd never run before in my life, but thought I can try to do this," he said. "I'd go out two or three times a week in the morning, she'd wave happily at all the people out exercising in the morning and it got to be fun."
Four years later, Levine has been "bitten by the bug" and completed marathons and 200-mile relays with friends. His daughter, 5, has also run several fun runs. He struggled with injuries when he first started, going out too hard and too fast as an inexperienced runner. He also had a hard time finding the time to log miles and balance his job and family time with running.
Though he regularly runs about 25 miles per week and organizes the Capitol Hill Classic 10k, which benefits his daughter's school, there are days when Levine still wonders if he can really call himself a runner.
"You look out there on the roads and say that person is going out seven days a week, running seven-minute miles, you  think, 'How do I compare to that person?'" he said.
It was the running community, however, that made him feel like he'd earned the title during his first year in the sport.
"When I was going out there, I was paying attention to other runners: they were acknowledging me and I them; it just clicked that, yeah, I'm part of this running community," he said. "Anybody who goes out there and puts one foot in front of another is a runner."
Recent Stories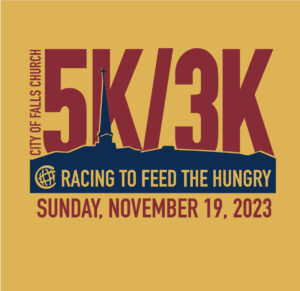 The out and back Falls Church City 5K/3K course is mostly flat on the W&OD Trail starting and finishing at 103 Columbia Street. Overall male and female winners earn free shoes and medals are awarded to all categories. Great family