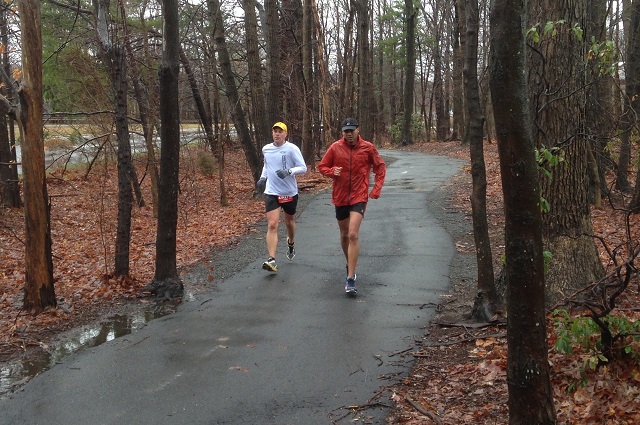 Registering for a marathon is speculation. Runners slap down their entry fees and play the averages, hoping for a good day months away. When a few hundred signed up for the Runners Marathon of Reston, forcing a sellout two months in advance, they bet that the late March race date would keep it out of the reach of winter weather.
No dice.
First came the rain, long before the runners showed for the 7:30 marathon start. Then, around 11, the sleet and hail. After noon, the later marathoners contended with snow.
[button-red url="http://www.amazingracetiming.com/events/2014/2014-reston-marathon" target="_self" position="left"] Results[/button-red]Jody Reed hadn't seen weather like this at a marathon before, and she was speaking from experience. Sunday's race was her 100th marathon, a milestone she wanted to hit near her Ashburn home, and one that drew many running friends to celebrate afterward, some from Arkansas and New York.
"There aren't too many races where you have rain, freezing rain, sleet, hail and snow," she said. "We had everything but sunshine."
And though the sport is called a marathon, her pace has resembled a sprint over the last 26 months — 44 26.2-mile races.
"You just go one foot in front of the other," she said of running that many marathons. "It wasn't intentional. You hear about people doing marathons and you decide to sign up too. I had to slow down so I could hit 100 at a local race. This is just such a personal race, they do such a good job and make it special, so it was the right place and time to do it (reach 100 marathons).
As for her resilience in the face of all of that running. "My husband says I'm kind of weird,"she said, He accompanies her anyway and was waiting at miles 21 with a beer for her. "I'll be a little tight for an hour, but after I take my shower I'll feel better."
The course looped through residential streets and paved paths throughout Reston, was was staffed and managed by members of the Reston Runners. The marathon saw 203 runners start and 187 finish. In the half marathon, 352 started and 350 finished.
Boyd Harter came from a few miles away in Oakton to run the accompanying half marathon, encouraged by his wife, Gwen, who had also run the half in 2013, the race's inaugural year.  It was Boyd's first half, and one that was fitting, given the road he traveled to get there.
"It felt like the weather threw everything at me this year," he said. "About a third of us were huddled under cover during the national anthem, just trying to stay dry before we put ourselves through that."
Despite the rough weather, Harter enjoyed the race and the distance, particularly the mix of roads and trails.
"There were long stretches of trail that were quiet, with no cars, not too many runners, that was the great part," he said.
With the truncation of the former Montgomery County Marathon in the Parks, the Runners Marathon is the only suburban marathon in the Washington area, save for the indoor Grant-Pierce Marathon in the summer.
Habitual marathon runner Michael Wardian, of Arlington, cruised to an easy victory in 2:44:22, almost 25 minutes ahead of New York's Christopher Baker, and in doing so broke the inaugural course record set by Lee Kaufman in 2:52:21. He was able to accept the Reston Runners' invitation to run thanks to a few-days' stopover after a trip to New Zealand and before tackling the North Pole Marathon.
He added roughly three kilometers to his race when the lead motorcyclist took him off course before realizing they were lost.
"That was actually good because I had to go to the bathroom but didn't want to stop," Wardian said. "Once I know we had already gone the wrong way and I wasn't just running 26 miles, I felt like I had a little more freedom to stop. But I think the police officer got worried when I went into the port-a-john and he couldn't see me. He thought he'd lost me again."
Devin Nihill's 3:09:49 record withstood Front Royal resident Jill Atherton-Mellish's 3:34:55 winning time.
The hometown race served a decent chunk of the field. Rob Norwood lives roughly a mile from the course, which motivated him to sign up this year and last.
"It was miserable at the end, just sleet the last four miles," he said. "It was colder last year (roughly 35 degrees) but the rain made things worse. I was smart enough not to walk to the start this year."
He gave a lot of credit to the volunteers, who didn't have the benefit of building up bod heat while running.
"I dodged puddles, did math in my head," he said about passing time during the race. "Last year I was going through a lot of life chances, so I had plenty to think about. This year, it was a little boring."
Third place finisher Stacy Kirby ran the marathon on the suggestion of her Leonardtown, Md. training partner Jennifer Crain, who finished second.
"She was convinced I could qualify for Boston if I ran with her, and I did, by six minutes," she said. "We started at qualifying pace and just got faster.
Crain had this weekend sketched out as a heavy training week for the Boston Marathon with a 26-mile run, so it made sense to do it with water stops and support on the course close enough to home.
They weren't all local, though.
Glen Muromutu came from Hawaii to run the Queen City Marathon for Active Water in Cumberland, Md. as part of his goal to race in every state. When planning his trip, he saw he could knock out another state the next morning and made his move to Reston.
"Most '50 staters' drive to their races, but I have to fly," he said. "If I can add another race, the cost-per-mile goes down."
Lourdes Martinez Guill came from New York City to run her first marathon on the suggestion of her friend Shasten Snellgroves, who attends graduate school at Georgetown University. Guill had volunteered at the New York Marathon last year, handing out water at mile 25, but saw a dramatic advantage in Reston.
"It's packed with people, you cannot pace, " she said. "Here, it's just you and the road. People came out of their houses to cheer for people in the rain. It was wonderful."
"You go numb, but never stop being cold."
Snellgroves said she chose the race for her friends based in large part on the rave reviews it received on MarathonGuide.com.
"It's pretty out-of-the-ordinary to hear so many great things about a first-year marathon," she said. "We had to come and see it for ourselves."
Silver Spring's Jack Strausman is closing in on running a marathon in every state under 3:45. His 3:42 crossed Virginia off his list and earned him an age group prize–a matted photograph of a Reston trail, lit by a warm sunset. Simply put, an idealized version of a race that seemingly everyone hopes for when they sign up for a race.
It just doesn't always turn out that way, as more than 550 runners and plenty of volunteers learned.
Recent Stories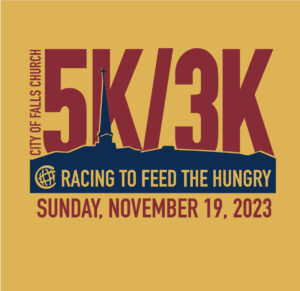 The out and back Falls Church City 5K/3K course is mostly flat on the W&OD Trail starting and finishing at 103 Columbia Street. Overall male and female winners earn free shoes and medals are awarded to all categories. Great family