Of the Washington, D.C. area's tens of thousands of runners, 865 have registered for the 2014 Boston Marathon. The list has been updated to reflect a more comprehensive search of local runners
[button-blue url="http://www.runwashington.com/wp-content/uploads/2014/04/Boston-entrants-2014-revised.pdf" target="_self" position="left"] See this year's local entrants [/button-blue]
Injuries and other curves balls that life can throw will keep some of the runners from starting on Monday, April 21. Of the registered runners, 228 are from Washington, D.C., 209 are from Maryland's Montgomery and Prince George's counties and 428 are from northern Virginia, including 112 from Arlington County, alone.
Of note, Silver Spring's Alan Pemberton won the 60-64 age group at last year's Boston Marathon.
Here is a look at the top 10 local men and women who finished the 2013 race, 11 of whom are heading back.
2013 top local finishers
Men and their overall place  (Bold means they are registered for 2014)
57. Patrick Kuhlmann,Washington, D.C. 2:28:01
64. Andrew Dumm, Falls Church, Va. 2:28:33
109. Stefan Kolata, Washington, D.C.2:34:01
128. Gregory Mariano, Alexandria, Va. 2:34:57
149. Joe Kelly, Washington, D.C. 2:36:16
180. Dickson Mercer, Washington, D.C. 2:37:24
190. Tripp Southerland, Washington, D.C. 2:37:44
221. Matthew Thomas, Alexandria, Va. 2:38:33
278. Christopher Bain, Takoma Park, Md. 2:40:29
288. Jason Dwyer, Sterling,Va. 2:40:53
Women and their overall place
59. Teal Connor, Washington, D.C. 2:52:35
60. Julie Tarallo, Washington, D.C. 2:52:50
112. Kaitlin Sheedy, Washington, D.C. 2:58:44
113. Kara Waters, Great Falls, Va. 2:58:50
114. Perry Shoemaker, Vienna, Va. 2:58:53
154. Kelsey Budd, Oakton, Va. 3:01:21
216. Anna Bernal Cabin John, Md. 3:05:14
224. Melani Hom, Washington, D.C., 3:05:31
230. Nicole Terry, Arlington, Va. 3:05:46
268. Lauren Shaub, Arlington, Va. 3:07:27
Recent Stories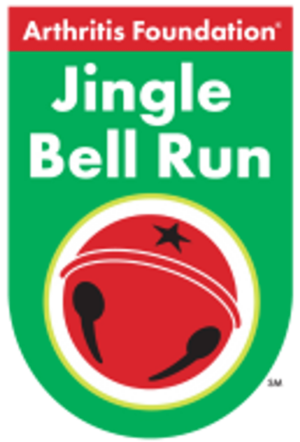 Be part of the original festive race for charity and signature Arthritis Foundation holiday event! Wear your favorite holiday attire and together, we'll jingle all the way to a cure! Register as an individual or bring a team of friends,