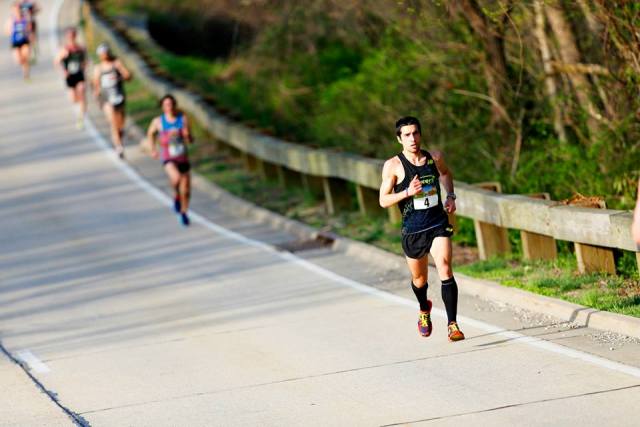 The George Washington Parkway Classic kicked off its 30th running with a shady 10k before a long, sunny stretch that didn't slow winner Dereje Deme, whose 49:46 was the first sub-50 time in three years, or Claire Hallissey, who is in the middle of a farewell tour of D.C.'s races.
Though the temperature rose considerably in the latter stages of the race, both winners ran negative splits over the second half of the course, despite a considerable downhill in the first few miles as runners left Mount Vernon for Old Town Alexandria.
The event's 10 mile and 5k races drew 6,338 finishers, with 5,152 in the larger race, compared to the 1,516 who finished the 2001 race, the last time it was a 15k.
[button-red url="http://www.zippyraceresults.com/search.php?ID=3847″ target="_self" position="left"] 10 Mile Results [/button-red]Ethiopian Deme made his move on Dan Vassallo, of Peabody, Mass., with less than two miles to go and put 20 seconds on the Bay Stater. Vassallo ran a PR of 50:07, and was glad for what he called "near perfect" conditions out on the race course. He's won a few marathons, including the 2010 Philadelphia Marathon, and said he was in the process of getting back into shape.
[button-red url="http://www.zippyraceresults.com/search.php?ID=3848″ target="_self" position="left"] 5k Results [/button-red]Ayele Belete, who coaches Deme and women's runner-up Dehininat Jara, said his charges might have suffered slightly from their efforts the day before at the Dismal Swamp Stomp Half Marathon in Chesapeake, Va. Deme won that race overall and Jara finished third.
Hallissey, the GW winner in 57:45, who also won the Crystal Run 5k two days before, is wrapping up her four-year tenure as an Arlington resident before moving back to England, the country for whom she raced the 2012 Olympic marathon. Jara followed, Sunday, in 58:01.
The first American woman, Amy Hemenway of Washington, D.C., finished third. She thought the race to be most challenging from miles five to seven. She says she only made it through that difficult patch with the help of another runner.
"Thank god for him," she said. "I was getting depressed, and missing my splits, but I stuck with him and got back on track from miles eight to 10."
Hemenway won the Charlottesville Ten Miler two weeks ago and admitted that she could have planned the logistics better, because the races may have too close together. But overall, she was happy with her performance.
Former Falls Church resident and longtime Pacers runner Matt Barresi, now of Palmyra, Va. finished third in 51:01, matching his third place finish in 2011. Barresi was fairly happy with his race, though the humidity played a role, and forced him to slow down somewhat.  He still ran his fastest time on the course.
'The lead runners broke away early, around the 5k mark, and I tried to keep up, but they pulled away a little more than I had hoped," he said.
He didn't let this faze him too much though. "It's a beautiful day, and I'm blessed with great teammates and great weather.  Any time you can come in top three is a great day."
He noted that this was the first time his 10 week old son, Miles, had seen him race. Barresi planned to use his race winnings — $100 for third overall and $300 and second American — to take his wife out to brunch after the race.
Washington, D.C.'s Jess Zdeb, who finished in 1:08:31, attributed her performance to strength she gained from the November Project's drills and exercises.
Meredith Thompson, of Potomac River Running's team, was hoping to run just under 65 minutes today. She accomplished that, finishing in 64:40.
Thompson was happy with her performance, as she had some pretty good training leading up to the race. The warmer weather conditions were a bit of a challenge, as she hasn't had much chance to acclimate, but she appreciated the great support along the course and the many water stops.
Thompson served for five years in the Army as a military police officer, and her husband is currently active duty military stationed at Fort McNair.  She takes advantage of their frequent relocations to try out different regional races.
Many participants out on the course had to overcome challenges just to make it to race day.
Gene Sweetnem hadn't raced in three years. He first took a break from running after tearing a meniscus, then recovering from Lyme disease and arthritis. He was unable to get out of bed for 18 months, and side effects from his medications led to frequent infections, keeping him from running more than 1.5 miles at a time.
After stopping his medications six months ago, Sweetnam set a goal for himself to run the 10 mile. Though he found the course to be difficult, especially because of the warmer weather, he was determined to finish.
"I never quit anything in my life," he said. He wanted to stop and walk, but wouldn't let himself do it, not even stopping to take water. He finished the race in 1:33.34.
The Malcak family made the day a family affair. Born and raised in Slovakia, son Peter now lives in Arlington. He recruited his dad Jozef to join him in the race, so Jozef traveled from Connecticut for the event.
Though Peter has been running for several years, his dad just began running a year ago. Saying his son "dragged him into it," Jozef nevertheless bested junior by 20 minutes, finishing in 1:33.57 to Peter's 1:53.01.
The senior Malcak now has goals now of completing the Chester Half Marathon and the Hartford Marathon in Connecticut this year.
These plans were news to Peter, who thinks he should probably find a marathon to train for so he can keep up with his dad.
Tom Craig of Herndon also brought along his kids to the race. Daughter Sarah and son Tommy raced the 5k, while Tom completed the 10 mile. Both kids run for Oakton High School. Tom dragged the kids out of bed on their first day of spring break, and despite such insurmountable odds, Sarah finished third in her age group.
Charles Logan, of Stafford, Virginia, only started running a year ago. Calling himself a "virgin racer," the 10 mile was his first race ever. He played soccer for years, but stopped a few years back, and got behind on his fitness.
After adopting Atlas, his black lab puppy, Logan realized he needed to do something to work off all the dog's energy. Now they go for runs of at least six miles three times a week, and Logan has begun working towards longer and longer distances himself.
His three kids, ages 20, 17, and 14, help out by taking the dog on walks, but Logan and Atlas run exclusively together.  "I thought running was boring, before this," he said. "Now I live for it."
Arlington's Erik Price used the 10 mile as a final tuneup before the following Monday's Boston Marathon. He planned to use the race as a tempo run and followed his own plan until the last mile, where he sped up for a final kick to the finish.
"It can be dangerous  – it's so easy to go out hard in a race, get caught up in the excitement," he said. "You have to be on your best behavior and use it as a tempo run."
Price plans to take it a little easy next week in Boston, and pace with a friend. He is looking towards an ultramarathon the week after.
The 5k race also included some strong performances.
Finishing first in the men's race, with a time of 16:48, was Pacers-New Balance Nick Pasko, of Bel Air, Md. He graduated last year from St Mary's College of Maryland, and was one of the first athletes to compete for all four years for St. Mary's newly-formed track team.
Pasko was happy with his performance in the 5k, coming off racing the Cherry Blossom Ten Mile last weekend. Never having won a 5k, he was also happy to try out a shorter distance. "It was nice to have a straight shot into the finish," he said, though he did note the course had its share of hills.
Matthew Matyjek of Arlington came in second overall in the men's 5k with a time of 17:11. After a strong spring season, where he finished the DC Rock n Roll Half Marathon in 1:22 and the Cherry Blossom Ten Mile in under 60 minutes, he is looking towards running the Alexandria Running Festival Half Marathon in May.
Jackie Gruendel of Clifton was just happy to finish the race. She had a benign tumor removed three weeks ago and though she set a conservative goal of 20 minutes, she beat that by nearly a minute, finishing in 19:03.
Places three, four and five of the men's 5k race went to Team AVA TC composed of Bishop Ireton High School distance coach Brad Byrnes and seniors Duke Roach and Michael LoGrande.
Describing his coach as "the greatest man I've ever met," Roach was happy with his performance, and plans to attend the U.S. Naval Academy this fall.
LoGrande, who plans to run at Emory and Henry College, described the conditions as "perfect, with no crosswind in the second mile."
Brynes was proud of his two runners, and pleased with his own performance. Though he hadn't done much speed work to date, Byrnes said his training was going well.  He plans to race the Potomac River Run Marathon in May in an attempt to qualify for the Boston Marathon.
Carrie Sepko of Woodbridge used the 5k race today to cross train for her primary sport, amateur boxing. She trains with UFC Gyms and her next match is planned for May 10. This race last year was her first 5k, and she improved from an 11 minute pace to an 8:27 pace, finishing 14th in her age group with a time of 27:01.
Recent Stories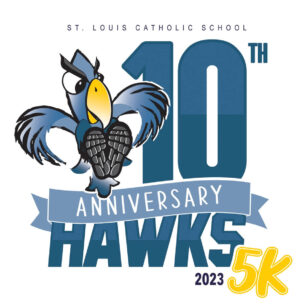 2023 will be the 10 year anniversary of the St. Louis Hawks 5K and Fun Run for Health & Wellness. The USATF certified course runs through the historic Hollin Hills neighborhood in Alexandria, VA.
The Hawks 5K goal, in conjunction