If the conditions are right, competitive marathoner Scott Allen, 27, of Washington, D.C., has his eyes on a PR in Boston.
It's an ambitious goal.
A personal record at the monumental 2014 Boston Marathon on April 21 would mean beating his current record of 2:36:05 from the 2012 Rock 'n' Roll USA Marathon, where Allen placed third overall.
"Boston – there really is no experience like it," Allen says. "I can only imagine how big the energy will be after last year's bombings. It would really be great to PR."
Allen came in 157th in the 2011 Boston Marathon and he is optimistic for another great run this year.
Because of the response to last year's bombings and a higher number of qualifiers, though, the field is much bigger.
Allen had the same qualifying time as in 2011, when his bib number was 262.  This year it's in the 400s, which means there are an additional 200 people who had a faster seed time.
"It's going to be huge," he says. "It's cool being a part of something that shows our response to last year's bombings. We are not going to let this bombing deter us. People aren't going to let that ruin such a big day for Boston and the country."
After running the Rock 'n' Roll USA half marathon in March, Allen suffered a leg injury that kept him from running for two weeks. "This injury kind of set me back," he says. "But I feel like I am almost back to where I need to be. I am not sure if I am going to be in my PR shape but I will have a solid race."
Before the taper started, bringing him down to a weekly 55 miles, Allen averaged about 80 miles a week on some of his favorite routes: along the mall, by the Georgetown Waterfront, Capital Crescent Trail, Haines Point, Custis Trail – where he heads for the hills – and Rock Creek. "There isn't really anywhere where I don't like running," he says.
"This season the most I did in one week was 82 miles," Allen says. "I was hoping to get closer to 90 but I had a muscle injury and just wasn't able to."
Ideally, when he is feeling healthy, Allen takes only one day off a month.
A peak week usually includes a long run of 20-22 miles and two workouts – hard hill repeats and two by four miles at goal half marathon pace. The other days are filler runs – 8-10 miles– sometimes a bit more.
As for fuel, Allen loves his carbs. "The night before a race I like to have pasta – eat a big meal. For breakfast? A bowl of cereal."
He doesn't go for the healthy stuff. Cocoa Krispies did the trick in Delaware. Cinnamon Toast Crunch was his go-to before this weekend's 20-mile long run. He isn't sure which cereal it will be for Boston, but he plans to eat a lot of it, he says with a laugh.
As a third year law student at Georgetown, Allen is trying to get as much competitive running in as he can.
"I don't know if it will be possible to run this much and be a lawyer," Allen says. "I am just not sure if I can be quite as intense when I am working, but running is not something I am going to give up."
Although he's always been a runner, Allen didn't know he'd have a gift for marathons until he crossed the finish line of his first: the 2009 Marine Corps Marathon.
"I had no idea how I would do on race day," Allen says. "But I ended up with 6:08 miles. Being good made we want to keep going."
Allen is originally from Wisconsin. He went to Marquette University where he ran cross-country and track.
"I've been running since middle school," he says. "But I didn't get into the 80 plus area until I started doing marathons. Some bodies just cannot withstand high mileage but I have good genes, good muscular structure."
The highest mileage he ever did in one week was 102 – before Boston in 2011.
"That was kind of crazy," Allen says. "It's better to think long term. Do 60 miles a week and be healthy rather than trying to push it to 80. If you do that much you're bound to get hurt."
Allen is not exempt from that. A knee injury kept him out of last year's Boston Marathon.
"It is disappointing to put in a lot of time and then get injured," Allen says. "Every season I get another injury and I always think – 'this could be the thing that takes me out of the season.'"
But so far, no injury has been bad enough to keep him from lining up in the first wave of runners in Boston later this month.
After Boston, Allen plans to take it easy until the fall season picks up. "You can't be intense the whole year. I need those breaks from running a little bit," he says. "After the marathon I'll take one week of no running. I like to take it easy for a couple months and do no more than 30 or 40 a week. For the fall I'll start in June to pick it up to 60."
Now, Allen runs on the Pacers-New Balance racing team. On Boston Marathon Monday, he'll be sporting a team black jersey and shorts. "I'll be wearing New Balance because they sponsor our team," he says.
For now, it's all about getting to the starting line safe and healthy. And Allen's focus is all Boston.
"With what happened last year, there will be even more energy so the whole atmosphere will be really neat," Allen says. "There is nothing quite like being in a marathon with that many spectators.  Nothing like Boston."
Recent Stories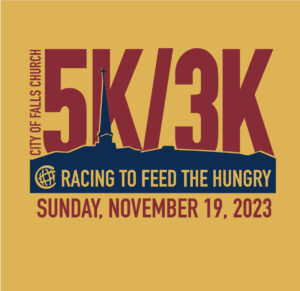 The out and back Falls Church City 5K/3K course is mostly flat on the W&OD Trail starting and finishing at 103 Columbia Street. Overall male and female winners earn free shoes and medals are awarded to all categories. Great family