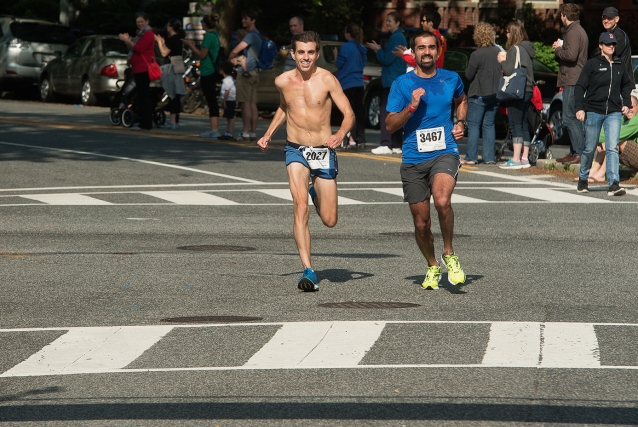 Perhaps she was getting her legs back under her, 10 months after having a baby. It might have been the adrenaline that came from not being able to find her bib and almost missing the start. Maybe runners just don't forget how to race.
Whatever it was, it worked for Lindsay Wilkins, who won the Capitol Hill Classic 10k May 18 in 37:38. Earlier in the year, she had finished third at the Four Courts Four Miler. The race is an annual fundraiser for the Capitol Hill Cluster School and starts and finishes at Stanton Park, after a run out to RKF Stadium on East Capitol Street. The event yielded almost $80,000.
[button-red url="http://www.zippyraceresults.com/search.php?ID=3972″ target="_self" position="left"] 10k Results [/button-red]Baisa Moleta letd the men's field, finishing first overall in a time of 31:52. Teammates Lidedu Tekelu and Teresa Fekensa followed him in third place (32:05) and fifth place (33:05), respectively. Moleta also finished first in the 3k race, held immediately after the 10k, in a time of 9:11. Fekensa finished second overall in the 3k in 9:24.
[button-red url="http://www.zippyraceresults.com/search.php?ID=3973″ target="_self" position="left"] 3k Results [/button-red]All originally from Ethiopia, the group now trains in Washington, D.C. Their teammate, Hirut Mandefro, finished first place overall for women in the 3k race in a time of 11:51.
Fekensa enjoyed the race and was very happy with his time, but noted that he and his teammates were not running on fresh legs, having just competed in the James River Scramble 10k Trail race in Richmond the day before. Fekensa finished fourth overall in that race.
Finishing second place for the men in 31:54 was Kieran O'Connor of Arlington. O'Connor was pleased with the great conditions, organization, and competition at the race.
"The first four miles were very tactical, each guy in the lead pack surging then sagging back again," he said. "I tried to take it hard from about four and half miles, but the winner sat and outkicked me. I was just second best today."
O'Connor, who runs with the Georgetown Running Club, is training for June's Garry Bjorklund Half Marathon in Duluth, Mn.
"Times were definitely slow out there today, but I felt it was a really solid effort," he said.
Vidhya Amirthalingam of Silver Spring commemorated her race by taking a selfie with her daughter at the finish line. It was the first race for her 20-month-old daughter Oviya, who enjoyed the ride.
"Since I've had her, I've cut back on mileage, but I'm increasing my speed," she said. "I realized that the shorter runs can be just as fun." Amirthalingam tries to run as often as possible, but primarily trains alone due to her hectic schedule. "Between work and being a mom, you just go when you can fit it in," she said.
Mona Shah, of Washington, also used the race as a motivation to get back into shape after giving birth to her son Rohan last October. "I haven't trained at all for this," she admitted. "But it's a very family friendly race, and I wanted to get out there and do it."
The Cupitt family also made the race a family event. Julia and Howard Cupitt, of Durham, N.C., traveled to the D.C. area for the weekend to run with their daughter, Hilary Moore of Arlington. They all started the race together, but mom and dad finished a bit behind their daughter. Moore does a lot of 5ks and 10ks, but this race marked the end of her spring racing season. She plans to take the summer off from racing until next fall.
Despite running what she described as her "personal worst" time, Julia was very happy for Howard's strong finish. She is also proud that Howard ran his half marathon PR in 2012, when he turned 70.
Julia is glad that both she and Howard have remained healthy and injury free over the years. "The secret is to keep all your joints keep going in the same direction," she said.  She and Howard often run together in the trails around Duke University.
For several participants, the race served as a change of pace from their typical competitions in triathlon. Terra Castro of Arlington is a recently retired professional triathlete. She placed fifth overall in 40:22, holding strong in second place until the last mile of the race. "10ks are brutal, but I gave it my best effort," she said.
Castro added that she is in the process of learning how to be a non-pro athlete, while also taking on the new challenge of being a running coach to middle school students. She is now in her first year of serving as the cross country coach at Oyster-Adams Bilingual School in D.C.
Her husband, Zane Castro, is the head coach of the men's and women's cross country and triathlon teams at Marymount University in Arlington.
A fairly new D.C. resident, having arrived here from Austin, Texas with her family in 2012, Castro is looking to become more familiar with the D.C. running scene. "I'm just taking it all in, trying to network with people and build connections throughout the running community here," she said.
Derek Smith, of Washington, also spends more of his time training for triathlons, but selects a few good road races a year in order to keep up his running shape. He chose to run the Capitol Hill Classic because he likes how well organized the race is, and he had a few friends running with whom he planned to celebrate after. His nephew Sebastian was also there to run the kids fun run.
"I choose races based on convenience," he said. Given that he doesn't own a car, "A race needs to be accessible either by metro or Capital Bikeshare for me to want to do it." Rockville Twilighter and GW Parkway Classic are on this list.
Smith trains with the D.C. Triathlon Club and also just started running with The November Project. He plans to race the Nation's Triathlon in September and the inaugural IRONMAN Maryland two weeks later.
Jess Levin and Carlos Maza, both of Washington, were pleasantly surprised at their race performances. Having partied perhaps a bit too hard the previous night, both were struggling with the after effects, but found the race to be enjoyable, except for the loop around the RFK parking lot.
The two had trained hard to compete in a Ragnar Relay, which they did last weekend in Cape Cod, Mass., so this race turned out to be more of an afterthought.  Still, both had fun and look forward to future local races, including the Ragnar in D.C. this fall and the Marine Corps Marathon in 2015.
Recent Stories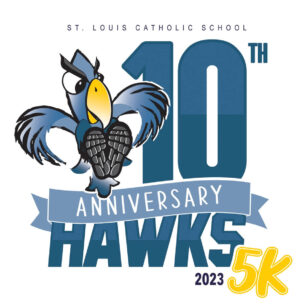 2023 will be the 10 year anniversary of the St. Louis Hawks 5K and Fun Run for Health & Wellness. The USATF certified course runs through the historic Hollin Hills neighborhood in Alexandria, VA.
The Hawks 5K goal, in conjunction