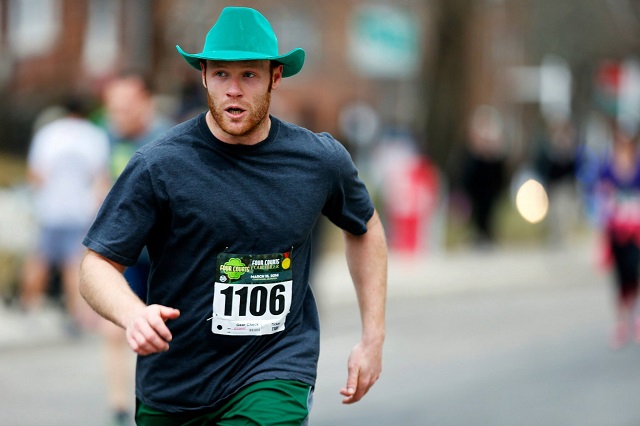 Despite meeting just two weeks ago, Andrew Brodeur and Landon Peacock have established quite the rivalry. The Pacers-New Balance teammates participated in last week's St. Patrick's Day 8k, where Brodeur edged Peacock to claim a first-place finish (24:30).
Saturday's Four Courts Four Miler yielded similar results for the two as Brodeur once again bested Peacock to earn first-place honors in the fifth annual St. Patty's Day weekend race.
But the two former collegiate runners claim that their competitive running days are behind them.
"I'm done with that part of my life," Brodeur, 23, said with a laugh. "I don't want any more rivalries. I'm just trying to have fun right now. We're on the same team."
[button-red url="http://www.albanyrunningexchange.org/results/search.php?ID=3782″ target="_self" position="left"] 4M Results[/button-red]Brodeur (19:33) averaged 4:54 per mile to set a course record previously held by Frank DeVar, who finished the 2011 race in 19:44. Brodeur recently moved to Bethesda, Md., from New Jersey, and Saturday's Four Courts race was his first.
"I went out really quickly because the first mile is all downhill," the former Duke University cross country runner said. "If my watch was correct, I came through in 4:16. I really like the fact that it's an out-and-back course. You have people cheering for you the whole way back so that makes it really cool and easy to keep going."
More than 1,550 runners converged on Wilson Boulevard to participate in the fifth annual Four Courts Four Miler in Arlington, Va., on Saturday, March 15. The race, which earned its fifth consecutive sellout, attracted both competitive and casual runners from around the area. The course ended just a few yards from Ireland's Four Courts restaurant, where an awards ceremony awaited runners at the conclusion of the race.
Saturday's Four Courts Four Miler was also Peacock's (20:17) first. The former University of Wisconsin at Madison runner said he found the course challenging.
"I didn't really know what to expect; it's kind of an extreme course because the first half of the race is downhill, and then it goes right back uphill," he said. "I was a bit deceived in that I felt really good running downhill, but I was just hurting on the way back up. That part of the course was a little less fun."
Arlington resident Claire Hallissey (23:19) finished first among females runners and averaged 5:50 per mile. The 2012 Great Britain Olympic team member had an additional reason to celebrate an already special weekend.
"I've always enjoyed St. Patrick's Day weekend, especially since I was born on St. Patrick's Day," Hallissey, 30, said. "It's nice to kick the weekend off with a good race. It's such a fun atmosphere out here today."
Hallissey said she was well-prepared to tackle the course's daunting uphill finish.
"I ran the race last year and I live nearby, so I'm kind of used to running up and down the hill," she said. "I kind of knew what to expect. I tried not to go out too quickly, but you really can't help yourself. It feels nice and easy, but then you remember that you have to run right back up it at the end."
The race wasn't exclusive to competitive, seasoned runners like Hallissey, Peacock and Brodeur.
Jackson Gurdak (31:58) and his father Mike stood near one of the orange traffic cones on North Wilson Boulevard shortly after Jackson finished just his second competitive race. The two watched as others crossed the finish line.
"He has a very nice running stride, so I thought this would be a good race for him," Mike Gurdak, 51, said. "He runs at home, but races like these are fun for him and he gets to see what these types of races are like."
Jackson Gurdak, 12, said the race offered a nice change of pace from the usual running he does around his family's Vienna, Va., neighborhood.
"There weren't that many turns and the downhill part of the course really helped a lot," the young runner said. "This is only my second competitive race. I like running because it lets me see how fast I can go; it's something I want to continue to do."
Mike Gurdak was pleased with his son's effort.
"He set a time for himself and he beat it by a couple of seconds. He wanted to break 32:00, and he did. So that's a good baseline. Running allows him to stay fit and healthy."
As with any St. Patrick's Day weekend event, runners went heavy on the Kelly green and sported everything from green shamrock earmuffs to green-and-black running tights.
Jonathan Harvey showcased perhaps one of the more unique outfits as he donned a Kelly green kilt. The Franconia, Va., father of two ran the race with his two-and three-year-old son and daughter, who he pushed along in a tandem stroller.
"I really enjoy running. It's something I get a lot out of, so I try to expose my children to it every chance I get," the 36-year-old Army reservist said. "This is the first time they've done a race with me, but I run with them all of the time in my neighborhood. My daughter will go to the track sometimes and just run in circles. She has a pair of running shoes that she's proud of. She's competitive, so when we race I always have to lose."
Amy Laskowske (23:55), a Pacers employee, placed second among female runners. The Midwest transplant thoroughly enjoyed her first Four Courts Four Miler experience.
"This is definitely a great community race and it's just really fun to be a part of it," Laskowske, 26, said. "I moved here about a year ago from Minnesota and wanted to get back into racing. My roommate is really good and I saw how much fun she was having with doing all of the different races, and I decided to do it too. I hope to run it again next year."