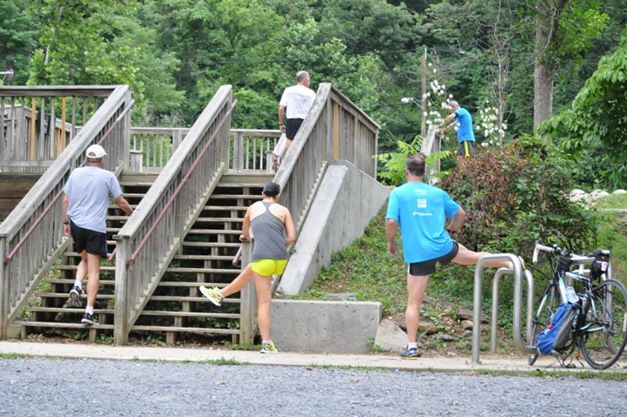 The second race of the D.C. Road Runners Club Bunion Derby race series was underway Saturday evening at the Hugh Jascourt Memorial 4-Miler. More than 80 runners turned out on Saturday evening on the C&O Towpath near Fletcher's Boat House to celebrate its club's founding president's birthday, Hugh Jascourt. And with a welcomed break from the humidity, many were pleased to compete on the low-impact, out-and-back course along the canal.
[button-red url="http://www.zippyraceresults.com/search.php?ID=4076″ target="_self" position="left"] Four Mile Results [/button-red]Kate Katz of Arlington, Va. took the lead right off the bat in the women's division and held it till the finish with a time of 26:32, making it her second win in a row in the Bunion Derby series.
"We've been training in such hot weather lately so this felt great," Katz said. "I liked the terrain, too, it's easier on the body."
Since the last race, Run After the Women 5K, involved the men catching the women, Katz was excited she had more competition with her.
"It was nice to have some men to chase after," Katz said.
The overall top finishers, Karsten Brown, Oliver De Greet and Joe Kane, held the lead for most of the race until the last mile, where Brown pulled away from De Greet and Kane, finishing with a time of 22:39. Brown, who just completed a 100-mile race a few weeks ago, said he's been competing in the Bunion Derby series since the 90's.
Betty Blank of Falls Church, Va., who is ranked first in her age group on the East Coast, has been competing in the Bunion Derby series for several years.
"I love D.C. Road Runners Club races," Blank said. "It's a good group of people with great competition. And it's fun because everybody knows everybody and we all help each other out."
In addition to several DCRRC regulars, the race also turned out some non-local D.C. runners.
Tim Loughran, a professor at Notre Dame, wanted to fit in a race while he was visiting D.C. Despite most of the runners gleaming with joy because of the break from humidity and high temperatures, the weather didn't impress the Indiana resident.
"Running along the canal was nice but it was a little hotter than I'm used to compared Indiana temperatures," Loughran said. "I like running in the cold."
But Allan Ingraham of Arlington, Va. who competed in this race in 2013, said the temperatures last year were 10 degrees higher. Though temperatures never stop Ingraham from competing.
"These races just have a good group of folks, gets your heart rate up and lets you feel a little bit of pain."
Ann and Steve Brown of Vienna, Va., who regularly participate in DCRRC races, said they too appreciate the low-races put on by the club.
"They get you out there and give you something to work towards," Ann said.
Finishing just a few seconds after Ann, Laurie Horstmann of Centreville, Va. said in addition to the race series, she's a big fan of the four-mile distance as well.
"It's not as short as a 5k but not too long either," Horstmann said. "And it's nice not to be stressed out about the distance unlike longer races."
Horstmann is on her 39th year running and said there has been many "ups and downs" throughout the years.
The DCRRC Bunion Derby series will include six more races this summer, three in July and three in August. To be eligible for an age group reward, club participants must run three races. The participant's top five races will count in the total scoring for the series. Runners must also volunteer at a qualifying event or activity with the club.
Recent Stories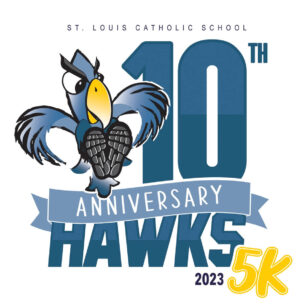 2023 will be the 10 year anniversary of the St. Louis Hawks 5K and Fun Run for Health & Wellness. The USATF certified course runs through the historic Hollin Hills neighborhood in Alexandria, VA.
The Hawks 5K goal, in conjunction