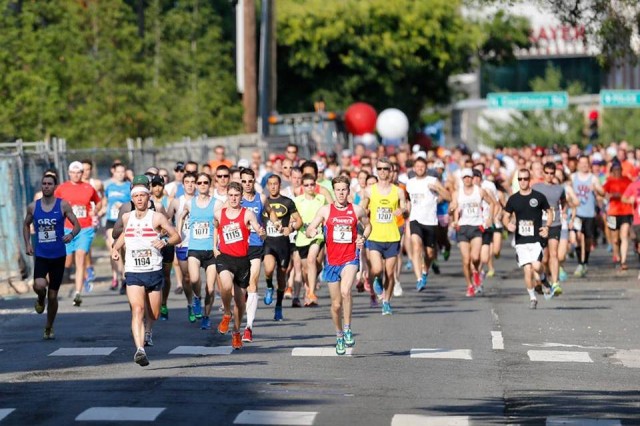 Red, white and blue replaced head-to-toe green. Long sleeves made way for tank tops and sports bras. The hill, however, was the same as everyone remembered it.
The Freedom Four set up shop at the top of Wilson Boulevard in Arlington, with the same out-and-back course as the St. Patrick's Day-themed Four Courts Four Miler. That meant nearly a mile that runners spent either trying to hold back down a hill or take what the course gave them, and then same distance suffering back up, this time with the added heat and humidity that came with late June in Northern Virginia.
Back in March, Bethesda's Andrew Brodeur dominated in 19:33. In June, he didn't quite have it, with D.C.'s Kevin McNab pulling away at the base of the hill and holding on to win 20:05-20:13.
[button-red url="http://www.zippyraceresults.com/search.php?ID=4080″ target="_self" position="left"] Four Mile Results [/button-red]"We weren't actually heading down the hill, too fast, maybe 4:45," McNab said. "I was trying to hold back to run a strong second half and go after the record. I tried to make a move after two miles, but he hung with me. I got that gap at the bottom of the hill and just kept going."
It was the second race in a nascent rivalry for the two. McNab edged Brodeur by two seconds at May's Germantown 5 Miler. A Texas A&M alumnus, teammates on the Georgetown Running Club have nicknamed him "Johnny Running."
Amy Laskowske of Arlington, who finished second at Four Courts to Claire Hallissey, took advantage of Hallissey's move to England to stake a claim to first place in 23:49, improving by five seconds. "I'm glad I ran the course before, because the hill wasn't as terrible this go-round," she said, "I felt more confident knowing the course, but the race wasn't too intimidating."
She attributes her four-second improvement, in spite of the heat and humidity, to workouts with her Pacers racing team.
The downhill leveled off in Rosslyn as runners turned onto Jefferson Davis Highway before turning around and paying the piper for their early unbridled enthusiasm.
John Thomas of Alexandria managed to keep things under control.
"I didn't go out with the jackrabbits," he said. "That's really hard, because there are so many people who burst out there."
He attributed his restraint to his experience in distance running. It helped him win the 70-79 age group.
"It really requires some mental discipline, but it's gratifying to pass people on the way back," he said.
His friend Jan Smilek drove from Leesburg, the day after racing the Run for Independence 8k.
"I had never run back-to-back races before," he said. "With this one, you always have the uphill in the back of your mind, especially when you are going downhill. You just run and hope for the best."
Some hoped for the best, but others just wanted to look their best, comfort thrown to the wind.
Chris Ardalan of Arlington ran sporting a cut-off cotton shirt and red, white and blue top hat. The race demonstrated to him why parents encourage their kids to wear hats in the winter.
"The run was terrible. I hate running that hill normally," he said. "The hat trapped all the heat, this shirt is not conducive either. It was a hot mess. I did it to show my love for America."
His outfit didn't entirely handicap for his race, though.
"People saw they outfit and cheered for me, so that gives you a little pep in the step," he said. "I did see another guy in a top hat, so we had a bonding moment."
He was recruited for the race by Nicole Shenk, who gathered six people for the event.
"We thought the t-shirts looked cool and it was a chance to get our friends together," she said.
Shenk was convincing enough that Mandy Conlin added the race to an already-full plate.
"I have to move a friend today and play two games of softball, so why not start everything off with a four-mile run," she said.
For all of their experience on cross country courses, Griffin Colaizzi and Gabe Lerner had never run any road races, but with the 8k looming in college, it was time to move beyond the 5k. Colaizzi is planning to run at Williams College, Lerner hopes to walk on at the University of Michigan. The pair ran at Georgetown Day School and are just a few weeks into their college training plans.
"It was the longest race we'd ever done," Colaizzi said.
Steven Clark ran with his girlfriend Audrey Tornblom, who was getting over a cold but decided to come out and run. Clark is a veteran of Pacers' 4th of July races, and he ran wearing a vintage 2010 Independence 5000 t-shirt from the race run on the George Mason University campus.
"I'm usually in town for the Fourth of July, so I run these races," he said. "It gives me a reason to get out of bed. People ask me what I'm training for. Without that race, or goalm, I won't exercise. I always have to have something to keep me focused, keep me moving."
Recent Stories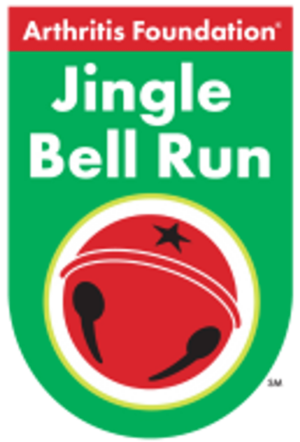 Be part of the original festive race for charity and signature Arthritis Foundation holiday event! Wear your favorite holiday attire and together, we'll jingle all the way to a cure! Register as an individual or bring a team of friends,