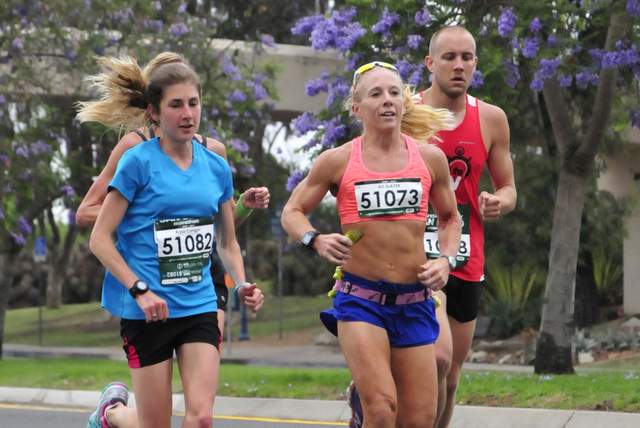 They started out six years and a few miles apart in Burke. In June 2014, they wound up almost 2,300 miles away, neck and neck at the Rock n' Roll San Diego Marathon.
When Anna Corrigan and Bonnie Axman were cruising through the first miles, they had no idea that they were re-enacting battles between their rival high schools' cross country teams — the Lake Braddock Bruins and Robinson Rams, respectively. They weren't trying to break each other, though Corrigan had the lungs and Axman had the muscles to do so.
Back then, to think she'd be running a marathon was a stretch. In middle school, she wanted to be a sprinter, before her attempts in her track club demonstrated that her fast twitch muscles were too fast for her to catch. She tended to the longer races and made her name as a 10k runner at the University of Virginia and later, the University of California at Berkeley.
"Enjoyed it the most and it helped that I was the most competitive at that distance," she said. "But I really did enjoy running it."
Axman, 29, who couldn't be reached for this story, was an All-American in cross country at Division III Frostburg State University and had run 2:45:56 in May 2014, capping off, for now, dramatic improvement in the marathon.
"I made friends with her pretty early in the race," Corrigan, 23, said. "I had no idea we had grown up so close to each other until afterward. She was a few years ahead, so I never ran against her."
During her junior year, assistant coach Mary Jane Reeves helped Corrigan put everything together and keep her in a sport that her father had initially encouraged her to pursue. After graduate school, she settled into a job as a systems analyst for an Arizona environmental engineering company and headed straight to the marathon.
"I wanted to do one without any expectations," she said. "My only objective was to have fun."
One way to do that is to skip the distances between, like the half marathon, a distance she eclipsed in her college long runs. She stuck to a routine of a long run every weekend, with speed work when she was able to make it to Phoenix Pheet track workouts.
"I was doing it all on feel," she said, which all changed when the race began. An early downhill mile gave her a 5:37 split, shocking her.
About half way, at a water stop, Corrigan lost Axman and another woman. She spent the next few miles wading through the men falling back on the course. Within a few seconds of finding someone she thought would be a good pacing partner, he stepped off the course. At mile 18, she really felt alone.
"Those last six miles were harder than the first 18," she said. "By then, I just really wanted to see my family and boyfriend. They were all over the course but kept missing me."
A mile-long hill at 21 forged her into the runner who owned the last four miles, despite not having run more than 18 in training.
"It was a long highway stretch with nothing to look at," she said. "After that, anything was better."
She saw her sister and boyfriend at mile 24 and her parents at mile 25. A mile later, she broke the tape in her debut marathon at 2:44:27, less than 90 seconds off the Olympic Trials "B" standard. Axman was less than three minutes behind in 2:47:37. The Northern Virginia pair had swept a marathon across the country.
"I didn't even know how close I was to the standard," Corrigan said. "I just wanted to run a marathon."
She wants to give it another shot, though her career may get in the way. She's trying to find a way to manage her schedule to keep her working out regularly and out of the heat.
"It was 100 degrees in April," she said. "Nothing like D.C. — 95 in Burke is more like 115 in Phoenix because it's not humid, but it's still pretty hot. It's motivation to get up and run early."
 This story originally appeared in the July/August 2014 RunWashington.
Recent Stories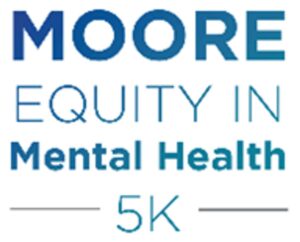 About APA's MOORE Equity in Mental Health 5k
The APA's Division of Diversity and Health Equity invites you to join us in combating mental health inequities facing young people of color and in honoring mental health advocate Bebe Moore Campbell.