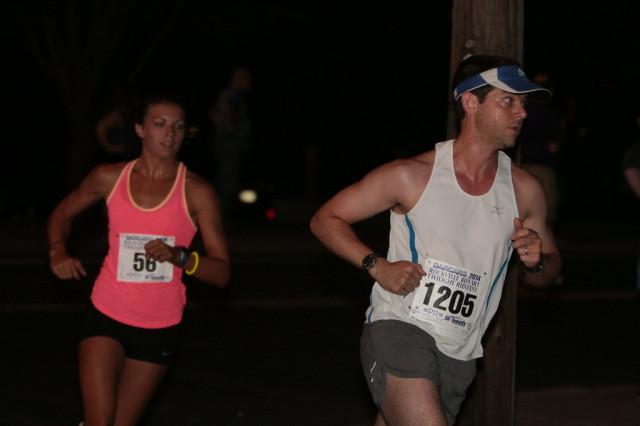 Etaferhu Temesgen slashed the Rockville Twilighter 8k record to win in 26:33 over Susanna Sullivan, whose 26:43 nearly matched the prior 26:40  record.
[button-red url="http://www.zippyraceresults.com/search.php?ID=4116http://" target="_self" position="left"] 8k Results [/button-red]"She's been doing her training in Rock Creek Park the last three months," said Ayele Bleed, her manager. "She runs twice a day seven times a week and we're working on her kilometer times."
Sullivan ran a good deal of the race thinking that she and Temesgen were behind a few women in the pack ahead of them.
"I thought we were going out conservatively but we were pretty fast at the mile," she said. "After a while people started saying that we were the first and second women. She got a gap on me and I couldn't close it."
Sullivan still ran a six-second 8k PR, at the end of a 90-mile week, which followed a 100-mile week.
"It's good to know I can run fast when I'm tired," she said.
The men's race featured a four-mile surge by Diriba Yigezu to defeat Landon Peacock by a 22-second margin in 23:48.
The cool, humid night was a welcome respite from a few dozen hot races here, a year after thunderstorms forced the race's cancellation
"I stayed back for a mile, in sixth place, then got faster," Yigezu said. "I kept the same speed for the last four miles and didn't have to run fast at the end. I think I could have run 23;30 if I sprinted in the last mile.
After breaking with the pack near three miles, Peacock (24:10) couldn't make up ground on Yigezu, but chasing him kept him ahead of third place Tilahon Manesho, who finished five seconds behind.
***
The 8k course provided a break for two members of the MCRRC racing team. D.C.'s Miles Aiken made a return to racing after June's North Face Endurance Challenge 50k. Though he felt rusty, he managed to sneak under 28 minutes.
"It's always fun racing the local elite East Africans who come out," he said. "I shouldn't be running with them, but it's fun for a little bit."
His MCRRC teammate Miguel Perez of Silver Spring was using the race as a warmup for the next morning's Rosaryville 50k in Prince George's County.
"I'm mainly an ultra runner now, but I ran shorter distances in high school and college and still like to get speed in," he said. "I need it for my fall marathon training."
Karen Delheim of D.C. loves the Twilighter because "racing at night is a whole different experience," she said. "I used to run marathons, but I enjoy races like this more. I try to make it out to this one every year."
Her friend Ron Baker, also of D.C., is primarily a mountain biker, and he brought that mentality to the race on foot.
"I never got out of breath, I just stayed at a good pace, found the aerobic sweet spot," he said.
Their friend Carla Punch was thrilled with her race. As director of group athletics at the White House Fitness Center, she is used to training others, but she's been on a mission to run a lot of races in 2014. So far she has 10.
"It was awesome," she said. "I love being out there."
Daniella Bigott, of Germantown, ran the race in full firefighter equipment. A member of the Rockville Volunteer Fire Department, she has taken up the mantle of running the Marine Corps Marathon in gear, an annual tradition in honor of the late Army Spec. T.J. Barbieri, a North Potomac native who died in Iraq in 2006 while serving in the Marine Corps.
"I am a little tired, but I think I'm ready for the marathon," she said. "You get tired but then remember why you're doing this."
Todd Delp, of Arlington, also considers himself more of a long distance runner, but it has been a while since he is run a serious race. His wife Amanda convinced him to run Rockville and he was satisfied with his race.
"It was tough to not go out too hard, but I think I found a good pace," he said. "I started in the front, where I shouldn't have been, but the adrenaline got me going. I tried to keep Amanda in my sight the whole time. She's shorter, but I could see her hair bouncing ahead of me."
Emily Roark of Kensington was thrilled with the post-race party.
"Four beers?! I never purchase four beers and they're giving them away to me?"she said. "It was a pretty fun race but it will be an even better party."
Her friend Elizabeth Heering lives very close to the course and as a member of the Rockville Running Club, covered the course on Tuesday evening fun runs weeks ahead of time. She competed as part of the Potomac River Running team.
"I ran it again yesterday," she said. "I knew it goes out fast, so I went out faster than I should have but kept it under control. I powered through the hills, a few guys dropped and knowing that the last mile is downhill helps a lot."
Recent Stories

Both 5K and 1 mile courses are USATF certified. The 5K course has some moderate hills. The 1 mile course is flat making this a perfect PR course. We are really looking to get a broader participation base.
Funds go