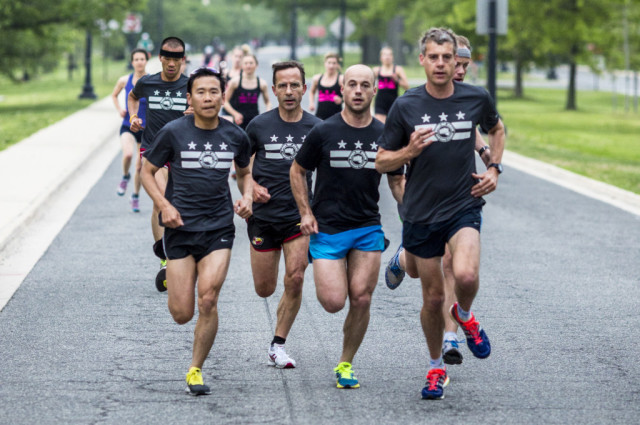 Cue an early scene from "Karate Kid."
The kid himself walks into Cobra Kai dojo and discovers that his nemesis is the top student. If that wasn't intimidating enough, the kid also encounters a meathead instructor, or sensei, as he's laying out some raw facts.
"Pain does not exist in this dojo," the sensei yells out, "does it!"
"No sensei!"
And so on.
"I thought that was kind of the greatest scene when I was grow up," said Dan Yi — the same Dan Yi who, at 16, snuck out of his house in Fairfax County one morning to run the Marine Corps Marathon.
Yi ran in high school and college, and said he at one point held the Virginia state marathon record for juniors. "I always sort of felt like the two-mile and three-mile were not very well suited to me," he said.
As a law student, Yi worked as a summer associate in Washington, D.C. This firm had a good deal, too. If an attorney took a summer associate to lunch, the firm would pick up the tab. So Yi started doing a lot of lunchtime runs with an attorney named Alan Pemberton, and afterward they would eat a lot of free sandwiches.
After law school, Yi moved back to the D.C. area (he now works at the Department of Justice and lives in Alexandria) and resumed training runs with Pemberton. They started running in the early morning, though, to beat the heat, and because it was more convenient.
"With jobs as lawyers," Pemberton, of Silver Spring, said, "it's so hard to keep up a regular schedule running at lunchtime, because you never know who is going to need you for a meeting or a call. But if you do it in the morning before the business day starts, it's a lot easier to keep to a good schedule."
"That was the only way I could run," Yi added.
Soon they were joined by other lawyers-slash-athletes interested in competitive distance running. Most live in the District.
Yi chose a club name: The Dojo of Pain. And as far as the dojo (a Japanese term for martial arts studios that literally means "place of the way"), the runners – mostly lawyers working in D.C. – found Hains Point. Or, as Pemberton referred to it, several miles of "uninterrupted, no cross traffic, good asphalt," which was good for long tempo runs and interval workouts … and marathon training.
"There's a lot pain in our dojo," Pemberton said.
Lactate Stackers
They met on a Tuesday morning at the entrance to Hains Point, by the holly tree across from the Tidal Basin.
It was little more than two weeks after the Boston Marathon, and eight dojo members who ran it were in attendance. So was D.C.'s Rachel Clattenburg, two weeks after running 2:57:58, a 13-minute personal best, to win the New Jersey Marathon.
Pemberton's workout – a rust-buster – was what he called "lactate stackers": one minute fast, two minutes of jogging, repeat. Thursday is typically a workout day as well.
"[Pemberton]" – who designs the training calendar for each season – "is essentially the coach of our group," said Yi, who is 34 and was the top American at the 2013 Comrades Marathon, an ultra-marathon in South Africa.
But Yi, who trained with Kenyans while on a Fulbright scholarship, "has always had sort of a scientific attitude towards running," said Pemberton, who started running in his 30s and last year won his 60-64 age group at both Marine Corps and Boston.
Combine the training philosophies of Pemberton and Yi, throw in the Hansons Marathon Method used by a professional team, and you start to get a sense of what the Dojo of Pain is up to.
"We have a very linear training schedule," Pemberton said. "If you know what Tuesday is one week, you know what Tuesday is the next week. It is a little bit more, a little bit longer. You either are doing the same speed or we shift from interval speed to threshold speed. But that interval is going to get a little longer each week if you are doing marathon training, and you are going to be adding miles. It's predictable, but I think people like that sense of progress."
"The core philosophy always remains the same," Yi added. "Speed work early, strength work later."
Joining the dojo is easy. "It is basically just, 'email me and we'll add you to the listserv,'" Yi said. "You come out and you decide for yourself if it works for you."
The runners for whom it works are a mixed bag of ages and speeds and running backgrounds. What binds them is a shared appreciation for testing themselves, for seeing how fast they can run while still being good lawyers and parents.
And the dojo's numbers are growing. In its early years, only a handful of people attended workouts. Members cycled in and out. Lately, though, members only seem to cycle in, and the group has developed a women's team. Yi chronicles the club's performances on a blog, and members now sport singlets featuring the three stars and two bars of the D.C. flag. And a fist.
Rounding the tip of Hains Point, Jim Moore, a father of three and new to Washington, D.C., shared his running story:
It was six years earlier, he said. His son, Henry, then less than a year old, would only stop crying if he was pushed in a stroller, so Moore spent "countless" hours pushing a stroller through the neighborhood.
Then he bought a jogging stroller.  And in 2013, at 41, Moore ran 2:58:39 in the Boston Marathon.
Other members at the workout included Ryan Johnson, coming off a 10k personal best of 34:01 at Pikes Peek. He was on the track team in college, except he was thrower.
There was Jeff Redfern, who led many of the intervals and is focused on the 5k.  And there was journeyman and Aspen Hill, Md. resident Yukun "Frank" Fung, coming off a 3:07:08 in Boston.
For the women, Megan Haberle was ninth at last year's Woodrow Wilson Half Marathon. Stephanie Selmer, Jenny Paul, Laura Jennings, and Marissa Piropato all ran Boston, led by Paul's 3:15:47 finish. Jennings ran a personal best of 3:24:40.
As for Boston, the general consensus was that the experience inspired while the race humbled. Moore, Pemberton, and Brian Savitch, a 2:41 marathoner, all had rough days.
But that was already a distant memory, it seemed. A new Pemberton training calendar had arrived. Fresh runners' highs were taking hold; new goals, new dreams, were forming.
"It's been so valuable to have a group of people to train with, to push me in workouts," Clattenburg said. "Trying to keep up with my teammates has made me run harder than ever … And Alan and Dan are great team leaders who have provided me with valuable training and racing guidance."
Then there is Chris Pruitt of Sandy Spring, Md., a standout college runner at Penn State. But he struggled a bit transitioning from shorter races to the marathon.
Upon joining the dojo, Pruitt took on a new style of marathon-specific training.
In preparation for last year's Marine Corps Marathon, Pruitt did 12-mile tempo runs and workouts, like four times one and a half miles and nine times a mile at half marathon pace. Prone to injury, he capped his peak mileage at 70 to 75 miles per week with one day off, which is less volume than most marathoners his speed.
"But the consistent Tuesday-Thursday workouts and quality long runs got me in good aerobic shape," he said.
His plan was to go out slowly and focus on hydration and taking his gels, which he had practiced in training.
Then came the race. Pruitt was in 15th place … then 12th … then 10th.
He finished 8th in 2:29:42, a new personal best.
"It was incredible to watch," Yi said. "You see this singlet that you designed way back in the day, and this guy is wearing it. And it's kind of like the culmination of all the dreams we had for where this thing would go."
Does pain exist in this dojo?
Yes, sensei.
But the system – as Pruitt and others are proving – works.
This article originally appeared in the July/August 2014 RunWashington.