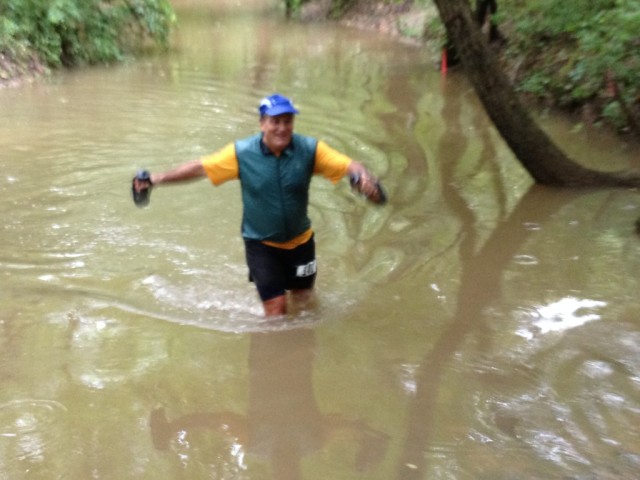 Working out the logistics for a 50-state marathon goal is almost just as difficult as completing 50 marathons. The list begins to add up quickly: race registration fees, cost for travel and accommodations, maneuvering time off of work, and the list goes on.
Race series have sprung up to give traveling runners a chance to knock out several states in one trip, often with races five days in a row. One such company, Altis Endurance Sports, based in Annapolis, brought that approach to the Potomac River, with five back-to-back trail marathons, in Meyersdale, Pa.; Keyser, W.V.; Frostburg, Md.; Annandale, Va. and Washington, D.C.
Thursday's race, in Annandale's Wakefield Park, brought out several of these so called "50-staters,"  to run Fairfax's Cross County Trail.
"Right now I'm at 30 states," said Heather Gallacher who participated in the entire series so she could knock off five marathons in just a week. "And by Friday I'll complete my 109th marathon."
The Pennsylvania native said she had no idea D.C. was such a "trail running town"
"If you had never done any of these trails before it's a great way to discover them," she said. "I was blown away. That's been one of the coolest things about this particular series—discovering the unknown. It was one of my most memorable runs and one I'll never forget."
Race directors Mike Samuelson and Frank Dembia head the endurance company and said last week's series was hopefully one of several more events to come.
"I've been a long-time Rails-to-Trails Conservancy member," Samuelson said. He earned fame in the ultrarunning community after completing a 3,302-mile run across the country in 80 consecutive days. "I've always loved rail trails and towpaths. They're just so fantastic to run."
According to Samuelson, Dembia had the idea to direct races more than 20 years ago. The two met in the Navy in California and completed several marathons and ultra marathons together. Once Samuelson finished his trans-America run, Dembia confronted him again with the idea to create the endurance company.
Their event on Thursday attracted a wide range of participants from all kinds of backgrounds, including 11-year-old Nikolas Toocheck of Chester County, Pa. Toocheck, who had the day off of school and came to Annadale with his father Dan, completed his seventh marathon on seven continents earlier this month and raised more than $40,000 for charity, providing coats to children through "Operation Warm."
Toocheck snuck the marathon in between his wrestling and baseball practice.
"If you train really hard and put your heart to something you can accomplish it," the 11-year old said.
The endurance series also included a half marathon. Former Washington, D.C.-area resident Julie Crespi won the women's half for Thursday's event. Crespi came down for the series from Rhode Island.
"I was going to come visit a friend in the area and saw a Thursday race," Crespi said. "And then I saw there was an entire series. So I figured I could drive down and hit them all along the way."
The cross country course was changed just moments prior to the race due to flooding of the trail system in Wakefield Park. The area received several inches of rain the night before and the sky continued to pour during the morning hours of the race as well. But even with a course change, runners still dealt with slick terrain and even waded through a deep gully that went past most runners' knees.
"What I love is having something to stick in my mind for one of these," said Marvin Solberg, who had just completed his seventh marathon of the year and has a long-term goal to eventually complete all 50 states. "The start was classic. We all went astray. We all went past the gully and went the wrong way."
Runners completed more than 10 loops along the course to reach 26.2 miles, which meant they had to wade through the same gully several times.
But Solberg said he didn't hear a single complaint from any of the runners.
"It's part of the excitement of hanging out with people like this," he said. "It's very positive energy and everyone that was here just did it. Running marathons is all about overcoming adversity. So when little things like that arise, it's just part of the fun."
For 2015, race directors Samuelson and Dembia are planning a nine-state marathon series in Maine, Vermont, New Hampshire, New York, Massachusetts, Rhode Island, Connecticut and Pennsylvania.
Recent Stories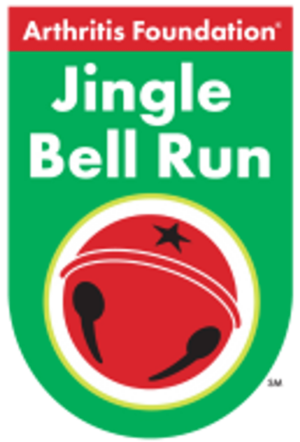 Be part of the original festive race for charity and signature Arthritis Foundation holiday event! Wear your favorite holiday attire and together, we'll jingle all the way to a cure! Register as an individual or bring a team of friends,