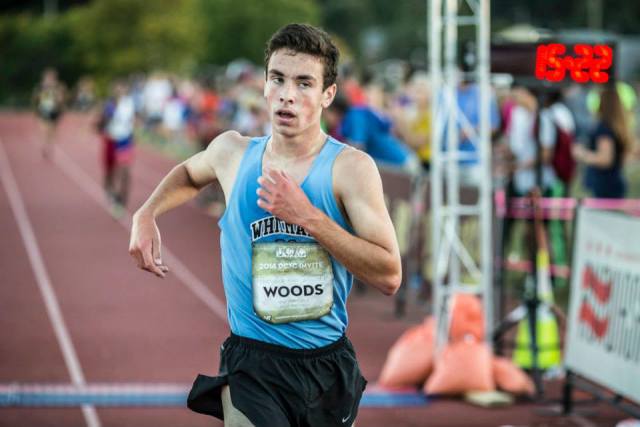 The DCXC Invitational gave Maryland, D.C. and Virginia runners a chance to face off, though the grade-level race format precluded a showdown between Heritage junior Weini Kelati and Bethesda-Chevy Chase senior Nora McUmber, both strong contenders for their respective state individual titles in Virginia and Maryland, it didn't keep anyone from running a fast time, with 14 boys breaking 16 minutes on a course that while not as hilly as others, still retained some challenge, with turns and uneven footing.
Walter Johnson's girls took a look at the Maryland state meet course, which will return to Hereford, and came away with a win in the elite race, capturing three of the top four places with Kiernan Keller winning, and Abbey Green and Emily Murphy following in third and fourth.
"They're looking even tougher than they were last year," Walt Whitman coach Steve Hays said about the defending state champions, who are still rotating their lineup. Hays' boys look pretty strong, too, with three runners under 16 minutes at DCXC – Evan Woods (15:20), Alex Roederer (15:51) and Amir Khaghani (15:56).
At DCXC, Gonzaga coach John Ausema saw promise out of the Paul VI team and the chance they could make the WCAC championship more than just the typical struggle between Gonzaga and Good Counsel.
"I was impressed by Tristan Colaizzi (Georgetown Day School) in the junior race – looked very strong in his win and was hunting down the leader during most of the race," he said.
He added that freshman runner-up John Collucci ran an excellent race, only getting caught at the end by Poolesville's Ryan Lockett.
"He's the most mature freshman, running-wise, that I have coached in 10 years at Gonzaga.  I think his times will come down quite a bit still before the end of the season – has real tenacity."
The junior girls race, behind the shock and awe that Kelati effected, Sidwell Friends coach Gaby Grebski saw a strong performance and big improvement from Sami King of the Field School, just a few miles away.
For the Lake Braddock boys, coach Mike Mangan said his number one, Alex Corbett, "finally raced like he has been training," finishing second in the senior boys' race in 15:17.
West Springfield coach Chris Pellegrini saw good things farther back in the pack for the Bruins. "Lake Braddock is also starting to get contributions from a few less heralded runners such as Evan Chase and Cav McGaw, which could solidify the back of their varsity roster," he said.
James Madison's girls continued their strong season. West Springfield coach Chris Pellegrini sees them just improving.
"After 2 great performances in a row, I think their biggest difference maker could be the emergence of sophomore number two runner Devon Williams (the sophomore runner-up)," he said. " If she continues to perform well, they could be strong down the stretch."
Pellegrini also saw promise from the Washington-Lee Boys, who had five runners under 16:45.
"No one's really talked much about them yet, but they are quietly starting to look like a State team," he said.
 T.S. Wootton coach Kellie Redmond was pleased to see McUmber and Winston Churchill's Lucy Srour run so well in the DCXC senior race.
"That should give (McUmber) a big boost of confidence," she said. "I'm happy to see (Srour) running well and injury free. She looks good."
All-RunWashington
---
Tristan Colaizzi- Georgetown Day School- 1st, DCXC Junior, 15:41
Alex Corbett, Lake Braddock- 2nd, DCXC Senior, 15:17
Andrew Hunter, Loudoun Valley- did not race
Amir Khghani, Walt Whitman- 12th, DCXC Senior, 15:56
Alex Maguire, Fairfax- 30th, Bull Run Elite, 17:37
Ryan McGorty, Chantilly- did not race
Kevin Monogue, Lake Braddock- 7th,DCXC Senior, 15:40
Tim Ward, West Springfield- 14th, DCXC Senior, 16:07
Evan Woods, Walt Whitman- 3rd, DCXC Senior, 15:20
Diego Zarate, Northwest- 1st, PG XC Classic, 15:51
Lauren Berman, Robinson- 5th, DCXC Senior, 18:57
Xaveria Hawvermale, Chantilly- did not race
Kiernan Keller, Walter Johnson- 1st, Bull Run Elite, 19:07
Casey Kendall, Oakton- did not race
Allie Klimkiewicz, Oakton- did not race
Ellie Leape, Sidwell- 4th, DCXC Sophomore
Georgie Mackenzie, Heritage- 5th, DCXC Junior, 19:01
Nora McUmber, Bethesda-Chevy Chase- 1st, DCXC Senior, 17:58
Emily Murphy, Walter Johnson- 4th, Bull Run Elite, 19:26
Amanda Swaak, James Madison- 2nd, DCXC Senior, 18:29
All-D.C.
---
Liam Albrittain, Georgetown Day School- 34th, DCXC Senior, 16:48
Christy Andjalepou, Cardozo- 26th, DCXC Junior, 17:18
Jacob Floam, Gonzaga-11th, DCXC Junior, 16:38
Joey Gaines, St. Albans- 
Aidan Pillard, Georgetown Day School- 11th, DCXC Senior, 15:56
Peter Sikorsky, Gonzaga- 54th, DCXC Senior, 17:13
Will Wimbish, Gonzaga- 57th, DCXC Senior, 17:15
Erin Bell, National Cathedral-
Lauren Cormier, Georgetown Visitation- did not race
Emily Kaplan, Georgetown Visitation- 3rd, DCXC, 18:41 
Sami King, Field- 3rd, DCXC Junior, 18:17
Mayim Lehrich, Wilson- 15th, DCXC Sophomore, 20:24
Margaret Lindsay, Georgetown Visitation- 67th, DCXC Junior, 22:25
Katherine Treanor, Georgetown Day School- 16th, DCXC Junior, 19:56
All-Maryland
---
Rohann Asfaw, Richard Montgomery- 1st, DCXC Sophomore
Itai Bezerahno, Walter Johnson- 4th, Bull Run Large Schools, 17:15
William Kirk, Rockville- 2nd, Bull Run Medium Schools, 16:46
Alex Roederer, Walt Whitman- 8th, DCXC Senior, 15:51
Colin Sybing, T.S. Wootton- Did not race
Liam Walsh, Quince Orchard- 7th, DCXC Junior, 16:30
Jack Wavering, Good Council- DCXC
Claire Beautz, Poolesville- 11th, DCXC Senior, 19:36
Sophie El-Masry, Richard Montgomery- did not race
Katriane Kirsch, Walter Johnson- Bull Run
Theresa Nardone, Poolesville- did not race
Lucie Noall, Clarksburg- 1st, Bull Run Large Schools, 19:32
Julia Reicin, Winston Churchill- 17th, DCXC Sophomore, 20:26
Lucy Srour, Winston Churchill- 4th, DCXC Senior, 19:50
All-Virginia
---
Johnny Pace, Westfield- 5th, DCXC Senior, 15:28
Bobby Dunn, Centreville- 
Anteneh Girma, T.C. Williams- 4th, DCXC Senior, 15:24
Robert Lockwood, W.T. Woodson- 
Matt Frame, West Potomac-
David Falcone, W.T. Woodson- 
Aviad Gebrehiwot, Annadale- 2nd, Six Flags Wild Safari, 16:10
Kathryn Eng, Washington-Lee- 7th, DCXC Senior, 19:29
Kelly Hart, Yorktown- 30th, DCXC Senior, 20:51
Sara Freix, Westfield- 4th, DCXC Junior 18:46
Leya Salis, Oakton- did not race
Jillian Everly, Osbourn Park- 
Kate Murphy, Lake Braddock-3rd, DCXC Sophomore, 19:23
Morgan Whittock, James Madison- 8th, DCXC Junior, 19:12