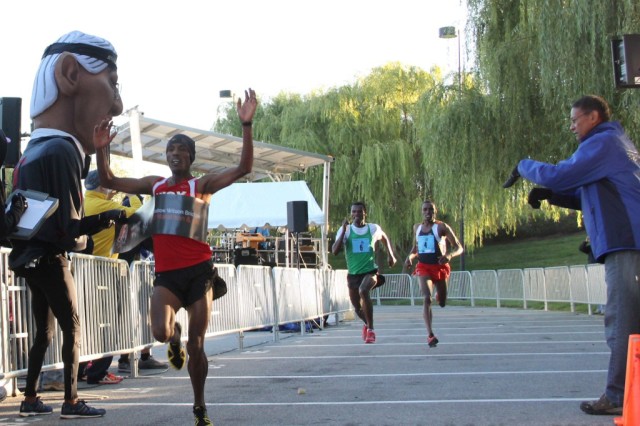 There was no calendar hopping this year for the Woodrow Wilson Bridge Half Marathon, the first of the region's races to bear the brunt of the federal government shutdown last year. The race ended up postponed until early November, but temperatures were cooler in the fifth running in 2014, with runners bundled in spandex, hats and gloves in early October.
While many weren't expecting the low temperatures, most runners were thrilled to race in the crisp and cool air so early in the fall.
"I don't think it's a hyperbole, I think the conditions were pretty perfect," Kevin Ford said. 
[button-red url="http://results.chronotrack.com/event/results/event/event-10571″ target="_self" position="left"] Results [/button-red]The race serves as the Visually Impaired National Half Marathon Championship and turned out dozens of visually impaired athletes with the help of guides along their side. Erich Manser traveled all the way from the Boston area to compete in the race.
"I ran this course two years ago and I like the improvements they made," Manser said. "As a visually impaired athlete, it made it a little user friendly for me."
Nearly a year ago, Manser had knee surgery for a torn meniscus and had to take the rest of 2013 off. But he was able to start training again in January, made it through Boston, then completed a few triathlons. By late summer, Manser said he started to feel like he got his "groove back."
"I'm not doing it without the guides," Manser said. "It's people that are so selfless and give up their own race to be out here. Such amazing athletes. Everyone's got their own reason for being out here and it's circular. You know, I love to feel like I inspire and I'm inspired by so many. It's a wonderful thing."
Alex Heiche and Laura Greason, also from the Boston area, helped guide Manser throughout the race. Both were pleasantly surprised with his pace.
"Erich gave us quite a challenge today to keep up with him," Greason said.
The race featured generous cash prizes and attracted numerous elites to the field. Bobby Mack, member of the Reebok team, held the lead during the first three miles of the race.
"But for a half marathon that doesn't really mean much," Mack said.
Mack took the lead again near mile seven,  but a pack of eight followed close behind and eventually overcame him. Once they reached mile 12, Girma Gebre, Gosa Tefera and Derege Demie broke away. The race came down to seconds, with Gebre breaking the tape at 1:03:50. Tefera finished second with the same tame as Gebre and Demie finished third one second later.
Mack said he plans to return to the area in November when he will compete in the .US National Road Racing Championships in Alexandria.
The female division also brought out fast elite runners, including Lilian Mariita (first) and Etaferahu Temesgen (second). The two held an impressive five-minute lead over the rest of the pack. Mariita crossed the line at 1:12:33 and Temesgen at 1:12:44.  Joyce Kandie was the next female to come through with a time of 1:17:31.
The 13.1-mile course started in Mt. Vernon then headed north on the George Washington Parkway toward Alexandria, where runners were greeted with lots of crowd support. Then they crossed the Woodrow Wilson Bridge (as the name of the race suggests), which stretches out more than a mile and includes several rolling hills.
Roberto Rodriguez, who has run with DC Road Runners for 35 years, said this year's race marked his fifth time crossing the bridge.
"I've run all five of them," Rodriguez said. "You can't argue with a day like today."
Rodriguez also competed in last year's race in November.
Some runners chose to defer their registrations a year after the race announced the new date, including Mark Njore of Dumfries, Va.
"I didn't think I was ready," Njore said. "It was a good excuse to defer. But I made sure to be ready this year."
But by waiting a year, his friend Francis Agula was able to joined him in this year's race.
The race seemed to attract many first-time half marathon finishers, including Alyssa Rucker who crossed the finish line with a Lack Braddock Cross Country shirt. Rucker said she picked a weekend that her cross country team didn't have any meets to run a half marathon.
"I've been wanting to do [a half marathon] for a while," Rucker said, and added that her coach had no idea about the race. "I'm sure he'll find out at some point. Hopefully he's okay with it. I did well so that's good."
Rucker said she'll eventually complete a marathon but probably not for a couple of years.
"Hopefully sometime when I'm an adult," she said.
Recent Stories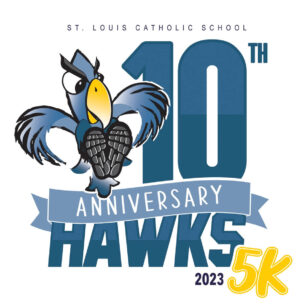 2023 will be the 10 year anniversary of the St. Louis Hawks 5K and Fun Run for Health & Wellness. The USATF certified course runs through the historic Hollin Hills neighborhood in Alexandria, VA.
The Hawks 5K goal, in conjunction