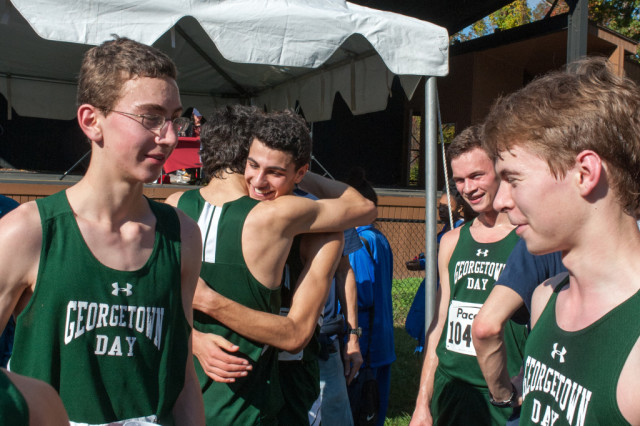 When Anthony Belber was brought on as an assistant track coach at the Georgetown Day School 17 years ago, the GDS Hoppers could hardly fill a school bus.
"The first year I coached, we only had four girls and 10 to 12 boys in cross country," he recalled.
But fast forward 17 years later, and the team can now fill multiple school buses as well as trophy boxes. In addition to winning numerous state and conference championships, the team has also won the D.C./Maryland Private School Championships.
Belber attributes most of their success over the years to the team's participation numbers — which has risen to 80 athletes in cross-country and more than 90 in track in a school that has only 450 in its total student body.
"The biggest change over the years has been our numbers." Belber said. "It's always been about getting kids to participate — that's the key. Even though we're very much enjoying the success at the top, it's still about everybody wanting to be part of the program. Not only do I enjoy coaching everybody, but I think when everybody is working hard at every level, you get better results at the conference championships."
Belber noted that he personally experienced programs that were welcoming to athletes of all levels and abilities and saw the value of coaching the complete child and not treating the athletes as "one-dimensional runners."
"I liked that it had a struggling athletic program," Belber says. "I admit I dreamed that someday I could turn it into a running powerhouse like St. Albans or Haverford.  The goal then and now, though, is to expose kids to the joys of running and help them recognize the lessons they learn in the sport carry over to every other facet of their lives."
Though the team has seen a tremendous amount of success throughout the years, Belber said funding for the program hasn't increased much and the team is still without a track.
"We do most of our training on the streets of D.C.," Belber says. "We find some trails to run in Rock Creek Park and things like that. But we have to rent the American University track a few times a week so we're limited to the days that their team isn't using it."
But that hasn't stopped the team from top performances in track, either. The boys' track team has taken home four conference championship titles. Belber said his assistant track coaches played a large part in their success.  Sprinting coach William Miezan competed in the 1996 Olympic Games in Atlanta as a sprinter on the 4x100m relay team for Cote D'Ivoire.
"Without a doubt, our team would not be where it is today were it not for the coaching our sprinters, jumpers, and hurdlers have been receiving from him for the past 13 years," Belber said.
GDS also added another assistant track coach, Brian Bobo, who has been with the program for a dozen years and is the reason they've sent two triple jumpers to Division I programs despite having no jumping facility of their own.
Belber also attributes the team's success to backing off in mileage and workouts.
"If anything in the last four years, we've backed off the number of workouts we do instead of trying to squeeze two hard workouts in a week in addition to a meet," Belber said. "Year-round, we do one hard workout a week and one meet a week. I think that recovery time is a huge part of our success. Even our top boys are probably doing mid-30 (miles per week) throughout the season. And our girls do a little less."
Although Belber attributes all the teams' success to his assistant coaches, cutting mileage and rising participation numbers, his former athletes say that's just part of it. Ben Stern, a GDS alumnus who was a junior when Belber first started coaching, said most of the success should be credited toward Belber.
"As soon as Belber came on as coach, I saw dramatic improvements," Stern said.
When Stern went off to Princeton and later Oregon, his little brother Alex followed him through GDS. He was worried that Belber might base his expectations based on his brother's career,said the complete opposite happened.
"His tireless dedication to the program and individualized attention to every athlete is why the team has seen such dramatic improvements," Alex said. "He never treated me as 'Ben's little brother.' He treated me as Alex."
Alex added that Belber's coaching style and techniques have stayed with him since high school — particularly keeping a cool and calm approach to everything in life.
In addition to the numerous championship titles Belber can be credited for, he was also a finalist in the 2014 Brooks Running Inspiring Coach of the Year. It's no wonder 10 different alumni have come back as assistants, which Belber said was also key the team's success over the last decade.
The alumni have kept an active Facebook page, and according to Belber, "are more tightly bonded than any other alumni faction within the school community."
Belber saw firsthand how bonded the community has become after a former runner passed away.
"The way these runners and alumni came together… it meant a lot to me as a coach," Belber said. "I love the fact that a lot of our running alumni stay involved. When we go to big meets, the local alumni will cheer and so even though we feel like the rest of the school may not understand or appreciate what the runners are doing, we still feel a big sense of community."
Recent Stories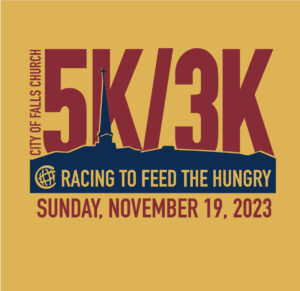 The out and back Falls Church City 5K/3K course is mostly flat on the W&OD Trail starting and finishing at 103 Columbia Street. Overall male and female winners earn free shoes and medals are awarded to all categories. Great family