After a few heavy weekends of racing, some teams took off, but it wasn't a rest week for everyone.
In Cary, N.C., Loudoun Valley's Andrew Hunter ran 14:46 to win the Great American Cross Country Invitational's Race of Champions, demonstrating what he can do on a fast course. E.C. Glass sophomore Libby Davidson ran 17:07, letting Heritage's Weini Kelati know the 4A state championship won't be a lonely race. James Madison's girls took fifth, with a short-handed Oakton team behind in 14th.
The Octoberfest Invitational at Great Meadows featured photo finishes in both varsity races. The Holt twins from George Marshall finished together again, with Heather getting the nod over Ashley, both in 18:38, the second time the freshmen had finished side-by-side in an invitational. In the boys' race, Westfield's Johnny Pace wasn't trying to share the glory with Deep Run's Matthew Novak, but he managed to outlean him for a 15:49 win.
Chantilly's Ryan McGorty won his race at the Gettysburg Invitational in Pennsylvania, running 15:42. At Delaware's Salesianum Invitational, National Cathedral School freshman Page Lester won the girls' small school race in 19:33.
In county championship action, two weeks ago, Washington-Lee swept the team championships, with W-L's Donia Nichols winning the girls' race in 20:11 and Bishop O'Connell's Josh Speier taking the boys' title in 17:15.
The Alexandria City Championships featured a photo finish, too, with T.C Williams' Alexander Heimberg edging teammate Anteneh Girma in 17:30, leading the Titans to the championship. In the girls' race, Bishop Ireton's Maggie Lohrer won in 20:32, though T.C. Williams won the team race there, too.
The Loudoun County Championships featured the 4A dynamos Hunter (15:47) and Kelati (17:28) with Tuscarora taking the boys' title and Heritage, the girls'.
---
Here's how the All-RunWashington preseason team did, as best as I could find out. If you know someone's results from the past week currently marked "inconclusive," feel free to comment with the pertinent information.
All-RunWashington
---
Tristan Colaizzi- Georgetown Day School- inconclusive
Alex Corbett, Lake Braddock- did not race
Andrew Hunter, Loudoun Valley- 1st, Great American ROC, 14:45
Amir Khghani, Walt Whitman- 2nd, Whitman/Walter Johnson, Wootton, 16:46
Alex Maguire, Fairfax-14th, Octoberfest, 16:28
Ryan McGorty, Chantilly- 1st, Gettysburg, 15:42
Kevin Monogue, Lake Braddock- did not race
Tim Ward, West Springfield- did not race
Evan Woods, Walt Whitman- 1st, Whitman/Walter Johnson, Wootton, 16:38
Diego Zarate, Northwest- 1st, Tidewater, 15:41
Lauren Berman, Robinson- 7th, Octoberfest, 19:00
Xaveria Hawvermale, Chantilly- did not race
Kiernan Keller, Walter Johnson- 1st, Whitman/Walter Johnson, Wootton, 19:15
Casey Kendall, Oakton- 28th, Great American ROC, 18:41
Allie Klimkiewicz, Oakton- did not race
Ellie Leape, Sidwell- did not race
Georgie Mackenzie, Heritage- 
Nora McUmber, Bethesda-Chevy Chase- did not race
Emily Murphy, Walter Johnson- 3rd, Whitman/Walter Johnson, Wootton, 19:27
Amanda Swaak, James Madison- 14th, Great American ROC, 18:18
All-D.C.
---
Liam Albrittain, Georgetown Day School- 
Christy Andjalepou, Cardozo-inconclusive
Jacob Floam, Gonzaga-6th, Salesianum Championship, 17:24
Joey Gaines, St. Albans- 4th, Salesianum Small Schools, 17:53 
Aidan Pillard, Georgetown Day School- inconclusive
Peter Sikorsky, Gonzaga- 20th, Salesianum Championship, 18:15
Will Wimbish, Gonzaga- 16th, Salesianum Championship, 18:00
Erin Bell, National Cathedral-did not race
Lauren Cormier, Georgetown Visitation- 
Emily Kaplan, Georgetown Visitation-  
Sami King, Field- inconclusive
Mayim Lehrich, Wilson-inconclusive
Margaret Lindsay, Georgetown Visitation-
Katherine Treanor, Georgetown Day School- inconclusive
All-Maryland
---
Rohann Asfaw, Richard Montgomery- inconclusive
Itai Bezerahno, Walter Johnson- 6th, Whitman/Walter Johnson, Wootton, 17:19
William Kirk, Rockville- 1st, Rockville/Kennedy/Seneca Valley/Damascus, 16:11
Alex Roederer, Walt Whitman- 3rd, Whitman/Walter Johnson, Wootton, 16:57
Colin Sybing, T.S. Wootton- did not race
Liam Walsh, Quince Orchard- 1st, Quince Orchard/Sherwood, 17:25
Jack Wavering, Good Council- 11th, Paul Short Brown, 15:42
Claire Beautz, Poolesville- inconclusive
Sophie El-Masry, Richard Montgomery- inconclusive 
Katriane Kirsch, Walter Johnson- 7th, Whitman/Walter Johnson, Wootton, 21:04
Theresa Nardone, Poolesville- inconclusive
Lucie Noall, Clarksburg- 3rd, Churchill/Einstein/Clarksburg/Landon, 20:47
Julia Reicin, Winston Churchill- 4th, Churchill/Einstein/Clarksburg/Landon, 21:01
Lucy Srour, Winston Churchill- 1st, Churchill/Einstein/Clarksburg/Landon, 20:08
All-Virginia
---
Johnny Pace, Westfield- 1st, Octoberfest, 15:49
Bobby Dunn, Centreville- inconclusive
Anteneh Girma, T.C. Williams- 3rd, Octoberfest, 15:52
Robert Lockwood, W.T. Woodson- 4th,, Octoberfest, 16:15
Matt Frame, West Potomac-inconclusive
David Falcone, W.T. Woodson- 51st, Octoberfest, 17:12
Aviad Gebrehiwot, Annandale-inconclusive
Kathryn Eng, Washington-Lee- inconclusive
Kelly Hart, Yorktown- inconclusive
Sara Freix, Westfield- 3rd, Octoberfest, 18:49
Leya Salis, Oakton- did not race
Jillian Everly, Osbourn Park- 5th, Octoberfest, 18:56
Kate Murphy, Lake Braddock- did not race
Morgan Whittock, James Madison- 44th, Great American ROC, 18:58
Recent Stories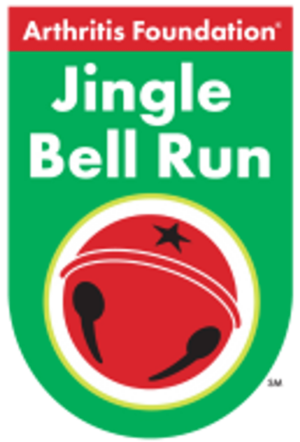 Be part of the original festive race for charity and signature Arthritis Foundation holiday event! Wear your favorite holiday attire and together, we'll jingle all the way to a cure! Register as an individual or bring a team of friends,