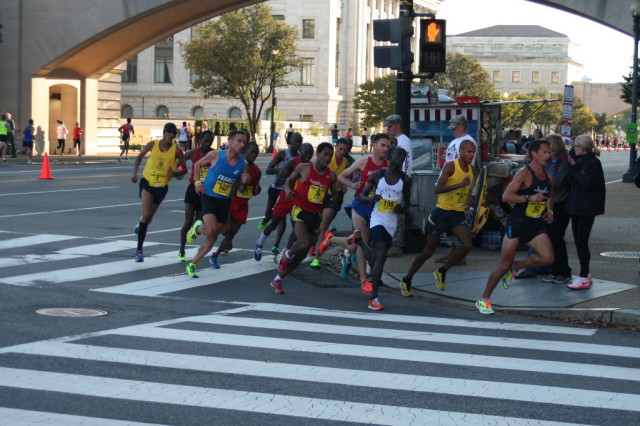 Kerri Gallagher will tell you 10 miles isn't her specialty.  And she has a point.
Last year, Gallagher was fifth in the 1500 meter run at the USA Track and Field Championships.
[button-red url="https://www.armytenmiler.com/results/default.aspx?event=24297″ target="_self" position="left"] Results [/button-red]Well, on the side, Gallagher this morning became the first runner in the Army Ten-Miler's 30-year history to win three straight overall titles, while also lowering her event record by six seconds to 54:50.
Marianne Dickerson won the first two ATMs, in 1985 and 1986, then won again in 1988. Next year, if Gallagher can make it a four-peat, she'll tie Alisa Harvey for the most overall female titles.
After the race today, Gallagher remembered how her first ATM, in 2011, came as a bit of a shock. "I was surprised, because I wasn't expecting to race it, and then he told me I was racing it," she said, referring to her then-new coach, Matt Centrowitz.
If you train under Centrowitz, chances are ATM is on your schedule. Gallagher, who was a recent graduate of Fordham University with a degree in math and a school record for 800 meters, just didn't know it at the time.
"I wasn't quite strong enough to run 10, but I ran it," she said, recalling her sub-60-minute debut, which put her more than three minutes behind the winner, Tezata Dengersa. The next year, though, even if 10 miles still wasn't Gallagher's favorite distance, she was ready: claiming her first victory in 56:09.
A three-year member of the Pacers-New Balance team, Gallagher recently became represented by Oiselle. By now, though, ATM is locked into Gallagher's schedule. It's a tradition.  And she'll be back next year for a shot at four titles.
"The energy is always so great here," she said.
Gallagher was challenged in the early miles by U.S. Army Specialist Caroline Jepleting, who shares Gallagher's background in middle distances. Jepleting was second in 56:34, putting her well ahead of Caitlin Bullock, of Durham, N.C., who was third in 57:17.
Born in Kenya, Jepleting came to the United States in 2008 to attend college. She was a 12-time national junior college All-American prior to transferring to Texas Tech, where she won a Big 12 cross country title.
Since coming to the United States, "I have always wanted to be in the military," said Jepleting, who joined the Army about a year and a half ago and is now stationed in Germany. "It also is a way to celebrate the scholarship I got."
Jepleting wasn't sure if she would be able to continue running in the Army. "But I had that in mind: given a chance, I'd go for it," she said.
She qualified to represent her unit's team today by running a 61-minute qualifier in late June. Today, she easily exceeded her goal to break 60, and is already looking forward to next year.
"I think that is the greatest motivation," she said of the 900 soldiers and civilians who support the event, as well as the spectators lining the course. "No matter how tired I was, I just kept moving."
***
An hour before the first cannon fired this morning, members of the Brazilian Army team smiled while posing for a photo.
"Do you have the same team as last year?" the same team that swept the first three spots in 2013, a reporter asked.
"Yes," a coach said. "Same team."
You could not see Solonei Da Silva, Paulo Paula and Frank Almeida on the first row of the starting line. And in the opening mile, as an amateur runner sprinted out to a lead he would sustain for perhaps two minutes, the tall Da Silva, last year's winner, ran fluidly with his teammates and let others set the pace.
The U.S. Army team, Aron Rono, Augustus Maiyo, Hillary Bor, and others – all athletes coached by Olympian and three-time ATM winner Dan Browne – had a similar strategy: run as a team, keep the group together as long as possible.
"We had decided we were going to take it really slow and try to bring the team together all the way towards the end," Rono said.
As Siraw Gelaw opened up an early lead and passed through the mile in an honest 4:50, a huge mass of runners followed roughly 15 seconds back. Over the next few miles, a chase pack of 15 reeled him in, and Gelaw gladly settled back into the group.
Singlets – yellow for Brazil, gray camouflage for the Army, blue belonging to the U.S. Air Force and Frenchman Sebastien Beltran – stretched across Independence Avenue.
With a mile to go, one U.S. Army journalist captured the moment perfectly, saying, "Fifteen dudes have a shot."
Chris Kwiatkowski, of Pacers New-Balance, was in the thick of it, just like last year. Ben Payne, of the U.S. Air Force, was often at the front and center of things. Two-time champion, Tesfaye Sendeku, Gelaw's teammate, was there, too. Maiyo, former Marine Corps Marathon champion, was in the back, mostly hidden from sight.
"The last mile, I was a little disappointed, mainly because I was pushing the pace and the Brazilian team was really strong," Rono said. When he surged, they surged back as if it were a game of speed-play.
There they were, sprinting towards the tape, with Da Silva defending his title in 48:28, just a second ahead of Paula. Almeida, in 48:45, edged out Rono, who moved up a spot from last year to fourth.
***
Thirty years ago, the first ATM had 1,379 runners. Today, there were 35,000 registered runners, 720 registered teams, and 11 shadow runs held all over the world. Retired Col. Lewis Goldberg was back for his 30th race, making him the only person to run in every ATM.
As runners filtered into the starting area for several wave starts on a chilly, sunny morning, the parachutes of the Army's Golden Knights floated down from the sky. And about ten minutes before the first wave went off at 8 a.m., over 85 Wounded Warriors and wheelchair athletes – the heart and soul of ATM – were the first to cross the starting line.
One was Col. Greg Gadson, joined by five other handcyclists representing a team supported by America's Fund. He has been competing in races on a handcycle – "an upside-down bicycle," he said – since 2009.
Growing up, Gadson's favorite sport was football.  It was his skills as an outside linebacker that drew the attention of the United States Military Academy, and earned him a scholarship to play at West Point, leading him to a career as a soldier.
Gadson drew on that background after May 7, 2007. That day, in Baghdad, Iraq, Gadson was in a vehicle that was struck by a roadside bomb. His arm was badly injured; both of his legs had to be amputated above the knee.
"I think as a football player we always talk about getting knocked down and getting back up," he said. "It's a metaphor, but I think mentally that's what you have to do."
Gadson's first Marine Corps Marathon as a handcyclist was hard, he said: "I thought I would never do it again." Gadson has done three more marathons since.
After his injury, Gadson continued to serve in the military. He directed the Army's Wounded Warrior program, he said, and, prior to retiring at the end of last year, was garrison commander for Fort Belvoir.
He is seeking out his next chapter in life, he said. Maybe he will even do more acting.
He also hopes, though, that he'll have a little more time to get out on his hand-cycle through his neighborhood in Fairfax County and along the Mount Vernon trail.
"I want to keep a good cadence, keep a good rhythm," he said. "Regardless of whether I am going uphill or downhill, I just try to find the right gear and keep that grind."
Recent Stories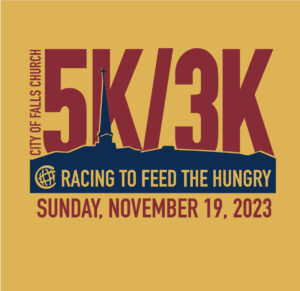 The out and back Falls Church City 5K/3K course is mostly flat on the W&OD Trail starting and finishing at 103 Columbia Street. Overall male and female winners earn free shoes and medals are awarded to all categories. Great family