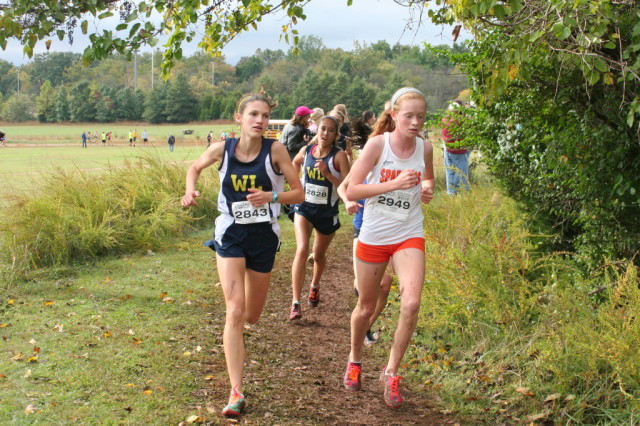 Joey Gaines got the answer to the question nobody ever thought to ask: What's harder — running a 5k cross country race or traveling to Clifton, Va. from Greenbelt, Md. on a Sunday afternoon?
[button-red url="http://va.milesplit.com/meets/176775-glory-days-grill-invitational#.VD8GuvnF-PU" target="_self" position="left"] Results [/button-red]
After the rigors of the SAT and the harrying trip 43 mile trip that took an hour and a half, he was cooked by the time he reached Bull Run Regional Park 30 minutes before race time at the Glory Days Grill Invitational.
"That just wiped me out completely," he said. "The first mile was a lot of fun, it was a real cross country atmosphere, people flying all over the place trying to find their footing, but after that it's like a switch went off and it got pretty rough."
The upside? He feels pretty confident about the SAT, having noticed a big improvement from his experience taking it the first time. He was one of many seniors who took the test one last time before the Nov. 1 early acceptance deadline for colleges.  
The test wiped out the West Springfield guys, who had six of their top seven in the test that morning. They finished seventh.
"In hindsight, I might have considered sitting them in that situation," said Spartans coach Chris Pellegrini. 
Some of Quince Orchard's runners got hotel rooms in Virginia and took the test close to the race.
""We have the Homecoming dance tonight, so we were getting squeezed on both ends," coach Seann Pelkey said. "There were a few runners who took the SAT and were going to the dance and I just figured why make the day that stressful, we just gave them the weekend off. It looked like there were a couple teams that were missing seniors."
Like Gaines, many got their heart rates up on I-66 and U.S. 29 as they approached the park, not sure if they'd get there in time for their races. For some, that served as a warmup.
"I think SAT was a factor for my guys," said Gonzaga coach John Ausema. "I had two seniors taking the test, and they are the leaders of my 2-5 pack.  They looked out of sorts and did not race well.  I also had two just in varsity B show up just prior to the race – one of them tied on this tag with less than five minutes before the gun."
Ausema was there quite early, having showed up for the open race ahead of the high school events along with several other coaches. Bethesda-Chevy Chase coach Emily Young won the women's race and Millbrook coach Matt Lofton lead coaches in the men's race in second place, ahead of Annadale's Dave O'Hara, who led the local men's coaches.
In the individual races, Chantilly's Ryan McGorty lead the men through two miles before Loudoun Valley's Andrew Hunter (15:44) took over and broke away from McGorty (16:11) and Millbrook's Tyler Cox–Philyaw (16:05). The three will race again at Millbrook next weekend. They could have gone a little faster, where it not for McGorty's sense of direction.
"Coming around the first mile, I forgot that we turned so soon, so I started following the end of the course, backwards," he said. "Someone finally started yelling that we were going the wrong way."
Hunter's initial goal was to break 15:00 for the second consecutive week, having run 14:46 the weekend before, but admittedly he didn't push too hard at the beginning.
"I was lazy and let Ryan take it," he said. "Maybe we wouldn't have gone the wrong way, but I don't know."
They were a little fuzzy on the course after the meet was cancelled in 2013, thanks to flooding after days of steady rain. Far less rain fell Saturday morning, but it still made for a messy course by the end of the day.
It didn't matter to Emily Kaplan. The Georgetown Visitation School senior finished fifth in 19:21, just ahead of Sara Freix of Westfield.
"Yeah, it was muddy, but it's my favorite course," she said. "It's a lot like a track, it's less hilly than a lot of the courses we run."
The National Cathedral School's Page Lester finished third, further vindicating her decision to run cross country after a few years off while focusing on swimming.
Patriot won the girls' race, behind Rachel McArthur's 18:40 four-second win over Loudoun Valley's Ciara Donohue.
"They are closer to Lake Braddock and James Madison than most people might believe," Pellegrini said of the race for the Virginia 6A Region race. "The (runner-up)Washington-Lee girls are extremely talented through four runners   They have been very dependable.  It will be interesting to see how the racing scores shake out in the postseason if they continue to struggle at the number five spot."
Dulaney became the second Mayland team to win the Glory Days boys' team title.
"To have a great number one like Eric (Walz, fourth in 16:19) up front and a pack like that (32 seconds between 1-5), that's the best I've seen out of this team as long as I've been here," coach Chad Boyle said.
Quietly, back in the pack, Bethesda-Chevy Chase senior Caroline Beakes inched her way into the water (mud) for her first race since the JV race at the Montgomery County championships.
All-RunWashington
---
Tristan Colaizzi- Georgetown Day School- 9th, Glory Days, 16:34
Alex Corbett, Lake Braddock- 1st, Disney Classic, Hades 15:30
Andrew Hunter, Loudoun Valley- 1st, Glory Days, 15:44
Amir Khghani, Walt Whitman- did not race
Alex Maguire, Fairfax-12th, Albemarle, 16:30
Ryan McGorty, Chantilly- 3rd, Glory Days, 16:11
Kevin Monogue, Lake Braddock- 2nd, Disney Classic Hades, 15;47
Tim Ward, West Springfield- 19th, Glory Days, 16:47
Evan Woods, Walt Whitman- did not race
Diego Zarate, Northwest- 1st, Manhattan D, 12:37 4k
Lauren Berman, Robinson- 5th, Disney Classic Maleficent, 18:42
Xaveria Hawvermale, Chantilly- out for the season
Kiernan Keller, Walter Johnson- 37th, Manhattan Eastern States, 15:45
Casey Kendall, Oakton- did not race
Allie Klimkiewicz, Oakton- did not race
Ellie Leape, Sidwell- 2nd, Glory Days Varsity B, 19:36
Georgie Mackenzie, Heritage- did not race
Nora McUmber, Bethesda-Chevy Chase- did not race
Emily Murphy, Walter Johnson- 17th, Manhattan Eastern States, 15:11
Amanda Swaak, James Madison- did not race
All-D.C.
---
Liam Albrittain, Georgetown Day School- 95th, Glory Days, 17:40
Christy Andjalepou, Cardozo-inconclusive
Jacob Floam, Gonzaga-39th, Glory Days, 17:11
Joey Gaines, St. Albans- 135th, Glory Days, 18:05
Aidan Pillard, Georgetown Day School- 29th, Glory Days, 16:55
Peter Sikorsky, Gonzaga- 94th, Glory Days, 17:39
Will Wimbish, Gonzaga- 78th, Glory Days,17:32
Erin Bell, National Cathedral-did not race
Lauren Cormier, Georgetown Visitation- 63rd, Glory Days, 21:20
Emily Kaplan, Georgetown Visitation- 5th, Glory Days, 19:21 
Sami King, Field- 1st, PVAC, 19:16
Mayim Lehrich, Wilson-1st, Disney Classic Queen, 19:52
Margaret Lindsay, Georgetown Visitation-167th, Glory Days, 23:09
Katherine Treanor, Georgetown Day School- 15th, Glory Days,19:45
All-Maryland
---
Rohann Asfaw, Richard Montgomery- 2nd, Coyote, 16:34
Itai Bezerahno, Walter Johnson- 4th, Coyote, 16:42
William Kirk, Rockville- 1st, Urbana, 16:37
Alex Roederer, Walt Whitman- did not race
Colin Sybing, T.S. Wootton- did not race
Liam Walsh, Quince Orchard- 16th, Glory Days, 16:43
Jack Wavering, Good Council- 5th, Glory Days,16:24
Claire Beautz, Poolesville- 2nd, Wildcat, 19:37
Sophie El-Masry, Richard Montgomery- 5th, Coyote, 19:54
Katriane Kirsch, Walter Johnson- 29th, Manhattan Eastern States, 15:32
Theresa Nardone, Poolesville- did not race
Lucie Noall, Clarksburg- 2nd, Urbana, 19:18
Julia Reicin, Winston Churchill- 21st, Glory Days, 19:59
Lucy Srour, Winston Churchill- 4th, Glory Days, 18:54
All-Virginia
---
Johnny Pace, Westfield- did not race
Bobby Dunn, Centreville- did not race
Anteneh Girma, T.C. Williams- did not race
Robert Lockwood, W.T. Woodson- did not race
Matt Frame, West Potomac-did not race
David Falcone, W.T. Woodson- did not race
Aviad Gebrehiwot, Annadale-8th, Glory Days,16:32
Kathryn Eng, Washington-Lee- 25th, Glory Days, 20:05
Kelly Hart, Yorktown- 59th, Glory Days, 20:58
Sara Freix, Westfield- 6th, Glory Days, 19:22
Leya Salis, Oakton- did not race
Jillian Everly, Osbourn Park- did not race
Kate Murphy, Lake Braddock-2nd, Disney Classic Maleficent, 18:15
Morgan Whittock, James Madison- did not race
Recent Stories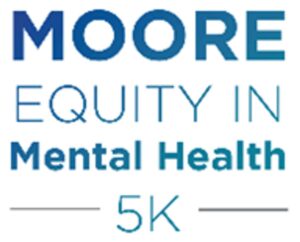 About APA's MOORE Equity in Mental Health 5k
The APA's Division of Diversity and Health Equity invites you to join us in combating mental health inequities facing young people of color and in honoring mental health advocate Bebe Moore Campbell.