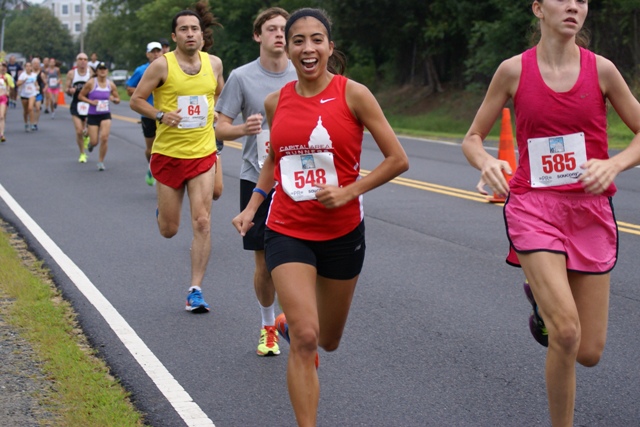 It was time, and Kelly Swain knew it.
"I was always working up to a marathon," she said just a month before toeing the line at the Marine Corps Marathon.
The 29-year-old Burke native has been running since high school, but wanted to wait for the right moment to commit to 26.2 miles. She started running while at Lake Braddock, encouraged by her older sister's achievements, but quickly became successful in her own right. That sister, accomplished local runner Erin Taylor, recalls "some middle school race, or high school, [Kelly] either won the mile or got second. I was like, 'People think I'm fast? She's gonna be way faster."
Swain went on to run at the University of Virginia, but injuries and the pressures of collegiate running kept her from the "normal college experience" she wanted, the kind where your peers aren't working like professional runners to maintain their scholarships. She declared herself retired.
"I just needed a break and didn't think I really liked running any more," she said.
She's not alone.
"A lot of these runners come out of college programs burnt out," said George Buckheit, Swain's coach with Capital Area Runners. "They just feel like running isn't fun, and I think one of the strengths of what we put together at Capital Area Runners is we've got a group that is very supportive." This has been a selling point for Swain's return; both sisters praise Buckheit and their teammates for the motivational atmosphere that sets them up for their success.
"The Ultimate Progression"
"When I came back to running three years ago, I promised myself I would not let it consume my entire life," Swain said.
Instead of cutthroat competition, she made the choice to set time goals and encourage runners who might pass her.
"I think when I took the focus off of competing with other runners and placed it on my own ability, I started loving running once again," she said.
Still, to her, the marathon was "the ultimate progression" in a runner's career and her unspoken goal was to finish her first in under three hours. To get there, she spent two years rebuilding her base with CAR and the last year racing the Army Ten-Miler, the Richmond Half Marathon, and most recently, the Navy-Air Force Half Marathon. Her times show little hint of having recently come out of retirement. In fact, she won the Marine Corps 17.75k in March and placed fifth at the Navy-Air Force Half-Marathon. But she had to rebuild her confidence alongside her mileage before she considered going farther.
"I didn't want to just do a marathon to do it," she said. "I wanted to do a marathon to know that I was going to run well and that I was well prepared." Doing well, for her, meant being thoroughly prepared to break three hours. "I guess this is the year that I thought I was ready to do that," she said, with characteristic humility. Because runners love a challenge, she also scheduled her wedding to to fiancee, Brendan Mahoney, for Nov. 1, 2014, just six days after her marathon.
With any luck, the post-race soreness will wear off before it's time to dance.
"I never make any bold predictions on a race, especially a marathon," Buckheit said of her upcoming race. "It's so unpredictable. But she's running great. This is as well as she's been running since she's been with us."
Swain is also running her highest mileage ever, and without injury, which Buckheit attributes to better recovery practices.
"She's ready," Taylor said. "She knows how hard a first marathon can be, especially if you go out too fast like I tend to do and then you're pretty much crawling in. She'll run better than I did my first."
Taylor's pride in her sister shines through every praising word she said. "That week is going to be amazing for her," she gushed.
Race Day
On marathon morning, Swain plans to heed the advice of her coach to start slow and finish fast. She attributes her success at the Navy-Air Force race to staying slow through the first 5k, per Buckheit's advice. "I never believed him at first until I actually started to do it in races," she said.
Buckheit and Taylor shared their advice for Swain, the thing they'd like to repeat in her ear for 26.2 miles.
Taylor said to have fun. "At the end of the day, there's gonna be some part of the race I would think [will] hurt worse than anything that's ever hurt before, and just to remember you're doing this because it's fun."
And Buckheit reiterated the need to be patient. In the first 10k, he said, "If you don't feel like you're running too slow, you're running too fast. […] Wait until everyone else has made their early race mistakes and starts crashing, and that's when you pick your spot to start moving your way through the field."
Most of all, they share the unequivocal opinion that she is ready. She has trained hard and run well throughout her training. All that remains is to race.
"We're rooting for her," her sister said.
This article originally appeared in the November/December 2014 RunWashington.