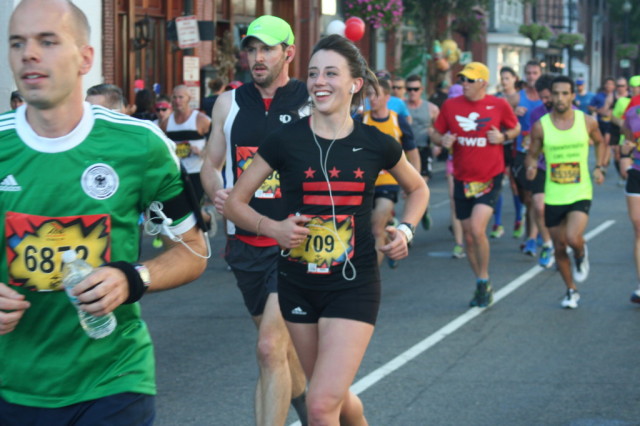 While many loved the scenic course, crowd support, and near perfect weather, runners at Sunday's Marine Corps Marathon universally raved about one thing: Marine volunteers who motivated them to cross the finish line.
"The Marines are amazing," said Addie Thompson, a 24-year-old D.C. resident. "It's really cool to see them supporting on the sidelines and everyone is so kind at this race, I've never experienced a race crew that was just to kind and helpful and supportive."
[button-red url="http://www.marinemarathon.com/Results/MCM_Results.htm" target="_self" position="left"] Results [/button-red]Thompson, who finished in under four hours, works out with November Project D.C., a group that promotes free fitness with workouts – including running the Lincoln monument stairs – all before the sun comes up. She credits her training with the group, and support from fellow group members along the course, for the improvement over her 2013 time at the race.
"I personally had a much better race," she said. "Honestly NP has done so much for my training and the crowd, people were just planted all over and incredibly supportive. We have a really tight crew."
Megan Clark, 34, also really thrived on the energy from those on the sidelines, saying the support from the crowd is what helped her hit her time goal at her first marathon.
"It was good, it was tough, but I think it went really well. It felt good on energy from the people," she said. "Wonderful crowd support."
The D.C. resident had hoped to finish in under 3:45, and ended up crossing the finish line in 3:42. While many spoke about the beautiful course passing by historic monuments, Clark said her favorite part of the course was getting Dunkin Donuts munchkins at mile 24.
While her first race was a success, Clark wasn't sure if there'll be another 26.2 in her future immediately after finishing.
"It's too soon to ask. Everybody says wait until later today. Right now everything hurts."
Whittney Hollingsworth, 50, struggled with hills at the start, saying that while she expected some hills, she wasn't prepared enough for elevation changes at the beginning.
"I hurt from the beginning," she said. "It wasn't the time I was shooting for, but there was no disappointment in the time at all. I was just glad to get to that finish line."
The 7-time marathoner from Elkmont, Ala., had a three-marathon bucket list: the New York Marathon, the Boston Marathon and the Marine Corps Marathon. With Sunday's finish, she finally has completed all three and said each exceeded her expectations. Her family, who waited for her at the finish line, said the Marine Corps was the best for spectators, and Hollingsworth commented on the helpful volunteers, saying that "the Marines were wonderful."
Paula Dubovoy, 23, broke four hours at her second marathon, where she ran for World Vision, a nonprofit that raises money to build wells for those who may not have access to clean water.
"What I love about them is they motivate people here to stay in shape and to achieve something that someone may think they would never be able to do but then there's a greater purpose behind it as well," the Westborough, Mass.-resident said.
Her favorite part of the course was the Marine volunteers at water stops and along the course cheering her on, while she could thank them for their service as well.
"It was just really neat seeing all the Marines and them cheering for us and thanking us and then being able to thank them as well. It's just a cool thing, they're thanking us and we're thanking them," she said.
Darjush Boushehri expected a mediocre performance, as his marathon training took a back seat to his final semester finishing up his J.D. at George Washington University. Despite that, the 33-year-old Greenbelt resident was happy with his performance at his second Marine Corps Marathon.
"My training had gone really downhill with grad school for the last month and a half, so I just decided I would stick with one of the pacing groups, 3:25. It was a hope and a dream and I came in at 3:26. That is my personal best by 22 minutes on this course," he said. "So surprisingly well."
He first ran the race in 2011 and came back because of the great organization and scenic course that winds by the Kennedy Center, one of his favorite parts of the course.
"It's extremely well put together," he said. "It's great how it's fairly flat overall. It has a little bit of hills to give you a little change, and seeing all the monuments of course."
Boushehri ran Sunday for Teens Run D.C., a running group that pairs inner city kids who are interested in running any race distance with an adult mentor.
"It helps to keep them accountable, keep them in shape and give them something else to do," he said.
He doesn't any other races coming up before he graduates in December, but is working toward the Shamrock Whale Challenge in March, where he plans to run a 5 miler and a marathon on consecutive days, and will compete at Ironman Cozumel later in 2015.
Recent Stories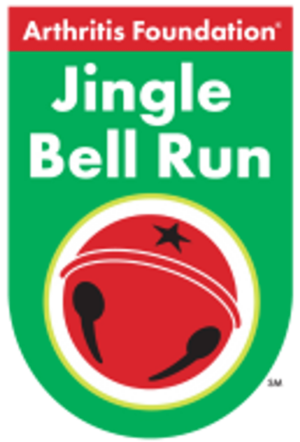 Be part of the original festive race for charity and signature Arthritis Foundation holiday event! Wear your favorite holiday attire and together, we'll jingle all the way to a cure! Register as an individual or bring a team of friends,