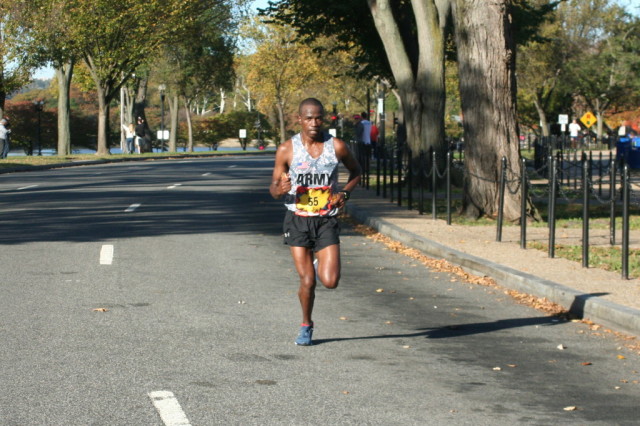 Amid the museums that line the National Mall, Spc. Samuel Kosgei and Capt. Meghan Curran carved out their place in history when they both took leads in the Marine Corps Marathon that they would hold to the finish. Along the way, they both led their respective U.S. Army teams to military marathon team championships.
[button-red url="http://www.marinemarathon.com/Results/MCM_Results.htm" target="_self" position="left"] Results [/button-red]Both races featured strong leads by front runners in the first half. Getachew Asfaw and Colleen Little tried to run away with the race. Little faded after the half and six women were within 70 seconds at mile 17. Curran passed Little in mile 18 but soon found herself facing a daunting 20th and 21st miles crossing the 14th Street Bridge into Crystal City. Little went on to finish in 27th in 3:10:13.
But help arrived, she said. "A group of Marine Corps team runners told me to tuck in with them and they helped me get over the bridge," where winds out of the north were starting to wreck havoc with the last segment of many runners' races.
"The last few miles were really hard, because it was new it me, it was windy, but knowing I was on a team helped me push myself," she said. "I was just taking it one mile at a timer after 20."
She grew up in Chelmsford, Mass. And ran cross country and track at West Point, but said she has, comparatively, taken her running in a more recreational perspective as she's settled into her job as a field artillery officer at Fort Dix in Moorestown, N.J. At 28, she, in a way, sprinted to her first marathon. After running the Army Ten-Miler two weeks prior, she caught the eye of Lt. Col. Liam Collins, the All-Army team captain, who had a few places on the roster to fill at Marine Corps. Collins ran 2:40:50.
"I knew she was a great runner, but I didn't know she wanted to do a marathon," he said. "Once I learned that, it was an easy decision to put her on the team. I told her the key thing was to be patient early on, don't run too hard on the first 10 miles. There's plenty of time to catch people when they fall apart."
"I had been planning to do a marathon at some point, but I wasn't planning for it to be this soon," she said. "Col. Collins came up to me after Army and said 'want to run a marathon in two weeks?' It moved things up a little."
Her longest run to that point had been 20 miles, and she admittedly had difficulties fueling.  More of her last gel wound up on her leg than in her mouth.
"I was having a little trouble with my stomach, so I tried to take it a little at a time," she said.
Kosgei emerged from Hains Point ready to make his move to catch Asfaw. Gutting into the lead with two 4:52 miles at 15 and 16, he was ready to take his shot.
"Our strategy was to win as a team, and we were going to do that by staying conservative early," he said. "But we knew the fast guy would burn out, but we didn't' want to let him get too far ahead."
Collins saw the race develop as he ran up Rock Creek Parkway as the leaders headed back south.
"I saw the leader so far ahead, but I was confident, I knew we were where we wanted to be," he said. "They would catch him."
Asfaw appears to have not finished the race.
A native of Uganda, Kosgei, 30, is stationed at Fort Riley in Junction City, Kan. where he is a medic. He has run the Twin Cities (where he set his 2:17:17 PR) and Houston marathons and ran track and cross country  at Lamar University, where he was a two-time All-American.
"It's a hard course, but a marathon is a marathon," he said of Marine Corps. "If it's flat you still feel it. My legs were heavy, the win was too much, but I knew I had to stay focused. The last mile wouldn't kill me."
He hopes to compete in the World Military Games in South Korea. In 2015.
Behind him, Army teammate Spc. Laban Sialo, 31, made his marathon debut, finishing second in 2:23:48. A medic stationed at Fort Carson in Colorado Springs, he was the 2012 indoor Division II champion in the 5k while at the University of Central Missouri.
"I wanted to get on the podium, so I could win a medal," he said. "It's a special thing to finish second in your first marathon."
He focused his fall training on the Army Ten-Miler, and like Curran had not done specific  marathon training, topping out at one 22-mile run.
"At first I thought I wouldn't be able to walk again, but now I feel good," he said.
Lindsay Wilkins, 36, matched her second place from her 2008 Marine Corps Marathon (2:49:06), and though she was a few minutes slower at 2:52:20, she felt it was a much better race for her. She lives in Arlington and ran track and cross country at the University of Richmond.
"In 2008 I lost by 11 seconds, so this was a lot better race," she said. "A lot less frustrating, but it was hard at the end."
She ran much of the race with intermittent training partner Erin Taylor, and the two moved up gradually throughout the race. The two were hoping to break 2:50, but like many runners, saw the wind blow those hopes away.
"I felt like someone was pulling me back the last four miles," she said. "I know I said a few times, 'you've got to be kidding me!' There didn't seem too many guys to tuck behind this year, so we were alone for a lot of it.
As was third-place woman Navy Lt. Gina Slaby, stationed in Virginia Beach, two weeks after running the Eindhoven Marathon in the Netherlands. The 33-year-old was last year's runner up.
"It wasn't where I wanted to be," she said. "We got stuck in the middle of no-man's land when the wind picked up."
She ran with Kara Waters, of Great Falls, most of the race, and finished a second ahead of her, in 2:52:32. She's headed to deployment in Djibouti, but is looking forward to racing a 100 miler in May or June, then the 2016 Olympic Marathon Trials.
Navy Petty Officer 2nd Class Justin Turner, PRed at his third Marine Corps Marathon, running 2:25:05. Not bad for a 35-year-old self-described "former obese smoker," now stationed at Navy Base Coronado in San Diego.
"I just tried to stay patient, the leaders went out so fast. I sat back in 10th, but I knew people would start coming back to me," he said. "They almost all did.
Arlington's Mike Wardian was the first male master across the line, in fourth at 2:25:42 and Kristina Brendzel from Tampa led the  40+ women in 2:59:20 for eighth overall.