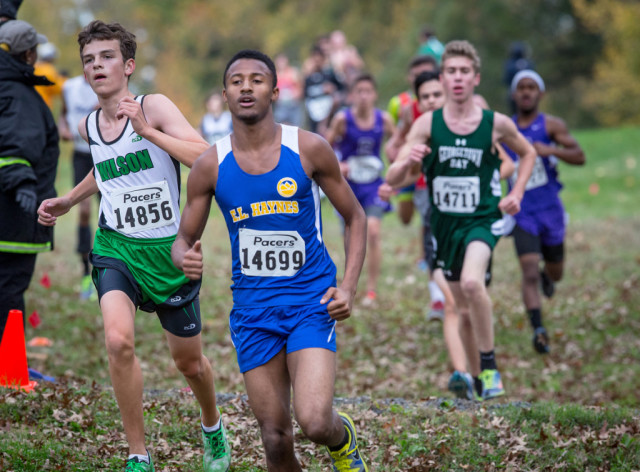 Racing down the final downhill straightaway in first place, with a strong finishing kick, Tyreece Huff was the picture of confidence. Even on a hilly course at Fort Dupont Park, with "brutal hills on the backstretch," Huff was not fazed. "This course is like a backyard to me. I train here," he said. "And I love hills."
He proved his point, running a 17:42 on the rolling 5k course at the third annual D.C. State High School Cross Championships, winning with a wide lead over second place Jake Gosselin of Sidwell Friends School in 18:01.
[button-red url="http://www.zippyraceresults.com/search.php?ID=4473″ target="_self" position="left"] Boys Results [/button-red]Understandably, Huff was happy with the outcome of the race. "I think I executed all my splits correctly," he said. "Some parts were too fast, due to the adrenaline, but then I settled into it."
[button-red url="http://www.zippyraceresults.com/search.php?ID=4472″ target="_self" position="left"] Girls Results [/button-red]Huff, a junior at Phelps ACE High School in Northeast D.C., also competes on the track in sprints, middle distance, and the 2,000 meter steeplechase.
"He's been a great runner the past three years, and just ran a fantastic race today, with a great kick, " Sidwell Friends head coach Bill Wooden said of Huff.
Wooden has reason to be pleased, for his team's top finish in the boys' competition with a remarkable 19 points overall. "I'm very pleased with how they did," he said. "They ran fantastic."
Following Gosselin, a strong contingent of Sidwell runners swept spots three through five, with their fifth runner, Julian Dixon, finishing in ninth place in 18:42.
"I pushed that big hill on the second mile really hard," Gosselin said, which may have taken away from some of his finishing kick. "I wish I could have pushed it more at the end. But we did great. I'm super proud of these guys."
These guys include Christian Roberts, third place in 18:07, Sam Blazes in fourth in 18:09, and Amal Mattoo in fifth in 18:17. "It's fun when we can run as a pack," Blazes said.
The Sidwell team plans to race again next week in the Maryland & Washington, D.C. Private School Cross Country Championships in Derwood followed by the Nike Cross Regionals in Raleigh, N.C. at the end of November.
Finishing second place overall in the boys' team competition was Wilson High School with 76 points. St. John's College High School rounded out the top three with 91 points.
Wilson head coach Pat O'Steen was proud of his team's performance, led by Aaron Coates's sixth place finish in 18:28. "We had a couple minor injuries going into today, so I'm really proud of what we've accomplished," he said.
Wilson team captain Gorka Fraeters has been struggling with a knee injury, but gutted it out to finish 13th in 19:06.
In his sixth year of coaching the Wilson runners, O'Steen has seen their performances steadily improve over time as the team and program mature.
"Looking back, we have clearly improved every year – not just in finish times, but in how we work together," he said. "The guys are doing a great job of closing, and in tightening up our top five runners."
On the girl's side, Sidwell Friends junior Taylor Knibb took first overall in 19:37.  While happy with her race, the challenging course left her somewhat at a loss for words afterwards. "I don't remember much, to be honest," she said. "It's a tough course, but everyone's got to do it, right?"
Knibb is new to running, having never run cross country or track before. A more experienced swimmer and cyclist, she considers running to be her weakest sport of the three, but is considering track this spring.
Finishing in second place with a time of 20:00 was Sami King, a junior at The Field School. King raced on legs that were less than fresh, having competed three days earlier at the Potomac Valley Athletic Conference (PVAC) Championships, where she finished first place overall in 18:48.
"The race today was tough, with long intense uphills and not many chances for recovery," she said. "I wish we had trained more on hills, but it was a really pretty course, and a perfect day for cross country."
With a sixth place team finish overall, The Field School head coach Jesse Gaylord was happy with his team's performance. "I think we ran fine for two days of rest and Halloween the night before," he said. "They ran tough on a tough course, so I'm proud of them."
Georgetown Visitation continued their winning streak from this same meet last year, taking first place in the team competition with 48 points. Georgetown Day School finished second with 50 points, while the Sidwell Friends girls came in third with 65 points.
Led by senior Emily Kaplan in third place with a time of 20:21, the Visitation team included eighth place Michaela Kirvan in 21:25, ninth place Elle Lynott in 21:27, 11th place Cassia Torczon in 21:34, and Jillian Murray in 17th with a time of 22:33.
"I was dying on the hills, but I had a lot left in the last mile," Kaplan said. After struggling with injuries throughout her junior year, Kaplan is fully healthy now, and plans to attend Yale University next year.
Visitation Coach Kevin Hughes was pleased. "I'm always pleased if we execute the plan," he said.
Hughes takes a strategic approach to racing. "You have to walk the course to know where you can excel, where you can take advantage of certain parts of it, and where you need to be conservative," he said. "The first 1,000 meters is tough, but there are a lot of really gracious downhills on this course too."
Cori Coats, assistant coach at Georgetown Day School, was thrilled at her team's second place performance, but found it bittersweet too, having lost to Visitation by only two points and by three points last week in the ISL/ICA/MAC private school conference championships.
She chose to look at it in a positive way, however. "[Visitation] has such a strong program, so for us to finish so close really speaks well of us," she said. "We are really excited, and the girls have such a strong friendship, and are really gelling now as a team, and as a community."
With a total of 59 girls and 75 boys in the race, D.C. State Athletic Association (DCSAA) Athletic Director Clark Ray is happy with how the event has grown over the past three years. "But where do we go from here?" he said. "We're small, but I want to make it bigger."
To Ray, this may mean expanding the meet to include middle school. elementary school, and junior varsity teams.
Recent Stories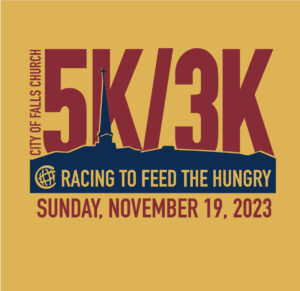 The out and back Falls Church City 5K/3K course is mostly flat on the W&OD Trail starting and finishing at 103 Columbia Street. Overall male and female winners earn free shoes and medals are awarded to all categories. Great family