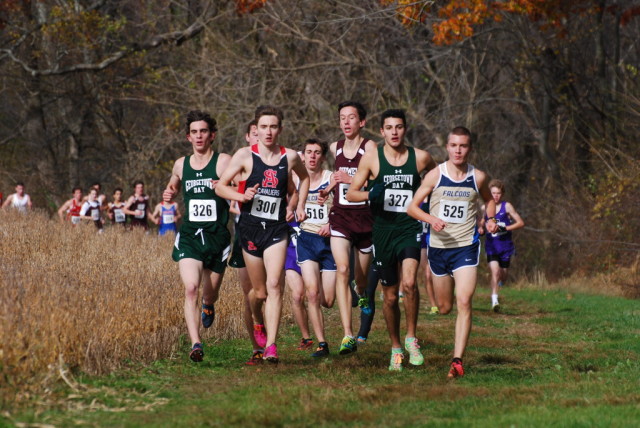 For Georgetown Day School's Tristan Colaizzi, it wasn't quite the day he envisioned when he toed the line for the Maryland-DC Private Schools Cross Country Championships at the Agricultural History Farm Park in Derwood.
Battling a chronic lung infection for the past few months, Colazzi knew early that he wasn't going to be the one to challenge Good Counsel junior Jack Wavering for the top spot on this decisive race day. That's when he tapped teammate senior Aidan Pillard less than a mile into the race and told him he'd have to be the man.
"Tristan had an asthma attack shortly into the first mile.  He is our strongest runner.  [Wavering] was moving off and Tristan said, 'I'm hurting and I can't do it this time,' so I went with him and Zeke [Cohen] came with me," explained Pillard.
[button-red url="http://www.mcrrc.org/md-dc-private-schools-cross-country-championships" target="_self" position="left"] Results [/button-red]The pack of runners hung together until the last 1200 meters.  That's when Wavering gave one final surge up the penultimate hill.  "Coming up the really steep hill, I began to pull away a bit," said Wavering.  "The hills helped me out a lot."  Enough that Wavering was able to win the race in 16:14 besting Georgetown Day's Pillard by just one second.  Colaizzi ran a gutsy race and finished in third (16:30) edging out Good Counsel's Kevin McGivern (16:30) in a near photo-finish and Zeke Cohen (16:31) before collapsing just across the line.
Thirty-three schools in all competed for state honors on this cool, calm and cloud filled day.  Conditions were ideal for fast races and the runners did not disappoint.
[button-red url="https://www.dropbox.com/sh/7mmxgelwxqej4a6/AADheNDVMXf03fK_QHcqtRSRa?dl=0″ target="_self" position="left"] Photos by Dan DiFonzo[/button-red]The going wasn't so easy for Wavering early in the contest.  "I was pretty worried at the beginning.  I was behind the lead guys by 20 or 30 yards the first three quarters of a mile."  Wavering managed to catch the front runners near the one mile mark and hold that lead to the finish.
Georgetown Day's Aidan Pillard said, "During our MAC championships I caught a guy in the last 200 meters and so I thought I was going to be able to do it again.  I made up a lot of ground [on Wavering] but I couldn't catch him.  I think I let him cover a bit too much ground."
For Good Counsel coach Tom Arnold, there's a feeling of both pride and satisfaction for his number one runner.
"I'm really happy for Jack Wavering.  One of the nicest and hardest working kids I've coached; straight A student, respectful.  It's really nice for him to win that.  I really love that kid," Arnold boasted.
[button-red url="https://www.mediafire.com/folder/issya4kbudae3/DC_MD_STATES_2014″ target="_self" position="left"] Photos by Roger Colaizzi[/button-red]All season long the Georgetown Day trio of Colaizzi, Pillard and Cohen have worked together to lead their squad each doing what is needed to ensure success.  Georgetown Day School head coach, Anthony Belber explained it best, "The seniors set the tone.  Aidan saw that the number one guy was struggling and when someone goes down, someone steps in.  That's part of that 'team' mentality."
Good Counsel and Georgetown Day finished one-two in the large school team competition.  In the end, it was Good Counsel's depth that allowed them to take home the top prize, besting Georgetown Day by seven points.  Four of Good Counsel's runners finished in the top ten (1, 4, 6, 8, 13).  Gonzaga finished third.
On the girls side, it was a much happier day for Georgetown Day School in the large team category  They bested Georgetown Visitation and Good Counsel to take home top honors.
Individually, Sidwell Friends' Taylor Knibb finished first in 18:25, National Cathedral's Page Lester finished second in 18:34 followed by Bryn Mawr's Sophie Gitlin in 18:40. Knibb won the D.C. state championship the week before.
"It was a great team effort," Belber said.  "It's the first time we've ever beat Georgetown Visitation at full strength."
"Visitation has set the standard in the region for years with the girls program and they are just so consistent and deep.  They win varsity races, they win JV races, they win private school races.  They compete against public schools in the big invitationals.  So we've always aspired to get to that level.  Two or three years ago we didn't even compete with them in the top three or four teams in the league.  Now we're state champions and it feels pretty good," said a proud Belber.
In fact, Belber and his squad have a lot to be proud of.  Katherine Treanor–third overall–ran a school record 19:27.  A'Ishah Bakayoko — a converted soccer player–is a junior and in her first year running. She clocked a personal best 19:53.  It was her first sub 20 minute performance.
"They are thrilled and I am thrilled," exclaimed Belber.
Georgetown Visitation head coach, Kevin Hughes, was gracious in defeat, "Expectations are always to win, but Georgetown Day School has been on our heels every step of the way this season and today was their day.  Their runners performed at an extremely high level and they came through and won a team championship."
The Good Counsel girls didn't fare as well.
"The girls performed poorly relative to what we had hoped for," Arnold said .  "By the thinnest of margins we might have been a contender, but there were just a bunch of teams that stomped us today."  It's worth noting that Good Counsel carries a varsity squad of just six runners.
It was a great day for freshmen, however.  Four of the top ten finishers were freshman.  In addition to Lester and Gitlin, Good Counsel's Claudia Wendt finished in sixth place (19:49).  And, Genevieve Dibari of the Stone Ridge School of Sacred Heart finished ninth in 20:00.
For Wendt, there's a learning curve to climb.  "If I had to do it over, I would have gone out a little faster and tried to stay with the leaders," she said.
For Bryn Mawr's, Gitlin, it was a good day despite a little scare during the race.
"Toward the end my vision got a little blurry.  When I finished, I couldn't see anything.  It was definitely a little scary.  I was in second place for most of the race so I was bummed that right at the end [Lester] passed me in the last 100 yards.  Racing is so unpredictable.  Overall it went well."
In the varsity girls small school event, junior Sami King from the Field School took first place in 19:18, followed by sophomore Julia Schaefer from Annapolis Area Christian (20:28) and senior Caitlin Flanagan from Rockbridge Academy (21:08).
St. Andrew's Episcopal won the girls small school team competition.  Second and third place awards were decided in a tie-breaker with St. Maria Goretti edging Rockbridge Academy.
The varsity boys small school race was won by senior Harry Wandersman of the Charles E Smith Jewish Day school in 17:23.  Second place went to senior Alex Buchholz of Rockbridge Academy (17:30) and third place went to Jonah Smith of The Heights (17:31).
Team honors went to the Field School, followed by The Heights in second place and Bishop Walsh coming in third.
Recent Stories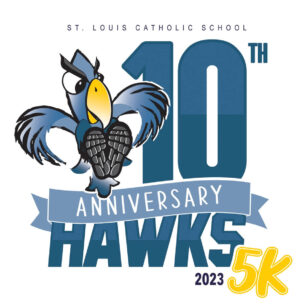 2023 will be the 10 year anniversary of the St. Louis Hawks 5K and Fun Run for Health & Wellness. The USATF certified course runs through the historic Hollin Hills neighborhood in Alexandria, VA.
The Hawks 5K goal, in conjunction