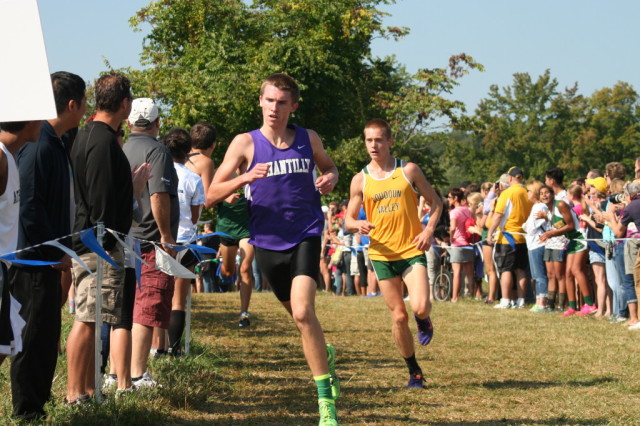 For the third straight year, Northern Virginia is sending a runner to the Foot Locker Cross Country Championships with a serious shot at the national title, possibly on the boys' and girls' side. Two other area runners will join them in San Diego, making it the 25th time the region has sent multiple qualifiers to the venerated high school national championship.
The same day that Andrew Hunter, Anteneh Girma, Ciara Donohue and Weini Kelati qualified for the Foot Locker final, Rachel McArthur, Alex Corbett and Kate Murphy earned individual trips to the Nike Cross Nationals meet, a team-focused national race in Portland, Ore. Corbett and Murphy each led their Lake Braddock teams to third place finishes, just out of the automatic team berths and the boys an agonizing one point from an at-large invitation.
But the D.C. area's cross country season extends far beyond the performances of those seven. The All-RunWashington postseason team, chosen by our panel of local coaches, chose 62 of the most outstanding performers over the past three-plus months. That group includes 10 runners who won individual state championships, one of whom won two different championships, and many others who distinguished themselves at Great Meadow, Hereford, Burke Lake, Derwood,  McAlpine Park,Bohrer Park and fields inside and outside the Beltway.
As can be expected, given the population density and number of programs in the commonwealth relative to D.C.'s Maryland suburbs and the District, Virginia had a heavy presence on the All-RunWashington team, the top boys and girls our panel of coaches would send to race against teams from other metropolitan areas. Seven boys and seven girls on the top all-star team attend Virginia schools, and an eighth boy, Georgetown Day School junior Tristan Colaizzi, lives in Alexandria. Four state champions didn't even make the top team.
So here's who we're dealing with:

With a Foot Llocker South title, along with a brand new Virginia state meet record, Hunter, a Loudoun Valley junior, gives the D.C. area its best chance for a national high school titlist since Chantilly's Sean McGorty and West Springfield's Caroline Alcorta. McGorty fell just six seconds short in his 2012 bid, finishing second to Edward Cheserek, who has won his first two NCAA Division I titles. Now a Stanford sophomore, McGorty finished 20th this year at the NCAA meet.
Hunter's 14:36 at the Foot Locker South meet was just eight seconds off McGorty's record and 18 seconds ahead of second place, but he was satisfied to break McGorty's state meet record by running 14:41 on a cold and windy day at Great Meadows, with a 54-second margin of victory over another Foot :ocker finalist, Western Albemarle's Gannon Willcutts.
Hunter broke out last season at the Penn Relays, winning in 8:16.31 after being seeded 15th, then finishing second at the high school outdoor national track meet in the two mile in 8:53.81.
"It's going to be the deepest high school boys race ever," said Hunter's father and coach, Marc, of the Foot :ocker national meet. "More than half of the top 15 from last year is back, Drew could finish anywhere in there."
Fellow Foot Locker finalist T.C. Williams senior Aneneh Girma went from 23rd place at the Virginia 6A championship in 2013 to sixth this year, and two weeks later was sixth in the south, edging Willcutts and peeking under 15:00 (14:59) to make the final. This followed his breakout race at the DCXC Invitational's senior race, where he saw the strength he gained from months of hilly running meeting the speed he could unleash on a championship course.

Chantilly senior Ryan McGorty, fourth at the state meet, matched his 15:26 time  at Foot Locker to finish 21st, after wins at the Monroe Parker and Gettysburg invitationals this season. He led the Chargers to a narrow 2013 6A title over Lake Braddock.
The Lake Braddock senior duo of Corbett and Kevin Monogue put a exclamation point on a season-long vendetta to claim that state title by  finishing first and second, respectively, giving the Bruins their first individual and team titles since 1987. Corbett went on to finish fifth (15:00) at the Nike Cross Southeast meet and 17th at the national meet.
They had some help from junior Colin Schaefer, a fourth place finisher a the 2013 Nevada small school meet, who quickly adjusted to the increased intensity and ended up seventh at the state meet and 21st (15:34) at Nike Southeast. Westfield's Johnny Pace made a big jump his senior year, putting himself in contention in almost every race and winding up fifth at the 6A meet in 15:28. Along the way, we won the Octoberfest Invitational.
In Maryland, Walt Whitman senior Evan Woods lost ground to his rival, Northwest senior Diego Zarate, on the cross country course, where he had previously held an advantage. Zarate withstood Woods' kick at the end of the Montgomery County Championships to edge for the win, and then Zarate won the regional meet in a blowout 15:26. Woods came back to win the 4A championship at Hereford, dipping under 16:00, though he had run 15:20 to finish close behind Corbett at the DCXC Invitational senior race.
The lone All-RunWashington honoree in a D.C. school, Collazzi, distinguished himself with a strong kick to win the DCXC Invitational junior race over Schaefer. He finished 32nd at Nike Cross Southeast, running 15:44.

Heritage's Kelati showed up early in the cross country season, settling with her cousin after leaving her native Eritrea, and terrorized courses, simply running away from the field, even if it meant stopping to tie her shoes during races. She won until she met E.C. Glass sophomore Libby Davidson in the 4A region and state championships, finishing second both times, then finished fifth at the Foot Locker South meet in 17:04.
Coach Doug Gilbert said the elevated competition level at the national meet should actually help Kelati in her goal to finish in the top 15.
"I think that being in a race with 40 girls who are all elite will actually help Weini," he said. "I think that any race she ran in Africa was very similar."
Her eighth-place finish at the IAAF Junior Championships this summer, running 9:12 for 3k, indicates a gear she might not have exhibited yet.
Joining teammate Hunter in San Diego, Loudoun Valley senior Ciara Donohue made a somewhat last-minute decision to run the regional qualifier. A year after making a full-time commitment to high school running, she put a late-race loss at the 3A state championship behind her and finished sixth at the regional meet in 17:14.

Patriot sophomore McArthur came into the season unsure of what she could do, having spent most of her freshman season injured. By the end, Virginia, the southeast and most of the country had an idea what she was capable of. After winning the Glory Days Invitational, she gained momentum to win the 6A regional championship and state championship, pulling away by the first mile in the latter to win with a nine-second lead over Lake Braddock sophomore Murphy.
McAruthur went on to win the Nike Cross Southeast meet in 17:16, a second ahead of DCXC junior runner-up Elly Henes, who lives and trains near the Nike regional course. Murphy followed in fifth (17:31) then edged her for 24th in Portland.
Nora McUmber, a Bethesda-Chevy Chase senior, finished seventh at the Nike regional (17:46) after winning the 2013 meet, but along the way she won the Maryland race that eluded her during her junior season — the 4A state championship.
McUmber had won the last three Montgomery County Cross Country Championships, but the prior winner, Winston Churchill senior Lucy Srour, eschewed two injury-plagued seasons to recapture some of her freshman year magic. She held off freshman sensation Abbey Green, of Walter Johnson, at the county, state championship and Nike Southeast meet (Srour 18:07, Green 1810) determined, she said after the county championships, not to be beaten for long, regardless of how talented Green was. Green did blow away the field at the Maryland 4A regional meet and went on to be the first-place finisher for the Wildcats' team title defense, finishing fourth at the state meet.
Less than a second behind Srour at Nike Southeast, Oakton's  Casey Kendall concluded a sophomore season that saw her and senior teammate Allie Klimkiewicz defend their Virginia 6A title to the hard-charging Lake Braddock Bruins, with Klimkiewicz leading the way to a 3-4 finish. Oakton finished fourth as a team as Nike Southeast.
In the Virginia 5A race, freshman Heather Holt ran to victory in what was her George C. Marshall team's first appearance in the state finals. She ran much of the season in tandem with her twin sister, Ashley, who collapsed toward the end of the state meet and did not finish, but later recovered.
There were plenty of notables not on the All-RunWashington team. D.C. schools had three different state champions, with Sidwell Friends junior Taylor Knibb claiming titles in both the D.C. and D.C./Maryland Private Schools large division and finishing 21st at the Foot Locker Northeast Regional. Phelps junior Tyreece Huff joined her on the podium at the D.C. state meet and Field School junior and Bethesda resident Sami King perpetuated the duality of her existence by winning the small school division at the D.C./Maryland Private School Championship. Good Counsel junior Jack Wavering won the D.C./Maryland Private School Championship large school division by one second over Georgetown Day School senior Aidan Pillard. Along the way, Wavering picked up a Washington Catholic Athletic Conference individual and team title. Teammate Claudia Wendt, a freshman, was the top girl in the WCAC.
Richard Montgomery's Rohann Asfaw won the DCXC sophomore race and dipped under 16:00 , Clarksburg senior Lucie Noall won the Bull Run Invitational. Westfield junior Sara Freix was a consistent top-tier individual, finishing fifth in the Virginia 6A meet (18:18). Robinson senior Lauren Berman won the hilly Georgetown Prep Invitational, despite her preference for flat courses.
Walt Whitman senior Amir Khaghani ran 15:38 at Nike Southeast, following up a fifth place finish at the Maryland state meet. Oakton sophomore Laya Salis also came up big at Nike, finishing 24th to go with her 11th place finish in the Virginia 6A meet.
Ashley Holt finished every other race she ran besides the state meet, and finished with or close to her sister.
Wootton junior Grace Dellapa finished fifth in Maryland's 4A meet, and Wootton senior Patrick Munro was consistently among the top Maryland boys.
In private schools, National Cathedral School freshman Page Lester also helped herself to the front of the pack, finishing second to Knibb at the private school championship and 31st at Foot Locker Northeast and an individual title at the Salesianum Invitational in Delaware. Junior Katherine Treanor led her Georgetown Day School team to a private school championship over Georgetown Visitation.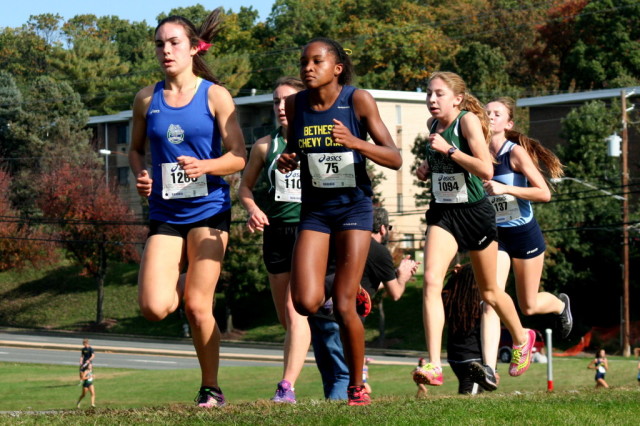 Recent Stories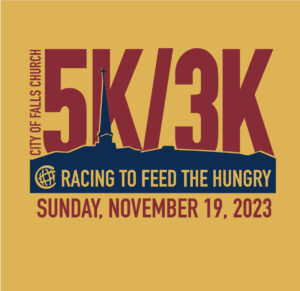 The out and back Falls Church City 5K/3K course is mostly flat on the W&OD Trail starting and finishing at 103 Columbia Street. Overall male and female winners earn free shoes and medals are awarded to all categories. Great family