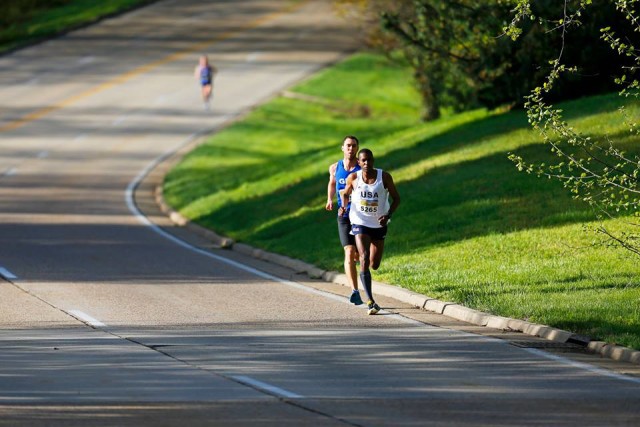 From their starting line perch at Mount Vernon, the next hour was hazy for Kevin McNab and Sheree Shea.
[button-red url="http://www.zippyraceresults.com/search.php?ID-4829″ target="_self" position="left"] Results [/button-red]Despite clear skies and cool air that brushed their faces with the promise of a fast George Washington Parkway Classic, they could only guess what was in store. Both had run only one race longer than 10k, and those races were non-competitive half marathons. That didn't stop them from both gamely handling the 10 mile race to Old Town Alexandria.
McNab and Will Christian raced each other from mile two on, dropping the pace dramatically after hitting five miles in 25:38.
"From there, we tried to cut it down for the rest of the race," McNab said. "We both had 50 minutes in mind. We had some momentum on mile six (which they covered in 4:50), but we lost it in mile seven.
"With two miles to go, we just surged back and forth. He made a 10-second surge — it was like he a fork in my side and kept turning it. I'd somehow recover and do the same thing to him and it was like that the rest of the way."
Christian, who serves in the Navy and lives in Virginia's Hampton Roads region, had finished second in 2013, and traded on that experience.
"He knew when to make his moves to hurt me the most," McNab, a D.C. resident, said. "With a mile to go (on S. Union Street), his surges got tougher and tougher, I don't know how I hung on, but once I saw the finish line, that gave me the mental break I needed. I knew the struggle was about over."
With a little more than a quarter mile, McNab opened up a gap and stretched it out to five seconds by the time he crossed the line in 50:28. Christian, having run two half marathons in recent weeks and a low-15 minute 5k the day before in Williamsburg, was nonetheless excited about his performance and looking forward to making an attempt at the Olympic Marathon Trials qualifying standard (sub-1:05) at the Gerry Bjorklund Half Marathon in June in Duluth, Minn.
McNab, who recently turned 29, reflected on how his experience is manifesting itself.
"As I get older, I hear more and more people talk about this mythical 'old man strength.,'" he said. "I can feel it, it's real. It wasn't a challenging race until mile seven. Then it just got nuts. "
Things were a little more calm for Shea, a Mizuno-sponsored runner living in Silver Spring. Following two men, she built in a three-second lead per mile over Springfield's Shauneen Werlinger and wound up with a 31-second margin of victory in her first competitive road race.
Following a six-week layoff in the winter while she recovered from a tibial stress reaction, Shea ran the Rock 'n' Roll DC Half Marathon, but started in the second corral, a far cry for a runner who had run 15:45 on the track for 5k a year ago.
"I was just getting back to where it hurts again," she said. "I learned about pain and positioning, the tangents."
Like Christian, she too aims for an Olympic Trials qualifier — under 1:15 — but at a fall half marathon.
"I moved out here to get away from the track, and I'm finally back to racing," she said. "I hadn't raced in almost a year."
Her plan had been to run the first 10k hard and hold on for dear life. Though she noticed her lack of fitness from the workouts she missed, she felt like it was a good start, with a clear path ahead.
"I just have to keep working, put together a few months of training and not make running fast feel so hard," she said.
Josh Paine, of Fairfax, was also running above his pay grade for distance, but he ended up with a successful race.
"The longest I had gone was a few 5ks, but this wasn't too bad," he said. "I got faster every mile."
He dropped his 45:27 first half down to 42:18 for the back five, putting a cherry on that understatement.
His friend, Francis Shafer of Alexandria, came to the race having run it almost 10 times but having a PR at least that old, which he improved by more than two minutes.
"It was an outstanding day," he said. "It's usually hotter, so we were lucky."
Sarah Lucas, of Woodbridge, fell into this race on the heels of the New York City Half Marathon. Wanting another crack at the distance, she searched for another, but found they mostly conflicted with her three-month trip to Brazil to visit her husband's family.
"I was looking at this race a long time ago and I thought I wouldn't be able to do 10 miles," she said. "Then after I ran the half, it wasn't a problem anymore."
She meets up with the Pacers fun run group in Alexandria and bumped into a training partner in the corral.
"We ran the first half together, then I sped off," she said. "I didn't want to set any goals, but it would be nice to run 10-minute miles."
She was close, averaging 10:02 per mile.
The last of the 4981 finishers accomplished a goal set nearly a year ago. Jamie Watts, of Arlington, aimed to finish 34 races before her 34th birthday, despite being slowed to a cane-assisted walk by cerebral palsy.
Doing so meant arriving at race courses well before the start to accommodate the time she needed to complete the races in time. On Sunday, she left Mount Vernon at 5 a.m. and arrived at the finish line by noon. She was out on the roads in the heat of the Freedom Four Miler in late June to the sleet of the St. Patrick's 5k  in March. When she finished the 10 miles on the George Washington Parkway Classic, the timing mat remained in place for her, with the chute teeming with friends and well wishers. She paused before crossing the last finish line on her list and savored that last step.
Recent Stories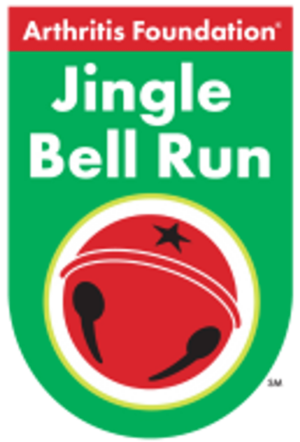 Be part of the original festive race for charity and signature Arthritis Foundation holiday event! Wear your favorite holiday attire and together, we'll jingle all the way to a cure! Register as an individual or bring a team of friends,