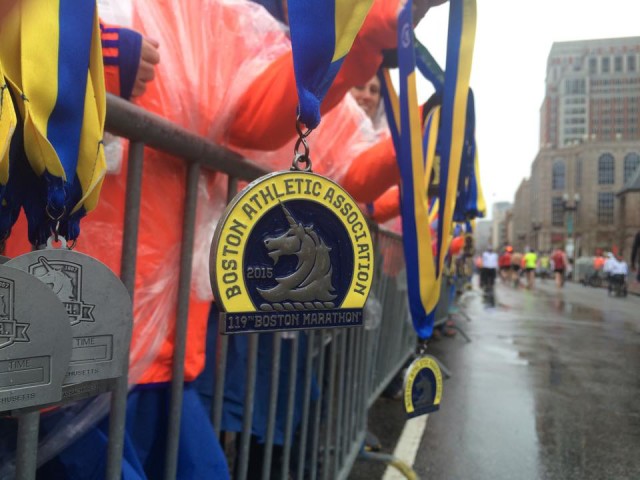 The Montgomery County Road Runners Club won the masters women's team title at the Boston Marathon Monday. Chrissy Graham, Cindy Conant and Lisa Reichmann combined to run 9:24:55, well ahead of RunningSkirts' 9:33:27. The Washington Running Club finished seventh in the masters women's race in 10:16:48 and the Potomac River Running team ran 1-:19:15 for ninth place.
MCRRC's masters men's team finished eighth with a 8:35:03 total.
Michael Wardian's 2:27:20 (Va.) and Sam Roecker's 2:53:52 (D.C.) led local finishers with 52nd and 66th overall finishes. Representing other jurisdictions in the D.C. area, Blake Whitney was D.C.'s first male finisher and Jatin Narang was Maryland's, while Kara Waters was once again Virginia's first female finisher and Chrissy Graham, of the triumphant MCRRC team, was Maryland's first. A total of 669 registered D.C.-area runners finished the race.
52. Wardian, Michael, 41, Arlington VA, 2:27:20
66. Roecker, Samantha, 23, Washington DC, 2:53:52
180. Whitlow, Dustin M., 28, Arlington VA, 2:37:24
74. Waters, Kara, 40, Great Falls VA, 2:54:30
190. Whitacre, Andrew D., 29, Arlington VA, 2:37:32
138. Sheptock, Tatiana, 39, South Riding VA, 2:59:08
192. Whitney, Blake K., 32, Washington DC, 2:37:40
166. Hicks, Amanda, 31, Washington DC, 3:01:26
265. Narang, Jatin, 22, Germantown MD, 2:40:13
203. Watkins, Robin, 31, Washington DC, 3:03:29
292. Paavola, Ryan, 31, Richmond VA, 2:40:43
256. Goodwin, Jillian A., 25, Washington DC, 3:05:38
306. Aitken, Miles, 31, Washington DC, 2:41:08
257. Markle, Phoebe, 31, Arlington VA, 3:05:41
308. Lynch, Jeremy, 34, Springfield VA, 2:41:13
268. Graham, Chrissy, 41, Olney MD, 3:06:05
359. Johnson, Ryan C., 27, North Bethesda MD, 2:42:24
277. Fisher, Evan, 34, Alexandria VA, 3:06:21
383. Dye, Tyler, 24, Alexandria VA, 2:43:03
310. Conant, Cindy, 54, Kensington MD, 3:07:24
397. Frome, Gavin V., 25, Washington DC, 2:43:24
347. Shaw, Carolyn, 23, Mclean VA, 3:08:19
401. Curley, Lavar, 34, Washington DC, 2:43:28
359. Masterson, Erin C., 31, Alexandria VA, 3:08:34
406. Horwitz, Yuri, 36, Washington DC, 2:43:35
404. Waldron, Joni L, 31, Washington DC, 3:09:59
442. Haines, Douglas W, 30, Centreville VA, 2:44:10
465. Reichmann, Lisa, 40, Gaithersburg MD, 3:11:26
451. Cheney, Thomas S, 28, Washington DC, 2:44:22
500. Brill, Jennifer L., 25, Washington DC, 3:12:07
452. Foster, Wade, 29, Washington DC, 2:44:25
507. Cave, Kathleen, 26, Chevy Chase MD, 3:12:17
477. Van Es, Chris, 29, Washington DC, 2:44:55
530. Valdez, Angelica, 28, Alexandria VA, 3:12:41
481. Young, Brian R., 36, Washington DC, 2:44:59
535. Rotramel, Julie, 26, Washington DC, 3:12:45
500. George, Daniel, 29, Bethesda MD, 2:45:13
605. Cloutier-Simons, Danielle, 28, Washington DC, 3:13:46
519. Smith, Bryson C., 26, Arlington VA, 2:45:30
613. Forte, Miranda J, 30, Germantown MD, 3:13:54
553. Lazrus, Adam, 25, Silver Spring MD, 2:46:04
628. Richter, Annette M., 36, Washington DC, 3:14:09
630. Hetherington, Alexander G, 47, Vienna VA, 2:47:08
633. Thomas, Elizabeth L, 40, Silver Spring MD, 3:14:12
645. Larios, Gabriel, 21, Lorton VA, 2:47:18
697. Magee, Kate, 31, Arlington VA, 3:15:05
657. Lehner, Matthew D, 28, Washington DC, 2:47:29
704. Messing, Angela, 43, Washington DC, 3:15:14
700. Bain, Christopher, 37, Takoma Park MD, 2:47:58
749. Cardosi, Calesse, 24, Fairfax VA, 3:16:00
704. Hickman, Jason W, 43, Washington DC, 2:48:01
765. Federoff, Allison H, 28, Washington DC, 3:16:14
714. Lemos, Christopher A, 37, Bethesda MD, 2:48:10
789. Ackerman, Rachel E, 31, Washington DC, 3:16:39
731. Freeburn, Keith J, 41, Centreville VA, 2:48:19
864. Findlay, Pamela L, 29, Alexandria VA, 3:17:45
744. Yates, Kevin D., 43, Olney MD, 2:48:29
888. Zoeller, Lara, 31, Alexandria VA, 3:17:58
768. Defilippi, James, 37, Arlington VA, 2:48:47
899. Shell, Alison, 31, Washington DC, 3:18:07
780. O'Bannon, Alex, 35, Alexandria VA, 2:48:53
974. Knotts, Rachel A., 30, Woodbridge VA, 3:19:02
836. Hoerner, Matthew T., 23, Oakton VA, 2:49:25
1050. Alexander, Katherine H., 25, Arlington VA, 3:19:51
881. Metzger, Peter T II, 35, Washington DC, 2:49:48
1068. Swartzfager, Lisa K., 30, Washington DC, 3:20:08

895. Gabris, Stephen, 36, Burke VA, 2:49:53

914. Duyn, Jeff H, 55, Garrett Park, MD,
2:50:05

1083. Connor, Meghan P., 23, Alexandria VA, 3:20:18
935. Quick, Grant A, 30, Ashburn VA, 2:50:19
1108. Smith, Shannon L, 49, Washington DC, 3:20:30
974. Moore, Jim, 43, Mclean VA, 2:50:43
1126. Tillman, Amy L., 26, Washington DC, 3:20:41
981. Uribe, Erik R, 31, Woodbridge VA, 2:50:47
1134. Tedsen, Elizabeth A, 30, Washington DC, 3:20:46
984. Holley, Tristan P., 33, Washington DC, 2:50:47
1232. Pelliccia, Lydia G, 47, Washington DC, 3:21:44
1076. Jacobsen, Torrey C III, 28, Washington DC, 2:51:47
1235. Caranta, Rachel K., 39, Annandale VA, 3:21:45
1201. Anderson, Aaron L, 31, Germantown MD, 2:52:58
1305. Sowa Munro, Megan, 31, Olney MD, 3:22:26
1206. Williamson, Taylor, 32, Silver Spring MD, 2:53:01
1343. Woodward, Jennifer A, 38, Great Falls VA, 3:22:47
1242. Gilden, Jacob C, 26, Washington DC, 2:53:19
1344. Collins, Julie A, 39, Great Falls VA, 3:22:48
1252. Hughes, Patrick, 28, Washington DC, 2:53:25
1412. Lawton, Katherine K, 30, Alexandria VA, 3:23:16
1327. Schwartzbard, Aaron, 37, Washington DC, 2:53:57
1519. Delp, Amanda N., 30, Arlington VA, 3:24:03
1339. Gonzales, Ricky, 32, Washington DC, 2:54:01
1528. Metz, Melinda J, 38, Arlington VA, 3:24:07
1356. Reinhardt, Richard M, 36, Laurel MD, 2:54:08
1580. Malsberger, Rosalie, 28, Arlington VA, 3:24:33
1386. Desjardins, Amos A., 33, Alexandria VA, 2:54:20
1648. Bird, Samantha, 36, Burke VA, 3:25:06
1390. Starr, Jason M., 31, Washington DC, 2:54:21
1657. Ko, Mindy S, 32, Arlington VA, 3:25:10
1399. Jensen, Thomas F., 51, Oakton VA, 2:54:24
1687. Loughran, Deedee, 56, Reston VA, 3:25:23
1431. McTamney, Patrick, 33, Washington DC, 2:54:37
1713. Foley, Linda S., 53, Oak Hill VA, 3:25:32
1434. Jarrin, Robert, 44, Washington DC, 2:54:39
1732. Lauderdale, Tara, 35, Fairfax VA, 3:25:44
1457. Jabaut, Joshua M, 31, Washington DC, 2:54:52
1753. Duckworth, Courtney J, 21, Manassas VA, 3:25:53
1458. Martin, Marshall D., 29, Mclean VA, 2:54:52
1767. Taylor, Julia, 43, Arlington VA, 3:25:58
1459. Shaw, Michael P, 29, Washington DC, 2:54:53
1788. Finlay, Amber V., 26, Rockville MD, 3:26:06
1474. Godin, Danny, 41, Alexandria VA, 2:54:58
1850. Volonsevich, Katia, 40, Fairfax VA, 3:26:30
1492. Lautzenheiser, Daniel, 29, Washington DC, 2:55:02
1852. Garber, Cecily, 34, Washington DC, 3:26:31
1497. Fishman, Shlomo, 23, Silver Spring MD, 2:55:04
1862. Till, Leanne C, 43, Potomac MD, 3:26:35
1498. McCarthy, Justin R., 33, Arlington VA, 2:55:05
1963. Corrado, Megan E., 29, Alexandria VA, 3:27:18
1528. Gnewuch, Carl, 50, Springfield VA, 2:55:16
1978. Cressy, Lindsay, 32, Washington DC, 3:27:23
1548. Kane, Joe, 28, Alexandria VA, 2:55:26
1995. Wolf, Kristina M., 26, Alexandria VA, 3:27:30
1600. Dhunjishah, Michael G., 42, Falls Church VA, 2:55:53
2002. Schmidt, Meggie A., 25, Washington DC, 3:27:32
1688. Firestone, Lee E, 49, North Potomac MD, 2:56:29
2074. Guy, Jacquelyn, 26, Washington DC, 3:28:04
1698. Binnie, Randall M., 37, Arlington VA, 2:56:32
2108. Haas, Jeanette, 46, Arlington VA, 3:28:20
1701. Buccino, Joseph, 41, Arlington VA, 2:56:32
2123. Crawford, Kathleen M., 28, Oakton VA, 3:28:24
1740. Norton, David, 33, Washington DC, 2:56:46
2132. Joelsson, Charlotte, 41, Herndon VA, 3:28:26
1756. Ferguson, Jonathan, 38, Bethesda MD, 2:56:51
2139. Van Hook, Emma, 29, Arlington VA, 3:28:30
1762. Rui, Ning, 30, Gaithersburg MD, 2:56:54
2140. Samels, Zoe C, 29, Washington DC, 3:28:30
1789. Colman, David L, 29, Arlington VA, 2:57:00
2145. Groman, Caitlin, 30, Washington DC, 3:28:30
1817. Villiva, Alec W, 24, Springfield VA, 2:57:07
2158. Chamberlin, Rachael, 34, Springfield VA, 3:28:35
1819. Sanford, Dana J, 34, Silver Spring MD, 2:57:08
2253. Kusakabe, Shinobu, 44, Washington DC, 3:29:06
1853. Grant, Chris W, 34, Bethesda MD, 2:57:19
2270. Karpel, Wendy, 44, Bristow VA, 3:29:10
1883. Stern, Charles, 33, Washington DC, 2:57:30
2305. White, Shannon M., 30, Arlington VA, 3:29:21
1930. Maguire, Steven B, 48, Arlington VA, 2:57:40
2306. Cohen, Carol, 38, Arlington VA, 3:29:21
1947. Fraychineaud, Tommy, 23, Washington DC, 2:57:44
2313. Biggs, Amanda, 27, Arlington VA, 3:29:24
1976. Stokes, Steven M., 43, Fairfax VA, 2:57:52
2337. McConville, Megan E., 33, Washington DC, 3:29:34
1995. Wedlund, Ryan, 48, Lorton VA, 2:57:56
2348. Devan, Teah J., 41, Gaithersburg MD, 3:29:37
2004. Brameyer, James, 36, Gaithersburg MD, 2:58:02
2352. Schade, Julia G, 41, Olney MD, 3:29:38
2016. Pusinelli, Christopher, 34, Olney MD, 2:58:03
2396. Borden, Maggie, 29, Arlington VA, 3:29:54
2056. Karlsen, Paul J, 37, Bethesda MD, 2:58:13
2406. Brown, Jacqueline M., 33, Alexandria VA, 3:29:57
2073. Schick, Jason, 40, Arlington VA, 2:58:17
2445. Chatelaine, Katherine, 27, Washington DC, 3:30:13
2104. Schwartz, Benjamin, 32, Washington DC, 2:58:26
2446. Coffey, Taylor S, 32, Arlington VA, 3:30:13
2131. Breslyn, Wayne G., 47, Rockville MD, 2:58:32
2477. Dawson, Karen M., 22, Washington DC, 3:30:23
2156. Swinton, Nathan M, 34, Washington DC, 2:58:38
2485. Grady, Melissa D, 44, Bethesda MD, 3:30:28
2198. Greszler, Timothy D., 36, Bethesda MD, 2:58:47
2512. Halliburton, Emily R., 34, Alexandria VA, 3:30:39
2251. Arbona, Serge E., 50, Parkville MD, 2:59:01
2593. Missimer, Katie L., 31, Washington DC, 3:31:09
2267. Pocol, Juan P, 31, Hyattsville MD, 2:59:05
2623. Schade, Nicole, 27, Washington DC, 3:31:17
2303. Uyemura, Trevor M, 31, Alexandria VA, 2:59:14
2627. Clemmer, Sarah M, 27, Arlington VA, 3:31:18
2344. Kelly, John A., 31, Arlington VA, 2:59:22
2654. Hill, Tiffany, 35, Alexandria VA, 3:31:29
2346. Kirk, William, 25, Richmond VA, 2:59:23
2663. Blakney, Luz A., 47, Oak Hill VA, 3:31:31
2353. Kelman, Erin, 38, Germantown MD, 2:59:24
2676. Sample, Jennifer, 40, Chevy Chase MD, 3:31:37
2393. Pettibone, Daniel, 41, Ashburn VA, 2:59:35
2710. Bair, Lara, 42, Falls Church VA, 3:31:50
2399. Finkle, Joshua B, 24, Arlington VA, 2:59:36
2718. Carcich, Jennifer L., 36, Washington DC, 3:31:53
2437. Flitcroft, Daren, 25, Great Falls VA, 2:59:46
2734. Oyer, Liz G, 36, Washington DC, 3:31:57
2440. Chang, Huanchou, 42, Arlington VA, 2:59:46
2750. Hartenbach, Julie M, 28, Alexandria VA, 3:32:01
2441. Carter, Mark J, 35, Alexandria VA, 2:59:46
2784. Chervenak, Sarah L, 44, Herndon VA, 3:32:10
2465. D'Amanda, Kevin, 53, Bethesda MD, 2:59:52
2792. Buroker, Kelly, 33, Arlington VA, 3:32:13
2482. Stillman, Jeremy D., 34, Washington DC, 2:59:56
2800. Cushman, Karin, 36, Aldie VA, 3:32:17
2524. Ladesic, John, 33, Clarksburg MD, 3:00:08
2810. Imperatore, Jane A, 39, Mclean VA, 3:32:21
2554. Salerno, Matthew G, 33, Springfield VA, 3:00:15
2833. Johnston, Lisa, 34, Reston VA, 3:32:29
2653. Molloy, Eamon J, 31, Washington DC, 3:00:47
2856. Moulton, Kristen L, 24, Rockville MD, 3:32:37
2671. Newville, David L, 38, Washington DC, 3:00:54
2874. Ruda, Kathleen, 32, Bethesda MD, 3:32:43
2678. Geide, Michael, 35, Vienna VA, 3:00:56
2887. Lambo, Krista, 29, Washington DC, 3:32:48
2795. Mattson, Michael, 32, Arlington VA, 3:01:39
2901. Price, Taylor L, 20, Manassas VA, 3:32:52
2796. Sanders, Michael, 42, Washington DC, 3:01:40
2914. Lewin, Jamie, 27, Washington DC, 3:32:56
2858. Ballenthin, William R., 27, Arlington VA, 3:02:04
2953. Heffner, Kelley, 24, Clarksburg MD, 3:33:07
2903. Shane, Michael, 47, Chevy Chase MD, 3:02:17
2968. Van Dyke, Elle, 23, Centreville VA, 3:33:11
2915. St. Onge, Scott M, 37, Washington DC, 3:02:21
3010. Swanson, Katie, 24, Arlington VA, 3:33:25
2927. Metzger, Christopher A., 31, Alexandria VA, 3:02:24
3045. Pisha, Nicolette L., 29, Washington DC, 3:33:36
2938. Lombardi, Christopher, 37, Washington DC, 3:02:26
3047. Ratzel, Jenny E., 29, Arlington VA, 3:33:36
2956. Mahoney, Patrick M, 31, Washington DC, 3:02:37
3059. O'Brien, Mary Kate, 38, Alexandria VA, 3:33:40
2958. Wilkins, Jon S., 44, Chevy Chase MD, 3:02:38
3063. Heitin, Liana, 32, Washington DC, 3:33:41
3016. Dahlem, Jim, 38, Chevy Chase MD, 3:02:55
3069. Asgeirsson, Amanda K, 28, Washington DC, 3:33:42
3040. Danza, Brian, 34, Arlington VA, 3:03:02
3084. Martin, Katherine T., 44, Alexandria VA, 3:33:47
3066. Sanchez, Juan Carlos, 33, Arlington VA, 3:03:13
3087. Takakusaki, Yuko, 47, Arlington VA, 3:33:48
3070. Naff, Michael T, 44, Arlington VA, 3:03:16
3163. Bowden, Jessica R, 24, Arlington VA, 3:34:08
3119. Kim, Albert D, 37, Arlington VA, 3:03:32
3167. Greene, Mary B, 31, Washington DC, 3:34:10
3124. Snow, Chris A., 43, Arlington VA, 3:03:33
3168. Stevenson, Dawn, 29, Arlington VA, 3:34:10
3145. Pick, Daniel, 35, Arlington VA, 3:03:41
3178. Dykeman, Kyra, 29, Washington DC, 3:34:13
3146. Menon, Abhaya N., 36, Falls Church VA, 3:03:41
3225. Kathol, Summer J, 28, Washington DC, 3:34:28
3175. Wadlington, Josh, 35, Oakton VA, 3:03:50
3237. Heinz, Lara, 26, Arlington VA, 3:34:30
3199. Perez, Miguel, 32, Silver Spring MD, 3:04:03
3242. Kinealy, Colleen, 27, Arlington VA, 3:34:32
3290. Brooks, James, 45, Arlington VA, 3:04:41
3341. Greszler, Rachel U, 32, Bethesda MD, 3:35:05
3343. Yost, Mark J, 56, Bethesda MD, 3:05:00
3356. Allwein, Daffney Parsons, 33, Lorton VA, 3:35:09
3400. Misera, Aaron, 24, Mclean VA, 3:05:16
3397. Heymann, Marilyn, 27, Washington DC, 3:35:26
3452. Oliver, Paul, 28, Washington DC, 3:05:35
3501. Hanley, Karen, 38, Arlington VA, 3:35:53
3480. Kidane, Argaw, 48, Montgomery Village MD, 3:05:44
3557. Brown, Kristen N., 26, Alexandria VA, 3:36:11
3536. Rohlf, Michael, 40, University Park MD, 3:06:04
3617. Brundage, Chelsea, 35, Arlington VA, 3:36:34
3539. Trombatore, Ken, 42, Brookeville MD, 3:06:05
3639. Britz, Bethany L., 29, Sterling VA, 3:36:40
3548. Runco, Philip S, 32, Washington DC, 3:06:10
3670. Sturner, Lauren, 27, Washington DC, 3:36:49
3564. Parry, Ben, 34, Rockville MD, 3:06:17
3682. Siegel, Sheri D, 42, Oak Hill VA, 3:36:53
3683. Kendra, John R, 52, Arlington VA, 3:06:54
3791. Watts, Tracie W, 41, Vienna VA, 3:37:29
3727. Gillanders, Robert J., 46, Washington DC, 3:07:14
3802. Edmonds, Mira, 36, Washington DC, 3:37:33
3784. Zirkelbach, Victor E, 34, Olney MD, 3:07:31
3812. Harwood, Morgan S, 22, Oak Hill VA, 3:37:38
3830. Hauptman, Barry, 52, Bethesda MD, 3:07:47
3817. Zheng, Jie, 43, Reston VA, 3:37:41
3882. Mahar-Piersma, Auke, 42, Silver Spring MD, 3:08:06
3915. Robbins, Catherine, 32, Alexandria VA, 3:38:12
3961. Teas, George, 44, Herndon VA, 3:08:34
3932. Penfield, Tracy J., 30, Arlington VA, 3:38:16
4014. Dalbey, Matthew, 49, Silver Spring MD, 3:08:50
3941. Ludwig, Audra H., 35, Washington DC, 3:38:17
4053. Fernandes, Conrad, 47, Silver Spring MD, 3:09:02
3943. Camilletti, Catherine R, 31, Washington DC, 3:38:18
4111. Ney, William B, 38, Washington DC, 3:09:21
3962. Rubenstein, Erica L., 56, Potomac MD, 3:38:22
4214. Reed, Colin W., 22, Arlington VA, 3:09:50
3967. Oppenheim, Rebecca A, 26, Arlington VA, 3:38:26
4250. Malik, Usama, 40, Washington DC, 3:10:01
3968. Ursu, Rodica, 46, Chevy Chase MD, 3:38:26
4343. Sherman, Alan, 43, Silver Spring MD, 3:10:36
3974. Hartinger, Alicia J, 28, Washington DC, 3:38:28
4359. Brooks, Benjamin, 43, Alexandria VA, 3:10:41
4024. Ashcom, Susan R, 49, Arlington VA, 3:38:47
4429. Lesser, Adam J, 35, Fairfax VA, 3:11:09
4036. Park, Haejin A, 37, Reston VA, 3:38:50
4452. Smith, Bradley T, 39, Arlington VA, 3:11:18
4042. Maple, Marcy L, 29, Alexandria VA, 3:38:52
4464. Paul, Daniel J., 31, Herndon VA, 3:11:24
4046. Rogers, Martha, 30, Washington DC, 3:38:55
4472. Barcon, Carlos, 40, Washington DC, 3:11:26
4101. Case, Lynn K, 55, Silver Spring MD, 3:39:11
4551. Vogel, Daniel S., 42, Silver Spring MD, 3:11:54
4108. Moorman, Colleen M, 29, Washington DC, 3:39:13
4591. Wong, Norman, 43, Washington DC, 3:12:08
4146. Freeman, Mary H, 47, Arlington VA, 3:39:27
4608. Pitts, Andrew, 24, Fairfax VA, 3:12:14
4159. Perryman, Maricela, 26, Arlington VA, 3:39:30
4613. Gannon, Jonathan W, 41, Silver Spring MD, 3:12:15
4164. Jurata, Linda, 43, Poolesville MD, 3:39:31
4619. Hawkins, Zach, 32, Germantown MD, 3:12:17
4179. Dove, Yukiko M, 42, Dumfries VA, 3:39:36
4652. Kinne, Sean P., 28, Alexandria VA, 3:12:31
4183. West, Kathleen E., 39, Ashburn VA, 3:39:37
4657. Grossman, Lawrence C, 51, Washington DC, 3:12:34
4301. Wong, Cosette, 27, Washington DC, 3:40:12
4667. Riggins, Wil, 50, Alexandria VA, 3:12:38
4319. Names, Gabrielle R., 25, Arlington VA, 3:40:17
4676. Ross, Andrew, 52, Vienna VA, 3:12:40
4362. Boccia, Emily, 37, Herndon VA, 3:40:28
4681. Nguyen, Tuan M, 43, Reston VA, 3:12:43
4390. Tun, Sokphal, 35, Vienna VA, 3:40:38
4696. Matheson, Paul F, 47, Arlington VA, 3:12:48
4459. Dunn, Carrie M, 39, Arlington VA, 3:40:58
4698. Pemberton, Alan A, 62, Silver Spring MD, 3:12:48
4495. Looper, Jill M, 44, Laurel MD, 3:41:13
4704. Gruszewski, Tyler, 30, Washington DC, 3:12:50
4512. Cales, Shaina M., 25, Arlington VA, 3:41:20
4872. Roberts, Michael D., 49, Washington DC, 3:13:42
4542. Vincent, Amelia, 39, Gaithersburg MD, 3:41:30
4922. Haines, Michael S, 46, Washington DC, 3:13:59
4612. Najera, Vilma C, 36, Olney MD, 3:41:50
4997. Moreno, Milton, 40, Herndon VA, 3:14:20
4613. Cranshaw, Lesley V., 52, Ashburn VA, 3:41:51
5034. Balzer, Tyler C., 28, Alexandria VA, 3:14:32
4619. Stephan, Christine L, 42, Silver Spring MD, 3:41:53
5068. Fucci, Michael, 25, Oakton VA, 3:14:44
4644. Smith, Donna Hayashi, 47, Silver Spring MD, 3:42:05
5088. Jones, Stuart C., 47, Arlington VA, 3:14:50
4660. Smith, Jennifer J., 31, Washington DC, 3:42:11
5092. Cleland, Colin W, 28, Washington DC, 3:14:51
4737. Hardman, Laine M, 45, Alexandria VA, 3:42:32
5093. Groman, Lawrence J., 29, Washington DC, 3:14:52
4752. Smialek, Jeanna M., 24, Washington DC, 3:42:38
5113. Siciliano, Seth H, 38, Potomac Falls VA, 3:15:02
4767. Cook, Yumiko, 47, Fairfax VA, 3:42:43
5114. Kier, Craig, 37, Silver Spring MD, 3:15:02
4776. Chan, Grace, 45, Arlington VA, 3:42:44
5124. Gorman, Thomas, 43, Washington DC, 3:15:05
4809. Polhemus, Rachel B, 40, Potomac MD, 3:42:54
5152. Jackson, William B., 32, Oakton VA, 3:15:16
4885. Holske, Rosemary E, 43, Ashburn VA, 3:43:20
5213. Munoz Blanco, Angel, 53, Washington DC, 3:15:44
4930. Hixon, Kate, 29, Arlington VA, 3:43:36
5255. Sud, Dhruv, 35, Washington DC, 3:16:00
4955. Staines, Natalie, 35, Severna Park MD, 3:43:44
5267. Albertini, Alexander E., 33, Silver Spring MD, 3:16:03
4961. Lademan, Daryle E., 44, Arlington VA, 3:43:46
5392. Hultquist, Daryl J, 45, Potomac MD, 3:16:50
4966. Greeson, Laura, 45, Fairfax VA, 3:43:48
5393. Basola, Paul B, 47, Washington DC, 3:16:51
5146. Peterson, Kathrina S, 40, Washington DC, 3:44:48
5457. Drosky, Mark A, 54, Alexandria VA, 3:17:13
5182. Worley, Christine E, 38, Washington DC, 3:45:01
5506. Ladson, Jonathan, 23, Woodbridge VA, 3:17:28
5222. Van Gestel, Elizabeth C, 47, Washington DC, 3:45:14
5555. Anderson, Matt, 49, Fairfax VA, 3:17:52
5233. Ryan, Karyn A., 44, Gaithersburg MD, 3:45:19
5570. Graham, Owen, 40, Olney MD, 3:17:57
5235. Westcott, Christine, 45, Chantilly VA, 3:45:19
5636. Autry, Phillip G, 41, Alexandria VA, 3:18:17
5319. Spraker, Rosemary, 51, Lortron VA, 3:45:51
5640. Wild, David D, 60, Washington DC, 3:18:20
5353. Kelly, Lisa M, 40, Centreville VA, 3:46:00
5652. Gardner, John, 46, Reston VA, 3:18:24
5395. Kalber, Karen M., 49, Crofton MD, 3:46:14
5676. Simler, Ken, 55, Takoma Park MD, 3:18:30
5425. Weeks, Katherine D, 34, Washington DC, 3:46:22
5695. Bedell, Kevin B, 49, Mclean VA, 3:18:36
5451. Hunter, Kaori, 45, Bristow VA, 3:46:34
5791. Nagarajan, Chandramouli, 47, South Riding VA, 3:19:04
5518. Ward, Kendra, 44, Chevy Chase MD, 3:46:57
5799. Panner, Aaron M, 50, Bethesda MD, 3:19:09
5536. Rybold, Kim, 32, Arlington VA, 3:47:05
5853. Thomas, Randal C., 21, Woodbridge VA, 3:19:28
5590. Stephens, Yoko, 50, Fairfax VA, 3:47:23
5897. Ahmim, Youcef, 53, Mclean VA, 3:19:41
5770. Splete, Heidi, 44, Chevy Chase MD, 3:48:23
5922. Stevenson, Michael R, 43, Arlington VA, 3:19:54
5801. Dicamillo, Karen D, 40, Germantown MD, 3:48:32
5924. Trumpet, Steven, 46, Ashburn VA, 3:19:55
5808. Grady, Rebecca, 38, Arlington VA, 3:48:33
5958. Johnson, Thomas S Jr., 29, Arlington VA, 3:20:06
5871. Bowden, Kristen D., 40, Washington DC, 3:48:53
6083. Beden, Craig J, 53, Vienna VA, 3:20:57
5889. Herklotz, Colleen, 34, Centreville VA, 3:48:57
6156. Kurst, Frederick L. Jr., 48, Manassas VA, 3:21:24
5893. Clappsy, Andrea, 50, Annapolis MD, 3:48:57
6170. Baldwin, Raymond, 51, Gaithersburg MD, 3:21:26
5895. Cotter, Leighann, 43, Annapolis MD, 3:48:58
6283. Raabe, Bill, 60, Washington DC, 3:22:04
5900. Park, Sarah L., 44, Arlington VA, 3:49:00
6366. Black, Tony, 52, Arlington VA, 3:22:32
5901. Tuncer, Diane, 47, Kensington MD, 3:49:01
6369. De Leon Hernandez, Ivan, 42, Washington DC, 3:22:33
5985. Neal, Juliet M., 42, Springfield VA, 3:49:31
6375. Signore, Philippe, 47, Arlington VA, 3:22:34
6024. Leety-Weinstein, Jessica K, 41, Brookeville MD, 3:49:48
6419. Goldberg, Lew, 64, Fairfax VA, 3:22:47
6061. Martell, Leslie G, 43, Great Falls VA, 3:50:01
6491. Newland, Ernie, 56, Manassas VA, 3:23:10
6146. Baker, Cathy A., 58, Bethesda MD, 3:50:33
6529. Martin, Robert S, 51, Fairfax Station VA, 3:23:24
6161. Katson, Mery-Angela S, 50, Mclean VA, 3:50:38
6554. Crumlish, Shawn B, 43, Richmond VA, 3:23:32
6173. Tipton, Hillary, 26, Washington DC, 3:50:44
6606. Palmer, Ian C., 39, Alexandria VA, 3:23:44
6184. Rini, Lisa L, 39, Aldie VA, 3:50:47
6617. Bjorksten, Nils, 50, Vienna VA, 3:23:46
6203. Maul, Dana, 40, Potomac MD, 3:50:54
6630. Seidman, Joshua J., 46, Bethesda MD, 3:23:51
6228. Kendler, Elizabeth, 56, Washington DC, 3:51:03
6649. Surbey, Brett J, 46, Fairfax VA, 3:23:59
6313. Zobler, Marian, 51, Bethesda MD, 3:51:36
6662. Williams, Jamie, 53, Washington DC, 3:24:03
6358. Pade, Genemarie, 46, Mclean VA, 3:51:50
6823. Neusner, Noam, 45, Chevy Chase MD, 3:24:55
6371. MacKintosh, Brenda, 49, Springfield VA, 3:51:56
6861. Doh, Harrison, 56, Potomac MD, 3:25:11
6376. Zimmerman, Malissa, 44, Washington DC, 3:51:58
6900. Becerra, Mauricio, 45, Washington DC, 3:25:25
6391. Cline, Erica, 36, Leesburg VA, 3:52:01
6917. Foley, Thomas G., 53, Herndon VA, 3:25:33
6393. Rechka, Mieko, 41, Lorton VA, 3:52:02
6938. Muchnick, Steven N., 58, Laurel MD, 3:25:39
6446. Kelly, Sarah, 29, Arlington VA, 3:52:17
6953. Engle, Chuck, 44, Alexandria VA, 3:25:45
6480. Kleitz, Jean, 32, Gainesville VA, 3:52:30
6978. Bade, John P, 50, Chantilly VA, 3:25:56
6482. Hawkins, Shannon, 46, Cabin John MD, 3:52:31
7002. Lundy, Wayne M, 60, College Park MD, 3:26:02
6535. Bristow, Courtney K., 35, Arlington VA, 3:52:50
7035. Wojcik, John F., 54, Manassas VA, 3:26:12
6595. Vogel, Gayle, 40, Washington DC, 3:53:11
7059. Tubb, Jesse, 38, Savage MD, 3:26:19
6618. Wright, Natalie C, 22, Sterling VA, 3:53:18
7152. McLoughlin, John T., 42, Ashburn VA, 3:26:52
6649. Dubbeling, Holly M, 41, Fairfax VA, 3:53:29
7223. Sampson, Michael C., 29, Bowie MD, 3:27:17
6742. Muller, Charlotte L, 31, Arlington VA, 3:53:58
7250. Bird, Derek, 40, Burke VA, 3:27:26
6749. Hoffman, Carol H., 46, Rockville MD, 3:54:01
7301. White, Vinn, 39, Washington DC, 3:27:43
6767. Tindall, Anne H, 38, Silver Spring MD, 3:54:07
7341. Harden, James L, 51, Washington DC, 3:27:55
6822. Killelea, Amy, 33, Washington DC, 3:54:23
7411. Rojas, Felipe Sr., 56, Washington DC, 3:28:18
6876. Calonder, Mary Jo, 52, Bristow VA, 3:54:41
7419. Bold, Thomas P III, 50, Alexandria VA, 3:28:19
6937. Reed, Brittany, 34, Silver Spring MD, 3:55:05
7465. Stone, Scot, 51, Washington DC, 3:28:32
7033. Whitesides, Ellen E, 33, Washington DC, 3:55:40
7476. Sorensen, Eric R, 53, Rockville MD, 3:28:35
7099. Jaremback, Kristen, 35, Washington DC, 3:56:07
7525. Yeam, Sangwon, 53, Oakton VA, 3:28:52
7125. Brubaker, Katrina, 45, Arlington VA, 3:56:20
7529. Shaw, Russ A., 45, Leesburg VA, 3:28:53
7175. Draim, Ida, 59, Alexandria VA, 3:56:46
7617. Morse, John H III, 29, Washington DC, 3:29:18
7198. Fincher, Audrey, 57, Gaithersburg MD, 3:56:59
7670. Turcotte, John L, 33, Lorton VA, 3:29:37
7213. Housaman, Carol, 54, Woodbridge VA, 3:57:06
7766. Loomis, William P., 61, Silver Spring MD, 3:30:11
7298. Woodard, Kelsey M, 27, Washington DC, 3:57:41
7798. Lynch, Nicholas J., 29, Washington DC, 3:30:24
7354. Marshall, Tatyana Y, 46, Alexandria VA, 3:58:10
7863. Miller, Howard, 38, Woodbridge VA, 3:30:43
7358. Payabyab, Eden, 30, Washington DC, 3:58:11
7871. Byler, Dirck S, 46, Takoma Park MD, 3:30:47
7370. Young, Liz, 37, Washington DC, 3:58:22
7963. Cashin, Benjamin P., 19, Washington DC, 3:31:24
7417. Casey, Beth, 46, Vienna VA, 3:58:46
7988. Frederick, Timothy M, 46, Washington DC, 3:31:34
7470. Reed, Charmaine, 45, Springfield VA, 3:59:09
7992. Bevers, Kyle D., 29, Manassas VA, 3:31:36
7495. Kennedy, Julie, 49, Falls Church VA, 3:59:20
8014. Wolf, Gregory A, 37, Alexandria VA, 3:31:45
7503. Mangan, Kristina A, 40, Manassas VA, 3:59:22
8021. Lennox, David A., 56, Sandy Spring MD, 3:31:48
7534. Stone, Alexandra B., 33, Washington DC, 3:59:37
8046. McGowan, Tom, 55, Mclean VA, 3:31:57
7555. Gagnier, Brooke C., 42, Arlington VA, 3:59:52
8134. Clem, William M, 55, Bethesda MD, 3:32:49
7613. Cline, Lisa A., 43, Washington DC, 4:00:25
8220. Rauber, John, 56, Potomac MD, 3:33:18
7693. Curran, Brooke S, 46, Alexandria VA, 4:01:04
8293. DiFonzo, Dan, 51, Rockville MD, 3:33:49
7730. Sheaffer, Linda J, 59, Washington DC, 4:01:28
8457. Delong, Clyde S III, 52, Ashburn VA, 3:34:58
7759. Georgelas, Alison M, 37, Vienna VA, 4:01:43
8571. Armonda, Rocco A., 50, Silver Spring MD, 3:35:48
8033. Moncrief-Stuart, Sandra L, 46, Vienna VA, 4:04:22
8585. Peterson, Alex A, 31, Alexandria VA, 3:35:56
8098. Adams, Diane H., 52, Purcellville VA, 4:05:10
8665. Stevenson, Andrew M, 51, Arlington VA, 3:36:32
8141. Ramsdell, Michelle, 47, Burke VA, 4:05:33
8674. Krehbiel, Ken, 61, Washington DC, 3:36:35
8151. Rieling, Jenna, 23, Washington DC, 4:05:40
8683. Mendelowitz, Rich, 56, Arlington VA, 3:36:41
8162. Jackson, Kassandra, 25, Annandale VA, 4:05:45
8698. Montgomery, David E Jr., 53, Takoma Park MD, 3:36:47
8417. Crisp, Kim, 48, Manassas VA, 4:08:22
8730. Demarco, Brian, 40, Washington DC, 3:37:00
8442. Telford, Beth Ann, 45, Fairfax VA, 4:08:36
8748. Tyler, Sean F, 46, Arlington VA, 3:37:09
8456. Bullock, In Suk, 50, Lorton VA, 4:08:45
8822. Laszlo, Chris, 56, Great Falls VA, 3:37:39
8477. Schmickel, Joanna, 53, Arlington VA, 4:09:01
8895. Murray, James, 46, Alexandria VA, 3:38:11
8546. Roberts, Mary Ann, 63, Alexandria VA, 4:09:46
9016. Hemminger, Matthew R., 55, Ashburn VA, 3:38:58
8552. Dutta, Trina, 35, Washington DC, 4:09:48
9034. Gordon, Stuart L, 59, Rockville MD, 3:39:08
8597. Roy, Melissa, 46, Alexandria VA, 4:10:15
9161. Bachrach, Carlos, 54, Potomac MD, 3:40:04
8686. Walls, Cindy, 57, Arlington VA, 4:11:06
9169. Malley, John C., 23, Arlington VA, 3:40:06
8744. Bodeau, Melissa J., 48, Arlington VA, 4:11:45
9194. Names, Donald J., 58, Arlington VA, 3:40:16
8751. Wolfe, Claudia C., 63, Alexandria VA, 4:11:50
9195. Duffey, Timothy M, 54, Arlington VA, 3:40:17
8761. Kinealy, Bridget, 25, Arlington VA, 4:11:58
9212. Watt, Douglas, 57, Gaithersburg MD, 3:40:24
8794. Foster, Marcy, 61, Reston VA, 4:12:19
9229. Kelly, Bernard J., 42, Greenbelt MD, 3:40:31
8836. Shafer, Jennifer A, 41, Triangle VA, 4:12:48
9236. McCall, Kevin, 57, Fort Belvoir VA, 3:40:36
8914. Doll, Alex S., 22, Bethesda MD, 4:13:40
9252. Serenyi, Nicholas, 45, Potomac MD, 3:40:43
8962. Towne, Liz, 52, Alexandria VA, 4:14:15
9259. Byram, Timothy R., 57, Falls Church VA, 3:40:45
9023. Good, Rosemary, 51, Sterling VA, 4:15:09
9295. Encarnacion, Enrico C, 33, Washington DC, 3:41:02
9071. Boettcher, Eileen, 50, Alexandria VA, 4:15:48
9321. Seiken, Roger A, 46, Falls Church VA, 3:41:10
9169. Albrecht, Suzanne M., 22, Bethesda MD, 4:17:13
9328. Gregg, Thomas L., 50, Burke VA, 3:41:16
9212. Coughlin, Deborah A., 56, Washington DC, 4:17:39
9342. Pack, Bob, 46, Purcellville VA, 3:41:21
9271. Ravitz, Amanda, 45, Washington DC, 4:18:31
9419. Hancock, Glenn R, 49, Springfield VA, 3:42:03
9283. Waldron, Kate, 25, Washington DC, 4:18:41
9430. Lambert, Ted, 45, Virginia Beach VA, 3:42:09
9394. Bowman, Mary C, 49, Silver Spring MD, 4:20:30
9482. Suzuki, Hideki, 51, Chevy Chase MD, 3:42:37
9398. Jenkins, Natalie, 56, Germantown MD, 4:20:32
9552. Donahue, Joseph P, 60, Vienna VA, 3:43:10
9429. Talarico, Lauren R., 33, Arlington VA, 4:21:05
9610. Streb, Fred D. Jr., 51, Chantilly VA, 3:43:45
9454. Burke, Emily K., 29, Washington DC, 4:21:24
9624. Brannigan, Philip J. III, 25, Washington DC, 3:43:51
9525. Allen, Jane D, 46, Leesburg VA, 4:22:25
9650. Sullivan, Keith, 40, Alexandria VA, 3:44:03
9659. Gradison, Robin, 57, Arlingon VA, 4:24:20
9651. Knipfer, Knut, 45, Ashburn VA, 3:44:05
9694. Trice, Lindsay, 27, Washington DC, 4:24:53
9668. McKee, Chris, 46, Vienna VA, 3:44:16
9698. McCausland, Lucy, 60, Arlington VA, 4:24:57
9670. Stewart, Phil, 65, Bethesda MD, 3:44:17
9842. Greenberg, Freyda B., 66, Fairfax VA, 4:27:48
9679. Strausman, Jack E, 53, Silver Spring MD, 3:44:21
10016. Soberanis, Layla S., 28, Manassas VA, 4:31:19
9722. Teplitz, Steven, 49, Chevy Chase MD, 3:44:46
10020. Tomeo, Olivia B., 24, Washington DC, 4:31:27
9764. Rankin, Chris, 43, Cabin John MD, 3:45:05
10105. Bock, Christine N, 48, Ashburn VA, 4:33:04
9797. Frost, Stephen, 55, Silver Spring MD, 3:45:20
10145. Ebert, Jackie M., 50, Chevy Chase MD, 4:34:01
9799. Grayson, Harrison W., 63, Upper Marlboro MD, 3:45:21
10177. Danahy, Stephanie, 58, Fairfax Station VA, 4:34:47
9886. Melby, Eric, 67, Bethesda MD, 3:46:14
10332. Harrison, Kari S., 37, Washington DC, 4:37:59
9940. Guzman, Jorge, 60, Potomac MD, 3:46:42
10345. Bauman, Paige L, 47, Annapolis MD, 4:38:16
9971. Shkeda, Andrew, 45, Germantown MD, 3:47:06
10406. Kane, Pamela J, 45, Fairfax VA, 4:39:17
9999. Hattan, Justin, 37, Washington DC, 3:47:25
10493. Davis, Peggy, 63, Fairfax VA, 4:41:43
10024. Dzema, Edward J Jr., 51, Purcellville VA, 3:47:39
10668. Fredlake, Mary B, 65, Washington DC, 4:46:28
10054. Magann, Gregory J., 54, Rockville MD, 3:47:51
10721. Kurdziel, Lisa M., 33, Washington DC, 4:48:09
10289. Angle, Richard E., 46, Alexandria VA, 3:50:03
10761. Firth, Linda M., 46, Dumfries VA, 4:49:39
10331. Platais, Imants, 62, Silver Spring MD, 3:50:27
10795. Winer, Jenna, 26, Arlington VA, 4:50:41
10361. Mart, David M., 62, Chantilly VA, 3:50:42
10871. Streb, Cara J., 51, Chantilly VA, 4:52:56
10406. Joo, Isaiah, 25, Washington DC, 3:51:09
10922. Tosato, Giovanna, 66, Bethesda MD, 4:55:09
10476. Broadbent, Robert A., 43, Fort Belvoir VA, 3:51:38
10952. Veley, Sara, 35, Centreville VA, 4:55:59
10500. Williams, Rhys, 53, Reston VA, 3:51:52
11012. Mulvey, Sarah, 25, Arlington VA, 4:57:56
10532. Taylor, Steve, 46, Ashburn VA, 3:52:10
11268. Lundeby, Stephanie, 32, Alexandria VA, 5:08:36
10619. Burns, Thomas, 57, Oak Hill VA, 3:52:53
11320. Rosenthal, Ann S, 65, Bethesda MD, 5:11:12
10644. Bolduc, David R., 46, Woodbridge VA, 3:53:10
11487. Starck, Sara J., 33, Arlington VA, 5:19:28
10683. Stailey, Judson E, 65, North Potomac MD, 3:53:32
11543. Simons, Trinity F., 34, Washington DC, 5:23:33
10810. Lecuyer, Jacques J, 55, Washington DC, 3:54:48
11582. Halferty, Julie, 47, Arlington VA, 5:25:21
10820. Fumich, Frank A, 47, Arlington VA, 3:54:54
11660. Preble, Amanda J., 51, Centreville VA, 5:30:19
10840. McGregor, Hugh, 63, Potomac MD, 3:55:11
11800. Bolton, Gretchen S, 69, Bethesda MD, 5:41:29
10861. Nah, Joseph T., 43, Gaithersburg MD, 3:55:27
11838. Gauthier, Krista, 39, Annandale VA, 5:45:21
10868. Ernst, Ricardo, 56, Washington DC, 3:55:34
11931. Lebson, Diane E., 44, Washington DC, 5:54:41
10886. Richards, Allen L., 59, Damascus MD, 3:55:41
11954. Hoagland, Rachael M., 41, Alexandria VA, 5:56:54
10971. Lee, Joon Ki, 60, Germantown MD, 3:56:33
10998. Burnett, Bruce D, 57, Leesburg VA, 3:56:49
11051. Anthony, Larry, 55, Washington DC, 3:57:22
11321. Meyer, Cory M., 24, Washington DC, 3:59:58
11450. Wagner, John F, 53, Alexandria VA, 4:01:58
11565. Dettmar, Chris, 61, Reston VA, 4:04:00
11658. Vida, Joseph, 44, Fairfax VA, 4:05:12
11793. Noone, Jim, 70, Fairfax VA, 4:07:24
11871. Kavanaugh, Brett M., 50, Chevy Chase MD, 4:08:36
11875. Gomez, Abel, 48, Washington DC, 4:08:41
12031. Thompson, Luke D., 34, Washington DC, 4:11:23
12178. Glover, Michael E., 54, Falls Church VA, 4:14:08
12189. Richards, William, 61, Falls Church VA, 4:14:18
12231. Wright, Mark E, 51, Alexandria VA, 4:15:12
12306. Hozik, James, 70, Great Falls VA, 4:16:47
12346. Satija, Sushil, 65, Potomac MD, 4:17:20
12421. Crandall, Jeremy P., 29, Washington DC, 4:18:38
12487. Wind, Jay Jacob, 65, Arlington VA, 4:19:51
12540. Sindermann, Robert P Jr., 61, Arlington VA, 4:20:50
12543. Farrell, Robert F. II, 26, Bethesda MD, 4:20:52
12560. Land, Robert C., 47, Rockville MD, 4:21:12
12633. Mullins, Sean D., 34, Fort Belvoir VA, 4:22:25
12650. Langley, R J, 67, Vienna VA, 4:22:44
12851. Heath, Michael B., 39, Washington DC, 4:27:02
12852. Walenda, Gary A., 43, Fort Belvoir VA, 4:26:58
12983. Robertson, Kevin C, 43, Mclean VA, 4:29:49
13018. Belongia, Stephen A., 43, Arlington VA, 4:30:40
13031. Quinzio, Thomas J, 67, Arlington VA, 4:31:02
13104. Richter, Bengal, 58, Washington DC, 4:32:52
13235. Wyse, Gregory C., 45, Annandale VA, 4:36:12
13316. Bold, Thomas P. Jr., 71, Springfield VA, 4:38:38
13326. Inanloo, Parviz, 70, Springfield VA, 4:38:56
13416. Morneau, Stephen, 33, Falls Church VA, 4:41:11
13439. Janson, Christopher, 48, Washington DC, 4:42:04
13441. O'Farrell, Jim T., 50, Alexandria VA, 4:41:59
13500. Taylor, Robert W, 65, Alexandria VA, 4:44:13
13634. Sallet, Jeffrey S., 44, Falls Church VA, 4:49:08
13674. Findaro, Joseph T., 57, Washington DC, 4:51:18
13725. Paz, Bermel R, 53, Centreville VA, 4:53:26
13823. Kaplar, Richard T., 63, Herndon VA, 4:57:55
13869. Revanna, Krupakar, 71, Falls Church VA, 5:00:00
14065. Defeo, Morris F., 55, Fairfax VA, 5:12:51
14223. Blackwelder, Nathan J., 42, Sterling VA, 5:22:44
14261. Brown, Patrick M., 70, Reston VA, 5:25:19
14281. Lukenbill, Francis C., 54, Gainesville VA, 5:27:01
14282. Lee, Bothwell G., 62, Washington DC, 5:27:40
14314. Vinluan, Jerome, 47, Fort Belvoir VA, 5:30:01
14379. Perry, Alan, 45, Rockville MD, 5:36:29
14401. Academia, Edgardo D., 51, Fort Lee VA, 5:39:06
14427. Beach, Bennett H., 65, Bethesda MD, 5:42:57
14508. Nelson, Terrence I., 48, Upper Marlboro MD, 5:54:53
14510. Baker, Rushern L. III, 56, Cheverly MD, 5:54:54
14512. Grimes, Anthony V. Sr., 54, Waldorf MD, 5:54:54