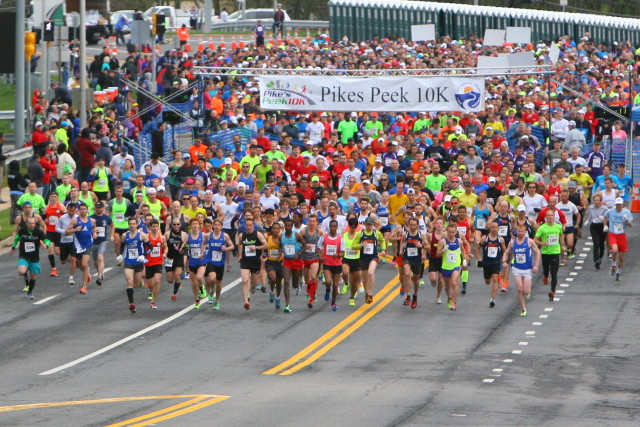 Two frequent out-of-town visitors clashed on the new Pikes Peek 10k course in Rockville, with a Montgomery County native grabbing the win.
[button-red url="http://www.mcrrc.org/pikes-peek-10k-9″ target="_self" position="left"] Results [/button-red]It came down to the final, downhill stretch on Marinelli Road between Brian Flynn and Thomas Adam at the Pike's Peek 10k on Sunday morning. Neck and neck, the two Virginians pounded to the finish line, but it was Flynn, a resident of Bridgewater who attended Damascus High School, who had enough of a kick left in him to narrowly beat Adam by a mere two seconds, clocking 30:27. Third place Luke Meyer, from Washington, was close behind in 30:33.
"I led a lot of the race today," Flynn said. "I wanted to run fast, but after a couple miles, I realized I was doing a lot of the work, so I didn't want guys to just draft off me. I did a hard surge around the two-mile mark and then kind of settled in with the leaders, picking up about the last 90 seconds or so."
Flynn coaches cross country at Bridgewater College and races frequently in the D.C. area.
In the women's race, Julia Roman-Duval, of Columbia, crushed the competition to take first place in 34:35 — a personal best for the 32-year-old. She was all smiles as she talked with fellow participants after her strong finish. Roman-Duval's closest competitor, Selamawit Mekuria of Washington, crossed the finish more than two minutes behind her in 36:48. Sarah Bishop, from Fairfax, finished third in 37:01.
This year's Pike's Peek 10k lived up to its reputation as a PR course, but top runners' times were noticeably slower than in previous years. The impending demolition of White Flint Mall forced race organizers to push the start and finish lines back roughly half a mile, which added a hill at the beginning of the course. The field also lacked a heavy East African presence after eight Ethiopian men and four women from New York did not show up, after registering.
Not a single runner on Sunday broke 30 minutes, whereas the top five men in 2014 and top 12 in both 2013 and 2012 all ran sub-30 races.
"I think it's a little slower. You're losing a little bit of the net downhill because finishing at White Flint [Mall] is a little further downhill. And starting a little bit further back on Redland Road you hit a really hard 800m hill," Flynn explained. "It makes the first couple of miles a little more difficult, but it's still a fast course, a fun course. Halfway through I just stopped worrying about the time and just wanted to make sure that I won."
But the changes didn't deter runners from clocking fast times and PRs since the hill was at the beginning of the race. In fact, Roman-Duval ran 28 seconds faster than last year, when she came in third. Adam, of Charlottesville, bettered his time by 15 seconds over last year's race, when he came in ninth. He competes for Ragged Mountain Racing and won last year's Navy 5 Miler.
"I feel really good," Adam said. "I ran the course last year, so I knew it was fast. I ran a little faster than last year and the course was a little slower, so it was a good day."
Other runners agreed. Arlington's David Barr, a first-time participant who finished in 34:38, said he improved his personal best by about a minute. Nicolas Crouzier, of Gaithersburg, finished 20th last year in 32 minutes, but climbed nine spots to claim 11th place during Sunday's race, despite being 15 seconds slower than the year prior.
In the masters division, Patrick Kuhlmann, of Washington, took home first place with a time of 32:34, and Darcy Strouse, of Frederick, clocked 39:52.
New this year, the team competition allowed local running clubs — as well as corporate teams, schools and non-profits, among other groups — to compete against each other. The top three male and female runners on each team were scored.
Capital Area Runners finished first, with all seven runners clocking in under 44 minutes. Laurel Le Moigne, from Springfield, helped the team to victory with a net time of 38:20.
"I didn't really mind the hill at the beginning because I think it made it less of a net downhill, so it made the times a little more realistic," explained Le Moigne, who ran 36:47 in 2013 and returned this year after having two children.
"I just wanted to have a blast and do the best I could," she said.
Recent Stories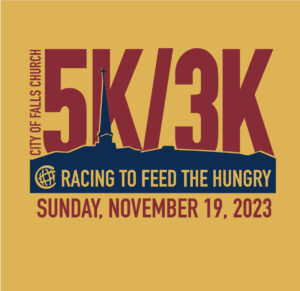 The out and back Falls Church City 5K/3K course is mostly flat on the W&OD Trail starting and finishing at 103 Columbia Street. Overall male and female winners earn free shoes and medals are awarded to all categories. Great family