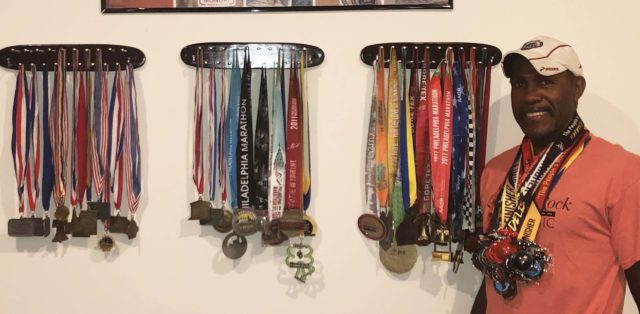 When Arthur Scott celebrates his 60th birthday on Oct. 7, he'll be gearing up to mark another milestone — his 25th consecutive Marine Corps Marathon.
The Washingtonian native, who now lives in Charlotte, has run every Marine Corps Marathon since 1995, despite vowing never to run a marathon, then to run only one, then to stop after his 20th… you get the idea.
"Like many things, it was not planned," Scott said.
The makings of Scott's impressive run streak started in 1993, when a colleague planned to run the Marine Corps Marathon, but only to mile 20. He asked Scott to join him at the 13th mile to help get him through the last leg of the run.
"I said, 'Sure, I'll be there,'" recalled Scott, who already had been running consecutive Cherry Blossom Ten Mile races since the mid-80s. "I ran with him to 20 and in the excitement of the race he said, 'I think I want to finish this.' So, I said, 'Well, if you've come this far and you want to try to finish it, I'll stick with you.'"
What Scott saw at the finish line, shook him to his core.
"I had never been to the finish line at a marathon, and it was the worst thing I've ever seen," Scott said. "I saw people getting sick. I saw one person faint. I saw people draped over other people. I saw toenails bleeding. I saw nipples bleeding. And I thought to myself 'This is crazy.'"
0
Comments