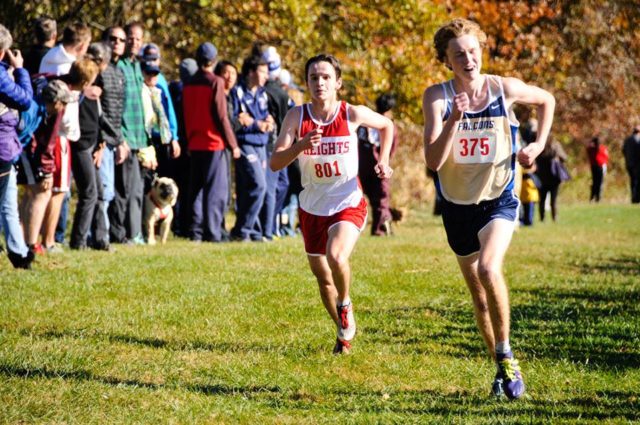 For the second consecutive year, Dalton Hengst of McDonogh nabbed the top spot in the varsity large school race at the Maryland-D.C. Private Schools Cross Country Championships. But this time, it was far from the neck-and-neck race to the finish he experienced last year. He blew away the competition, running 15:29 — a full 44 seconds ahead of second-place finisher Hunter Petrik, of Mount Saint Joseph (16:14), and a 20-second PR over his time last year.
D.C.-Maryland Private School Championships
Nov. 12, 2016 – Agricultural History Farm Park, Derwood, Md.
"I definitely went a lot faster than I thought I was going for the first mile — 4:40 was a little too fast for this course," Hengst said. "But it was a big mental game out there. That was the hardest part."
Rounding out the top three in the varsity boys large school race were Petrik and Alex Whittaker, both of Mount Saint Joseph, who finished in 16:14 and 16:24, respectively. Overall, the Mount Saint Joseph boys grabbed four of the top 10 finishes, earning a first-place finish in the team competition. They were followed by Our Lady of Good Counsel, Sidwell Friends, St. Albans and, in fifth place, Georgetown Day.
In the varsity girls large school race, National Cathedral junior Page Lester took an early lead within the first few hundred meters and held on throughout the rolling, 3.1-mile course. When she crossed the finish line in 17:59 — course record time — there were no other runners in sight. This was her second first-place finish in just seven days after winning the DCSAA Championships last weekend in Kenilworth Park.
"Over my high school career, this is my sixth time doing [the Derwood, Maryland course]. I'm used to it," Lester said, adding that she noticed the absence of Megan Lynch, a freshman at Georgetown Visitation, which, along with Gonzaga, did not compete in both championships. "[We] usually go out in the first mile and a half, but they weren't here today. So I wasn't really sure if there would be someone to go out with me."
Lester opted to start the race at a conservative pace — a relatively new strategy for her, but one that has been paying off this season. Her closest competitors,
Genevieve DiBari and Isabel Barnidge , both of Stone Ridge, finished in second and third place with times of 19:31 and 19:45, respectively.
Senior William Jones, of St. Maria Goretti, finished first (15:58) in the varsity boys small school race and second overall, just 29 seconds behind Hengst.
"I felt pretty good. I made sure I sprinted out to get in front of the crowds so I didn't get boxed in, and I just tried to stay in the lead as long as I could," Jones said. "I kept looking at [Hengst]. I just tried closing the gap. I just hammered hard."
Luke Armbruster (16:37) of St. Andrew's Episcopal took second in the varsity boys small school competition, followed by The Heights senior Matthew Zischkau (16:44). Overall, The Heights took home first in the team competition, with Lions Upper School in second and St. Andrew's Episcopal in third.
Several of the Sidwell Friends  seniors were thrilled with the way they ended the season.
"We've had a pretty strong pack this year. When we run together, we really push each other hard. So it's good to run that way," said Amal Mattoo.
Christian Roberts said the team's strategy for the end-of-season race was to "have fun."
"It's always one of the harder races," he said. "There are big schools like Mount Saint Joseph and Good Counsel — teams we don't see a lot. It's the end of the season when we come together and have fun being competitive."
0
Comments