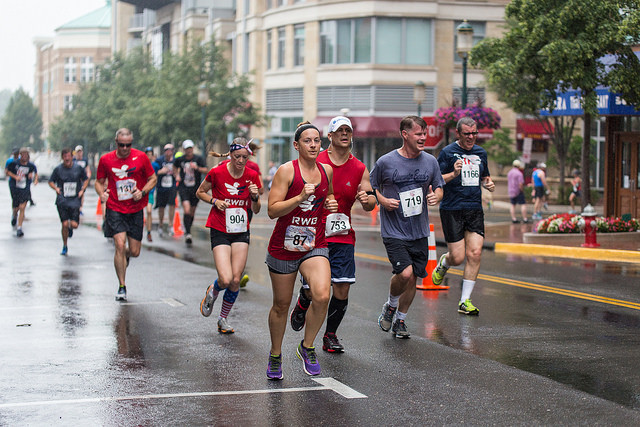 [button-red url="http://s3.amazonaws.com/media.racebx.com/transfer/gen/5/5/9/5597e27f-9054-456c-9455-52afc0a86526/2015-Firecracker-Overall.htm" target="_self" position="left"] Results [/button-red]The crowd erupted as Abu Kebede Diriba and Gregory Mariano rounded the corner onto Market Street in the final 200 meters of the Firecracker 5k, Saturday at Reston Town Center. The men had pounded the wet pavement neck and neck for most of the race, and now cut through the rain in a fight to the finish. But after a quick glance over his right shoulder, Diriba, an Ethiopian marathoner living in New York, gave one final kick to cross the finish line in 15:30 — just one second ahead of Alexandria's Mariano.
Ben Dickshinski, a senior at North Central College in Naperville, Ill., and an All-American in the 5000m this spring, placed third in the men's race in 15:53.
While the worst of the morning's rainstorm held off until most runners had finished, the weather still affected even the most seasoned athletes' performance.
"My pace was not fast. It was difficult with the rain," Diriba said through his coach and translator, Ayele Belete, of Silver Spring.
Fellow Ethiopian and marathon runner Elfinesh Melaku Yado agreed. Despite leading the way through the entire women's race, she felt the rain slowed her down. She placed first in 16:35, while her closest competitors, Amsale Astatek and Tazeta Dengersa, both of Washington, finished in 16:42 and 17:24, respectively.
The sixth annual event has become a tradition for area families like the Delmolino family of Vienna. Wendy Delmolino signed up with her husband, Dominic Delmolino, and two children, Peter Delmolino and Francesca Delmolino.
"My husband and daughter started doing this [race] two years ago and we did it as a family last year. Now it's a family tradition," said Wendy Delmolino, who was joined by out-of-town friends, the Wartels.
"We happened to be here this weekend and we always do a 4th of July race," explained Laura Wartel, of Westerville, Ohio.
Peter Delmolino was "pumped" to run the race that morning since he's been training to run 5Ks in preparation for his first cross country season at South Lakes High School in Reston this fall. He finished in 24:47.
Camaraderie was an ongoing theme during the Firecracker 5K, which supports local military members and their families. Upward of 60 members from Team Red, White and Blue (RWB) — a nonprofit whose mission is to enrich the lives of veterans — attended, including Derek Mitchell, of Kansas City, whose story went viral earlier this year when the then 570-pound man committed to running a 5k each month in 2015.
"Our Team RWB crew got money together and actually flew him out, so he's here today doing the Firecracker 5K with us," said Gretchen Apgar, of Arlington. "[The race] brings everyone together. It's a really great event — to see people we haven't seen in awhile and meet other people in the community."
For Brittaney Short, of Vienna, the Firecracker 5k was about making the 4th of July more than just a barbecue.
"I wanted to feel like I did something important today," she said. "I wanted to do something for our troops."
Recent Stories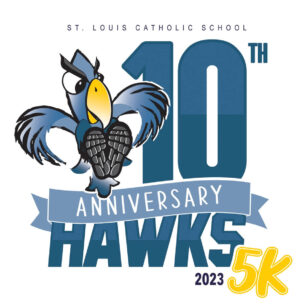 2023 will be the 10 year anniversary of the St. Louis Hawks 5K and Fun Run for Health & Wellness. The USATF certified course runs through the historic Hollin Hills neighborhood in Alexandria, VA.
The Hawks 5K goal, in conjunction