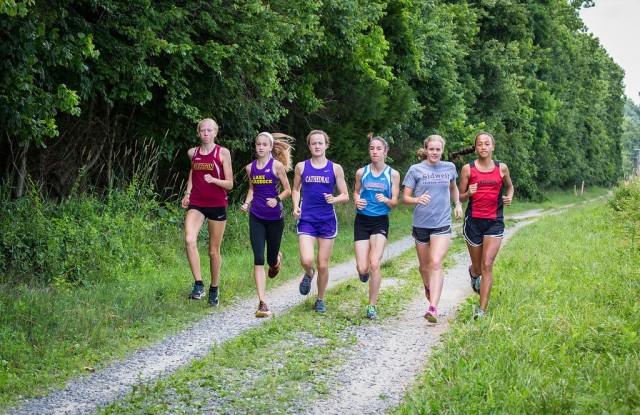 With remarkable depth and outright speed, Virginia's harriers will be the toast of the D.C. area this cross country season, with several primed for big races on the national level. Of the 20 runners selected by the RunWashington coaches panel, 14 run for Virginia schools and another, a D.C. private school athlete, lives in Alexandria.
Maryland lost a few heavy hitters to graduation — Evan Woods, Diego Zarate, Nora McUmber, Kiernan Keller and Lucy Srour — but the state has rapidly-developing young talent moving up.
[button-red url="https://www.facebook.com/media/set/?set=a.1188919417801955.1073741864.189448104415763&type=3″ target="_self" position="left"] Pep Rally Photos [/button-red]Things already looked good after Loudoun Valley's Andrew Hunter and Heritage's Weini Kelati made the Foot Locker Cross Country Championships in San Diego as underclassmen, with Hunter finishing fourth and Kelati 20th. Up the West Coast, Lake Braddock's Kate Murphy and Patriot's Rachel McArthur finished 24th and 25th at Nike Cross Nationals in Portland.
They were just a handful of the high-achieving runners to make the team. It also included state champions in cross country and track, vital members of successful teams and raw talent just waiting for the opportunity to show itself.
RunWashington's panel of area high school coaches met after the state track championships and chose the 10 boys and 10 girls who they would send to represent the D.C. area nationally. They compose the All-RunWashington team. The seven boys and seven girls in D.C., Maryland and Virginia who were not on the All-RunWashington team make their state teams. Sometimes intuition won out over pure numbers. To runners who didn't make it, our coaches welcome being proved wrong!
All-RunWashington Team
| | |
| --- | --- |
| Abigail Green – So. – Walter Johnson | Rohann Asfaw – Jr. – Richard Montgomery |
| Heather Holt – So. – George Marshall | Brent Bailey – Sr. – Centreville |
| Weini Kelati – Sr. – Heritage | Tristan Colaizzi – Sr. – Georgetown Day  |
| Casey Kendall – Jr. – Oakton | Ben Fogg – Sr. –  Lake Braddock |
| Taylor Knibb – Sr. – Sidwell Friends | Dan Horoho – Jr. – Centreville |
| Page Lester – So. – National Cathedral  | Hunter Jutras – Sr. – Robinson |
| Rachel McArthur – Jr. – Patriot | Andrew Hunter – Sr. – Loudoun Valley |
| Kate Murphy – Jr. – Lake Braddock | Robert Lockwood – Sr. – W.T. Woodson |
| Bethlehem Taye – Sr. – Paint Branch | Jackson Morton – Sr. – Stone Bridge |
| Devon Williams – Jr. – James Madison | Colin Schaefer – Sr. -Lake Braddock |
The Class of the Field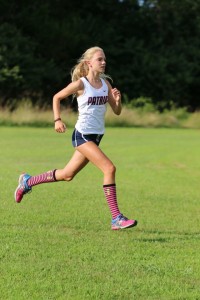 Virginia's class of 2017 claimed four of the top six spots in the girls' 6A division and seems primed to dominate for two more years. As excellent as the group as a whole has been, Murphy and McArthur have stolen the show with their rapid improvement toward the end of the last cross country season and memorable track seasons.
Those two sophomores admittedly took the Nike Cross Nationals meet less seriously than most, partially because of their confidence that such an opportunity would not be their last.
"We both just wanted to make it to nationals," Murphy said. "We knew we didn't have a shot at winning, so we tried to enjoy the experience. I'm sure we would have finished a little higher with a different mentality."
McArthur looked at the race in context of their careers.
"We were just sophomores," she said. "There will be plenty of chances to be competitive."
She's had plenty of chances already. While a third grader at the Linton Hall School, she was trampled at the start of a mile race for older elementary school students. Once the pack had cleared, she got to her feet and chased down all but the first two boys to finish the race.
"I really like winning," she said.
She got her first real taste of that on the high school level at the Glory Days Invitational, beating eventual-Foot Locker finalist Ciara Donohue and reconciling her ability with her confidence.
"She was both fearless and intimidated," Pioneers coach Adam Daniels said. "She'd tell me about how some girl was running the same race, but I had to explain to her that you can't shy away from challenges like that."
That also led to a few misfires, McArthur taking races out too hard, but she settled down.
"Rachel figured out pretty quickly what consequences different racing strategies had," he said.
Though she later lost to Heritage's Weini Kelati in a midseason invitational, for the rest of her races in the American Southeast, she was unbeatable. She and Murphy roomed together in Portland and struck up a friendship that has complemented their athletic rivalry.
"We got to meet people from different parts of the country and see that we can compete with them," she said. "We have good runners in Northern Virginia, but we have to get better if we want to compete with girls from California."
They both excelled at the mile, with McArthur running 4:46.20 for 1600 meters and Murphy running 4:16.98 to win the 1,500 meters at the USATF junior championships, then victory at the Pan American Junior Championships in August.
Murphy won the state 1,600 meter after McArthur edged her for the 3,200 meter in a photo finish. She also won the 3,000 meters at the Penn Relays, which coach Mike Mangan
said was undoubtedly the highlight of her year, while McArthur's 4:50 mile leg of the distance medley relay at the meet carried Patriot's team to victory.
"We have to hold her back," Mangan said of Murphy. "She wants to do everything, but I want her to be good years from now."
Both Murphy and McArthur point to running as being large parts of their life, but for the better.
"It makes me feel alive," Murphy said. "It's my favorite part of the day."
Murphy's Lake Braddock team returns six of seven state championship team members that finished a close second to Oakton, where Casey Kendall will be taking the reins this year.
She followed her older sister, Kira, onto the team, forsaking lacrosse, basketball and soccer, and being rewarded heartily. She was fourth at last year's state meet, right behind graduated Allie Klimkiewicz.
Kendall sees running as a sport that gives you a chance to see your efforts add up to  something. As the team captain, that's what she'd tell someone considering joining the team.
"Running's a hard sport, mentally and physically," she said. "If you're willing to put in a good effort and put your heart into it, you'll have a good outcome."
Her coach, Alisa Byers, doesn't put any limits on what Kendall could do this year.
"I expect everything from her," she said. "She's a fierce competitor, but she's also super disciplined. She can pace herself in workouts in a way most sophomores can't. She understands running and what goes into success."
Two spots behind Kendall at the 6A meet, James Madison's Devon Williams was still getting the hang of cross country, having been more of a track-focused runner before. She overtook her
teammate Amanda Swaak in the last mile and paced the Warhawks to a third-place finish.
As an 800 meter runner, she just tried to stay calm early on in races and push the middles until she could kick her way home.
"I just have to stay with the pack," she said. "The middle is the hard part, but I feel like with a full summer of training, I'll be a lot stronger."
The Centreville duo
Brent Baily and Dan Horoho are pulling each other, and the Centreville team, higher and higher in the results. They missed the state meet by two points, but with two front runners, they have less to worry about while trying to get to The Plains.
An arm injury as a freshman convinced baseball player Bailey, now a senior, to give track a try. After a 4:45 mile, he felt like he found a new home. But like a fixer-upper, that home needed work, and it wasn't just painting shutters.
"The practices are rough," he said. "You get home and want to just lie down for a half an hour before you can do anything else."
Horoho, a junior, has been running a little longer, since he was a kid, jogging up the block when his father did PT work for the Army. He looked into running as he approached high school and picked up where he left off, and then some.
The pair is pretty close, and though they had teammates to keep them company while each of them was sidelined with an injury last spring, it wasn't quite the same.
"I can tell if he's behind me in a race because I know what his breathing sounds like," Bailey said. "You could go out and run, but it just wasn't as enjoyable."
Freshmen sensations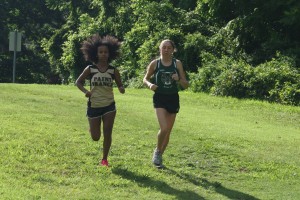 Heather Holt started off running at George Marshall to meet new people. Coming for the International Baccalaureate program meant she was going to be mixed in with a lot of classmates she didn't know from middle school, but luckily several friends from her soccer team decided to run and with a little prompting from her twin sister Ashley, she became a runner.
The pair got their start running at the Braddock Relays before they were unleashed at the Oatlands Invitational, where they finished together in eighth and ninth, a second ahead of Walter Johnson freshman Abbey Green, another All-RunWashington honoree.
The twins broke the tape together at the Oktoberfest Invitational at Great Meadows, and then Heather started to pull away from Ashley at the 5A North Regional meet. At the state championships, the pair pulled away from two pursuers until Ashley was overcome by the heat and did not finish. Heather went on to win by more than 20 seconds.
Coming back with a year of experience will allow Holt to approach races more authoritatively.
"I'll have more confidence and I'll go into races knowing more about what I want to do, instead of just running and seeing how things turn out," she said.
Coach Darrell General helped her refine her form, shifting her away from a heel strike that caused persistent tendinitis.
Last year, Marshall's girls team made the state meet for the first time, and with six of seven from the state team returning from a sixth place finish, they have their eyes on the Nike Cross National meet.
Meanwhile, Green, who finished right behind the Holts at Oatlands, came into a different team situation. The Wildcats won the Maryland 4A team title over Bethesda-Chevy Chase and seemed strong enough on their own, but Green's emergence, typically as the team's second finisher, helped put them over the top while the repeated as state champions, with her in the lead in fourth place.
She knew she was a decent runner, finishing first at gym class miles throughout elementary school, but there was still a little doubt as she started ninth grade.
"I was terrified," she said, leading up to Walter Johnson's first dual meet. By the end of October, though, she was the 4A regional champion.
Swimming, once her bread and butter, was going stale, and running would take precedence.
"I like the hills," she said. "My worst races come on flat courses."
All-D.C. Team
| | |
| --- | --- |
| A'Ishah Bakayoko – Sr. – Georgetown Day  | Sam Blazes – Sr. – Sidwell Friends  |
| Erin Bell – Sr. – National Cathedral School | John Colucci – So. – Gonzaga |
| Michaela Kirvan – So. – Georgetown Visitation | Jacob Floam – Sr. – Gonzaga |
| Ellie Leape – Jr. – Sidwell Friends School | Drew Glick – Sr. – Wilson |
| Mayim Lehrich – Jr. – Wilson | Tyreece Huff – Sr. – Phelps |
| Arrington Peterson – Jr. – Wilson | Harry Monroe – Jr. – Gonzaga |
| Katherine Treanor – Sr. – Georgetown Day  | Christian Roberts – Jr. – Sidwell Friends  |
Holding the Old Line
Rohann Asfaw was the only Maryland boy to make the All-RunWashington team, but he does so behind a tenacious sophomore year that saw him make tremendous gains not only in his performances, but the evolution of his motivation to run.
He started running as an eighth grader to lose weight.
"It was my 2013 New Year's resolution," he said. "I ran for 10 minutes a day, that's all I could do then."
But as the weight came off, he found his love for running had evolved.
"I started enjoying it," he said. "I wanted to get better."
Asfaw has done pretty well, winning the DCXC sophomore race, and third at the county championships.
He wants to improve his finish at the state meet, where he was eight in 4A last year, the third underclassman. He earned it.
"I thought I was going to pass out," he said, still a little shell shocked from his first race at Hereford.
A 25th place finish at the 4A meet would seem inauspicious for Paint Branch senior Bethlehem Taye, certainly now that she's the defending 3,200 meter champion.
"She's an incredible rhythm runner," coach Mark Anderson said. "She can just tear off some intervals so smoothly."
All-Maryland Team
| | |
| --- | --- |
| Grace Dellapa – Sr. – Wootton | Michael Abebe – Sr. – Northwood |
| Amanda Hayes-Puttfarken – Sr. – Sherwood | Ben Gersch – Sr. – Whitman |
| Katriane Kirsch – Jr. -Walter Johnson | Dylan Kannapell – Sr. – Bethesda-Chevy Chase |
| Sami King – Sr. -Whitman | Kevin McGivern – Sr. – Good Counsel |
| Emily Murphy – Sr. – Walter Johnson | Colin Sybing – Sr. – Wootton |
| Claudia Wendt – So. – Good Counsel | Liam Walsh – Sr. – Quince Orchard |
| Olivia Woods – Jr. -Whitman | Jack Wavering – Sr. – Good Counsel |
The Burke Bunch
Lake Braddock won last year's 6A title with 1-2 finishes from now-graduated Alex Corbett and Kevin Monogue, but the Bruins have a pair of seniors ready to take over where the team left off last fall.
It's that attitude, Mangan said, that will draw senior Ben Fogg, a 1:54 half miler, into the fray. "If you ask him, he'd rather run an 800, but he'll be willing to do a little more to make up for Alex and Kevin graduating," he said. "He's got the chops to run whatever distance we need."
He demonstrated that with an 18th place finish at the state meet.
"Yeah, I'd rather run the 800 instead of the 5k, but you get a sense of the team in cross country in a way you don't in track," Fogg said. Colin Shcaefer, who ran 15:00 at Burke Lake's 2.98 mile course last year before finishing seventh at the 6A state meet, has recovered from a stress fracture in his foot that took him out of the end of the track season. He moved last year from Nevada and is getting his first full cross country offseason with his teammates.
"I'm getting used to the humidity," he said. "I can handle the heat."
At nearby Robinson, senior Hunter Jutras is a product of his family's penchant for running. They all participated in the Army Ten-Miler last year, and older brother Dustin blazed a path through the Rams program ahead of Hunter.
"He's got more of a kick in his legs than he realizes," said coach Nils Lindenblad.
He'll be kicking without his graduated teammate Patrick Myers, who lead his and Jutras' 14-15 finish in the 6A meet last November.
Who was that?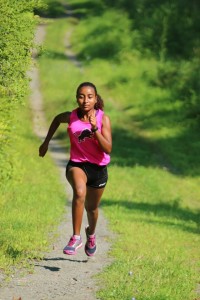 Spectators asked two questions when Heritage's Weini Kelati tore around the Oatlands Invitational with ease, stopping to tie her shoe. How fast is she going to run, and who is this girl?
Getting answers wasn't easy for the Eritrean emigre who arrived in Leesburg shortly after the season started. She of the 9:02 3000 meter the prior summer was only beginning to learn English but almost a year in, she has a better grasp of the language and culture, thanks in large part to her teammates.
Her cousin and guardian Amlesom Telaki knew his way around Northern Virginia's cross country courses, himself a Foot Locker Cross Country finalist while at West Springfield.
She has taken an interest in history since arriving at Heritage.
"I know there are times what the history book says isn't the truth," she said. "I think there's a lot to learn from history."
She'd prefer to dispense with the mile and two mile and move up immediately to the half marathon, on her way to her dream.
"I want to be the Olympic champion in the marathon," she said. She met her match in E.C. Glass sophomore Libby Davidson, who stymied her for the 4A title, but Kelati made the Foot Locker national meet, where she finished 20th. Though the spring track season wasn't great, she has thrived on the hot, muggy days during her base training, which reminds her of home.
"I like the heat," she said. "I run faster when it's hot."
Lanky Guys
Long limbs help runners cover ground with fewer strides, and Stone Bridge's Jack Morton and Georgetown Day School's Tristan Colazzi both take advantage of that. Morton lives a world apart from most Northern Virginia runners. When the postseason begins, he's off in the 5A division, where he finished fifth last year.
Morton, a senior, trains with classmate Andrew Matson, and the two led their team to a third place finish.
The opportunity to run presented itself when Morton decided to join a team in ninth grade but realized he was missing some important equipment — hand-eye coordination.
"It turned out running was right for me," he said with a laugh.
He applied his passion for running to his Eagle Scout project — organizing the Divine Mercy 5k.
Colazzi, winner of the junior race at the inaugural DCXC Invitational, was injured for more than a month in the winter, and spent that time stewing on a stationary bike. While he didn't make the cut in the Penn Relays mile, he did run 4:16.22 in mid-June. He then quadrupled at his conference track meet, keeping Georgetown Day School ahead of the Potomac School.
The lone D.C. school honoree on the preseason All-RunWashington team spent his summer working at Pacers Running Store in Clarendon.
"I like running so much, I figured I'd spend even more time around it," he said.
All-Virginia Team
| | |
| --- | --- |
| Jeana Bogdon – Sr. – James Madison | Max Carpenter – Sr. – George Marshall |
| Jill Bracaglia – Sr. – Oakton | Bryce Catlett – Sr. – Osbourn Park |
| Sarah Daniels – So. – Lake Braddock | Nate Foss – Sr. – Thomas Jefferson  |
| Sophia Divone – So. – Langley | Andrew Lackey – Sr. – West Springfield |
| Daly Ferguson – Sr. – Lake Braddock | Brandon McGorty – Jr. – Chantilly |
| Sara Freix – Sr. – Westfield | Zack Lindsey – Jr. – West Potomac |
| Morgan Whittrock – Sr. – James Madison | Saurav Velleleth – Jr. – Thomas Jefferson  |
Making his name in Virginia running
He's not the second coming of Bobby Lockhart, the 2001 Foot Locker runner-up, he's Bobby Lockwood, a senior from W.T. Woodson.
"The mile to me feels like a sprint, you're just trying to gut it out" he said. "The two mile and cross country give you more time to work with."
He finished 19th in Virginia's 6A meet, and new coach Dave O'Hara has high hopes for Lockwood's improvement.
"It will all come down to that first race, really," he said. "If he believes in our approach and runs that race he's capable of and buys in, there's no telling what he could do."
He was a football player that then- Woodson coach Julia Davidson convinced him he had a future in running. He couldn't be fattened up for the gridiron, and his mom agreed, happy she didn't have to try.
Part-timers
Page Lester and Taylor Knibb look to be the top D.C. runners, both finishing high during invitationals and championships races–Knibb won both the D.C. state meet and the D.C. and Maryland Private Schools Championship. That was on top of their time-consuming triathlon training.
"It's all good cross training," Knibb said. "I have little things, here and there — a sore hip — but I haven't been injured. I'm only running about three or four days a week."
Already family friends, Knibb influenced Lester, whose mother is an accomplished triathlete, in giving the sport a shot. Now the two travel all over the country, and the world, competing in triathlons. Lester looks at Knibb as a role model, in addition to being a good friend. But Knibb knows that friendship means nothing when they leave the starting line.
"Last year at the Maryland and D.C. Private Schools Championship, I started running hard three-quarters of a mile in, because I was worried about Page's kick," Knibb said. "I never knew how close everyone else was until I saw photos of the race. I didn't have as much of a lead as I thought."
That's her style, though. In running or bicycling, he likes to take control and influence the race.
"When people are drafting on their bikes, I like to go ahead and see how much time I can put on them," she said.
Lester is spending most of her time in the pool — roughly 10 or 12 hours a week, and keeps her mileage "really low."
"Swimming is where I have to put most of my time to be a good triathlete," she said. "I also like to sleep a lot."
Here We Go
The cross country season starts in earnest Sept. 12, at the Monroe Parker Invitational at Burke Lake, almost entirely Virginia teams.
Then runners start crossing the rivers at the Oatlands Invitational in Leesburg (Sept. 19), the DCXC Invitational in Washington, D.C. (Sept. 26), the Glory Days Invitational in Centreville, Va. (Oct. 10), D.C. Championships (Oct. 31), Maryland public schools state meet (Nov. 7) and D.C. -Maryland Private Schools Championship (Nov. 14), Virginia state meet (Nov. 13-14), the Foot Locker South and Nike Cross Southeast Regional meets (Nov. 27) and the Foot Locker Cross Country Championships and Nike Cross Nationals (Dec. 12).
RunWashington will track the progress of the All-RunWashington preseason team members week by week and, in addition to weekly race coverage, will call attention to significant team and individual performances.
RunWashington Coaches Panel
| | |
| --- | --- |
| John Ausema – Gonzaga | Gaby Grebski – Sidwell Friends |
| Steve Hays – Whitman | Kevin Hughes – Georgetown Visitation |
| Mike Mangan – Lake Braddock | Chris Pellegrini – West Springfield |
| Kellie Redmont – Wootton | Scott Silverstein – Winston Churchill |
| Cindy Walls – Bishop O'Connell | |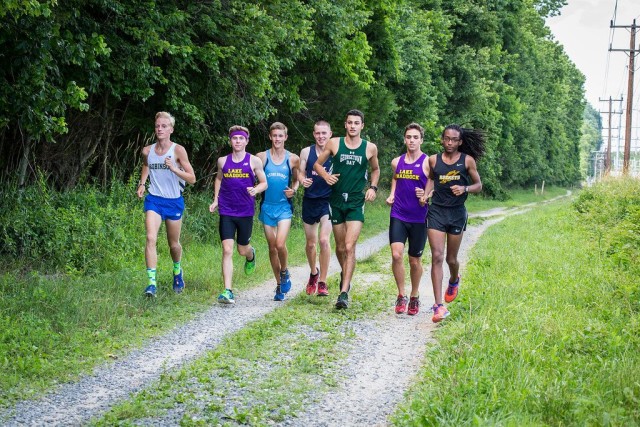 Recent Stories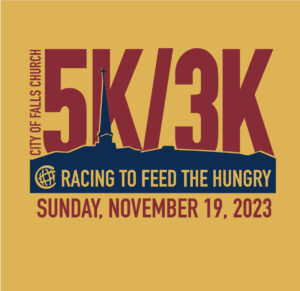 The out and back Falls Church City 5K/3K course is mostly flat on the W&OD Trail starting and finishing at 103 Columbia Street. Overall male and female winners earn free shoes and medals are awarded to all categories. Great family