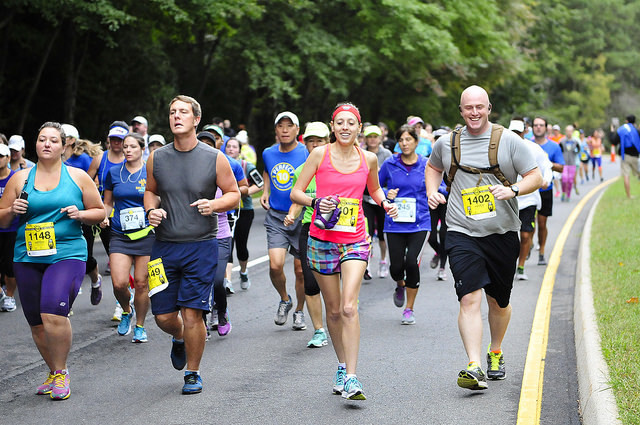 Either way you sliced it, the race was a perfect 10.
If they chose to run 10 kilometers or 10 miles, runners passed judgment on the race like a gymnastics judge. But unlike the finely-tuned routines on the mats, runners could improvise mid-race and choose to cut it short or add another 3.8 miles to their run.
With the rain gone, Centreville resident and Potomac River Running team member Todd Bibb, 44, won the 10k overall in 35:35, an average of 5:44 per mile.  Commenting on the weather, Bibb noted that "It was nice, cool, and there was no rain."
Around the midway point of the 10k course, a formidable hill came into play, but Bibb, having run for over two decades, had the experience to pace properly.  "Mile three was a killer, but after that it was okay." Currently, Bibb does human resources and information systems work.
Winning the women's 10k in 37:19, a 6:01 mile pace, was Michelle Capozzi, 23, of Leesburg.  A week prior, she won the women's 5k at the Dulles Day 5K.
Capozzi noted that she's adapted well to the D.C. area after living in the northeast. "It's nice and I really love the area here" Capozzi said.
The other choice for running was the 10-miler, and for the men's division a D.C. public school teacher/former American University runner, Carlos Jamieson, along with Leesburg 20K winner/ George Mason graduate/full-time Potomac River Running Associate Jimmy Luehrs, were certainly up to the task.  Jamieson, 28, won in  52:15, and Luehrs, 22, was second in 52:54.
For Luehrs and Jamieson, teamwork certainly paid off.  The two kept each other going throughout the race which certainly contributed to their success.  "We ran together the whole time and went back and forth between leading and following.  It helped," said Jamieson.  When asked if "the wall" was hit at any point, both runners alluded to a point "around mile seven or eight".  Winning the female division of the 10 mile was Perry Shoemaker in 59:38.  Shoemaker, 44, is a perennial leader in the PR Trophy Series Standings.
Recent Stories

Both 5K and 1 mile courses are USATF certified. The 5K course has some moderate hills. The 1 mile course is flat making this a perfect PR course. We are really looking to get a broader participation base.
Funds go