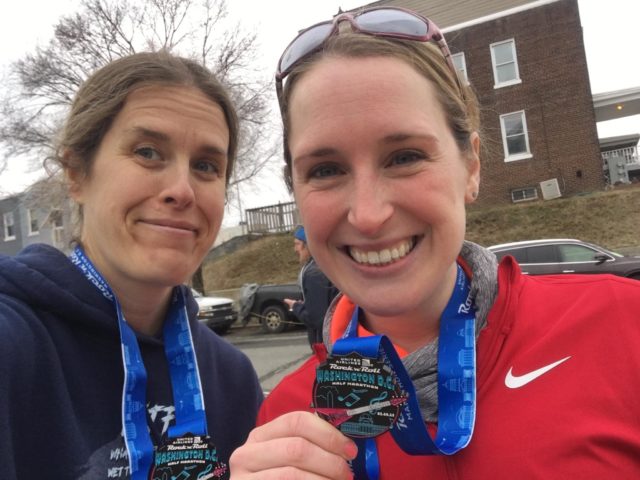 Ashley Davidson is a public relations professional who recently chronicled the Tidal Basin Runs and has written for RunWashington since 2015.
Read more of her work here.
Name: Ashley Davidson
Self-described age group: 33 – an "older" millennial
Residence: Alexandria, Va.
Occupation: Public relations
Why you run: In my mid-20s, I ran because I was bored. When I hit 30, I needed the self-esteem boost. Now, I need to alleviate my back pain.
When did you get started running: I ran track in middle school, but then didn't run again until I ran my first 5K at 23 (which I hated). My next 5K was in 2011 at age 25, and I've been running every since.
Have you taken a break from running: Only when the temperature drops below 15 degrees.
Training shoe: New Balance 880
The hardest race you've ever run: The first and only time I ran the Rock 'N' Roll Marathon in D.C. That second half was brutal, mentally.
Most adventurous decision you've made with your running: To run two marathons in three weeks. I never made it to the second one, due to injury. (Who would've thought…)
Running mentors: Scott Kaldahl, my coach from my first marathon, when I ran with Team in Training Miami.
My favorite place to run in the D.C. area is:  Anywhere with shade.
Favorite local trail:  I live near Holmes Run, so it has a special place in my heart.
My best race was: 2018 Chicago Marathon – huge props to anyone that pushed through that torrential downpour.
Favorite local race: Parkway Classic – I'm all about the downhill.
Ideal post-run meal: Depends on the day and the run, but guaranteed after a marathon I'll want a cheeseburger – and a mimosa.
Favorite flavor of gel, gu, etc: Don't use them.
Pet peeve: Cyclists that don't ring their bell and scare the crap out of me as they zoom by.
Goals: Run a sub-4 marathon.
Your advice for a new runner: Get fitted for shoes.
Favorite running book: Wild – it's about hiking, but I love that Cheryl Strayed took a (somewhat) solo journey on a section of the PCT to figure out her hot-mess life.
Song in your head during a run: I listen to audiobooks, so typically don't have a song in my head.
Have you dealt with a major injury: IT band – chalk it up to being an over-eager, newbie runner.
Running quote: "If you don't have answers to your problems after a four-hour run, you ain't getting them." (Born to Run)
Why is the D.C. area a great place to be a runner: The trail network and the incredible community.
Recent Stories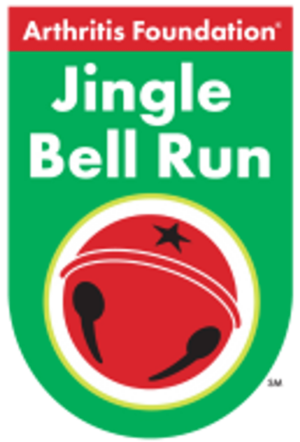 Be part of the original festive race for charity and signature Arthritis Foundation holiday event! Wear your favorite holiday attire and together, we'll jingle all the way to a cure! Register as an individual or bring a team of friends,