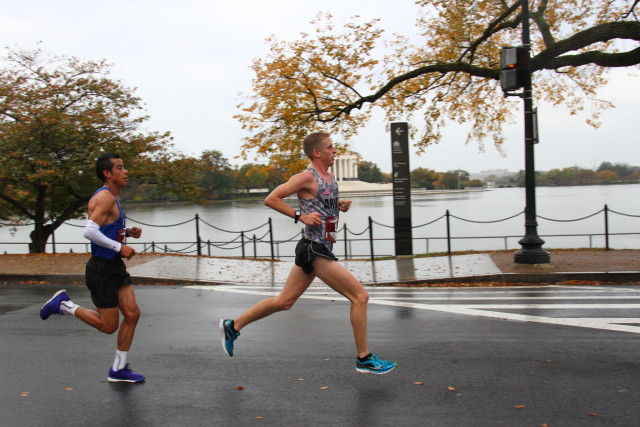 He was beating the bridge, and everyone else, when Trevor Lafontaine wondered if he had made his move too soon.
He hadn't, but he had good cause to wonder.
[button-red url="http://www.marinemarathon.com/Results/MCM_Results.htm" target="_self" position="left"] Results [/button-red]The 22-year-old West Point graduate held his lead on Oscar Santos, who he dropped in mile 19, and kept going to a 2:24:24 finish to win the Marine Corps Marathon, which celebrated its 40th anniversary. But he didn't know what was coming up.
"I've never run more than 22 miles, so everything after that was uncharted territory," he said.
LaFontaine hadn't raced any distances longer than 10k, an occupational hazard when you come out of college and move right to the marathon.
"I think the little break after the collegiate season helped me," LaFontaine said. "I ran about 30 miles a week this summer working 5 a.m. to 10 p.m., but things settled down once the school year started, so I had a little break after three seasons of running. Now I can set my own schedule, so when I want to train, I train."
He coaches the U.S. Military Academy's prep school cross country team in New York, which gave him flexibility schedule his training, but that hasn't been entirely smooth sailing. He hoped to run the Army Ten-Miler to give him a taste of longer distances, but coaching the team meant spending that weekend on a trip to a cross country race.
Army coach Lt. Col. Liam Collins recruited him to run the race, but Lafontaine is largely self-coached.
"I did most of my marathon pace workouts at 5:30 pace, shooting for 2:25, so I'm really happy how it all turned out," he said. "That's really what I was shooting for. I'd throw in seven miles at marathon pace, but I never really went farther than that."
That was all he needed, because he averaged just that to win by 1:43 over Santos.
He broke off from Santos,  a contractor for the Mexican military, in mile 19, near the U.S. Capitol
Justin Turner and Ken Foster took the lead early, before crossing the Key Bridge at mile four, before falling back on Hains Point after the half marathon mark.
"I had a cramp in mile 18 and I stopped to massage my hamstring," Santos said through an interpreter. "I lost about two minutes, and I never made up for it."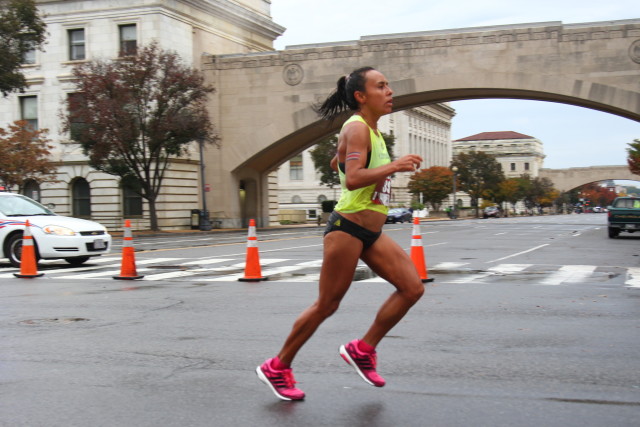 The women's race also featured several lead changes, but in a rarity, the early leader prevailed. Jenny Mendez Suanca led early, but fell back around halfway through, when Harriott Kelly and Maria Elena Jimenez took over heading onto the National Mall near mile 18.
"They sped up and slowed down, but I just kept steady," at 6:19 pace, she said through an interpreter. "I got a lot of energy from the crowd, even though I didn't know all they were saying."
Suanca started running seven years ago, encouraged by her husband, who coaches her, and won three out of her four marathons in her native Costa Rica before tackling her first international marathon at Marine Corps. Her 2:45:55 finish was a 10-minute personal best.
"I feel privileged to be here, running with the Marines," she said, "It was much less humid. I was cold at first, I struggled, but I warmed up."
She has been running for roughly seven years, and motivates herself with the opportunity to improve every day.
"I came to challenge myself, to run as fast as I could," she said.
Behind her, Christine Taranto, who is based in Monterey, Calif., charged out of the middle of the pack to claim second place and a six-minute-plus PR over her time from the Big Sur Marathon this April. As a member of the Marine team, she relished the chance to pass up runners from other branches to finish second.
"Every person, I just thought, this is another point. This is our home race, so I should race like it," she said. "I hit my goal half marathon split and took it from there. I listened to what number the crowd told me I was, and I just kept moving up. I just ended up running a solid, steady time."
Taranto's teammate at West Allegheny High School near Pittsburgh, Lauren Shaffer, also ran, finishing in 3:22:56. The pair finished in the top five at the Pennsylvania state cross country meet's small school division in 1999.
It was Taranto's fourth shot at Marine Corps, her third on the current course configuration that has been in place since 2013. Starting that year, the course traded a loop around the Palisades neighborhood for an out-and-back to the north on Rock Creek Parkway to the bottom of Shoreham Drive. Lafontaine's time was the slowest in the current design, Suanca's was the second-fastest of three winning women's times.
Like Taranto, Brian Flynn, of Rockingham County, Va., worked his way up through the race, finishing third in 2:26:26. He used the race as a chance to run 5:25 pace for the second half of the race to prepare him for the California International Marathon in early December. Like Lafontaine, he is a coach, in charge of the Bridgewater College cross country team.
His strategy of holding back early, though, ended up leaving him in the lurch in terms of people to run with. He passed plenty of people
"I had some people from miles two through four," he said. "Otherwise, I was just passing people, on my own."
Evan Fox (2:33:01) of Arlington, Dickson Mercer (2:34:45) of Washington and Tom Dichiara of Garrett Park, Md. were the top finishers for their respective states in the D.C. area, while Kara Waters (2:55:53, fourth overall) of Great Falls, Va.; Sarah Whitworth (3:01:06) of Washington and Patricia Soumoff (3:14:39) of Greenbelt, Md. led the local women.
Recent Stories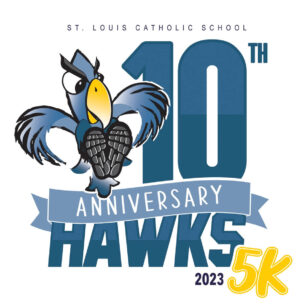 2023 will be the 10 year anniversary of the St. Louis Hawks 5K and Fun Run for Health & Wellness. The USATF certified course runs through the historic Hollin Hills neighborhood in Alexandria, VA.
The Hawks 5K goal, in conjunction