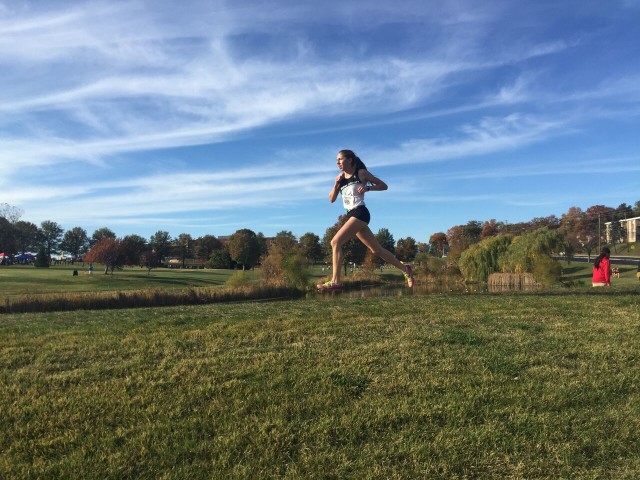 The Montgomery County Cross Country Championships were going to be lonely for Rohann Asfaw, so for a half mile, he relished the crowd.
He hung back early on, content to run the collective pace and eat up some ground on the 5k course at Bohrer Park in Gaithersburg.
[button-red url="http://www.mocorunning.com/meet.php?meet_id=3567″ target="_self" position="left"] Results [/button-red]"I wanted to stay behind them to make sure I had a controlled first mile,"he said. "I took off after 800 (meters). It's really hard to run fast by yourself, but honestly, I just pretended like someone was ahead of me and they were pulling away."
His 15:34 was a major PR, and coach Davy Rodgers said Asfaw's very approach to the sport helped him when there was nothing but the breeze, and 15 seconds between him and Northwood's Michael Abebe.
"He's very good that he doesn't take his competition lightly, so a lot of his training, he's thinking about being ahead of the guys he's racing. It's his mental approach to all of his running.
"You're either a front runner or a stretch runner and not a lot of people are comfortable running with a lead. He's just a natural front runner."
Behind him and Abebe, Colin Sybing started off scoring for T.S. Wootton in third place in 15:55, and he was joined by Cliff Tilley (sixth in 16:02) and Jacob Rushkoff (ninth in 16:12) in the top 10 to lead Wootton to its first county championship.
The meet has no bearing on the Maryland regional meets, set for next Thursday to determine bids for the Nov. 14 state meet, but it gathers all schools in the county for a single-division race for bragging rights.
The trio of Wootton seniors at the head of the race was joined by freshman John Riker, who finished 21st in 16:44 and junior Ben Shaprio, 34th in 16:55, to total 73 points, ahead of Bethesda-Chevy Chase's 94 and Winston Churchill's 108.
Wootton coach Kellie Redmond said this year's team has fallen into consistency that not only allows her to see their improvement race-to-race, but had keep an even keel throughout the season.
"We've been in situations where we have good, quality teams and we've gotten ourselves into a problem by pumping things up too much," she said. "That ultimately has hurt us. Now we're not shooting for anything out of control, just running how we practice. There's no up-and-down every week. That can get exhausting."
In fourth overall, Northwest's Branson Oduor, in just his first year of running, broke 16 minutes, running 15:58, a nine-second PR.
Heading into his senior year, Oduor wanted to "have a little fun" and joined the cross country team after sticking to pickup soccer and basketball games.
Though he's found he has the wheels to compete, he's still getting a hang of strategy.
"I was trying stay with Wootton's number one guy (Sybing)," he said. "Our number two was staying with their number two. Colin  stayed behind me and when he caught up and went, I couldn't catch up to him. I didn't have time to react and when I tried to chase him down at the finish I ran out of energy."
The girls race was another step in Tom Martin's plan for the Walter Johnson team, though he wasn't sure early on in the season if he had to change the blueprints. His Wildcats repeated as county champions, scoring 48 points to Bethesda-Chevy Chase's 80, with six runners in the top 20, including sophomore Abbey Green and senior Emily Murphy, who went 1-2. Green's 18:04 was a meet record.
"When the season started, this is what I envisioned for this day, but we had a lot of bumps and I wondered if it was a little unrealistic, but they surprised even me today," he said.
Katriane Kirsch's 12th place finish was emblematic. Despite missing half of the base-building season, she has clawed her way up to being the third finisher for the team.
"That's just will," he said. "She's doing that on a lot less training than the other girls. She's a very strong willed young lady."
Rival Bethesda-Chevy Chase had lost three-time county champion Nora McUmber to graduation, but reloaded with freshman Virginia Brown, who finished fourth in 18:45.
Green and Murphy shared the lead early on with Paint Branch's Bethlehem Taye, who ultimately finished third in 18:23.
Taye, who won the 3200 meter run in the prior outdoor track season, is still adjusting to her newfound distance prowess and nothing depicted the new world she's living in better than trying to compare her last finishing time and place at the county championship.
"Well, I don't remember what place I was in last year, so…" she said, trailing off. She tired to use the Walter Johnson duo as a pacing guide because she's still adjusting to running fast off the track, before they left her behind in the second mile.
"Once you let a gap form, it's hard to close it," she said. "After a while I wasn't seeing it get any smaller, but I didn't give up. I just set new goals."
Her race plan wasn't the only contingency at the race.
The meet was rescheduled because of a conflict on its original Saturday, three days prior, but that ultimately worked in several runners' favor. Otherwise, they'd have come straight from taking the ACT college admissions test. WJ senior Jasmine Garrett was one such beneficiary.
"I couldn't imagine coming from my last chance to take the test before applying to colleges and then having to race my last county meet," she said. "And my proctor was late getting things started."
Recent Stories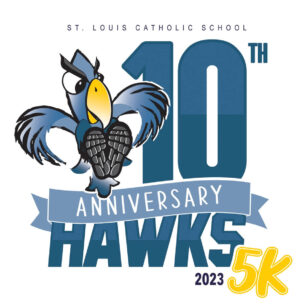 2023 will be the 10 year anniversary of the St. Louis Hawks 5K and Fun Run for Health & Wellness. The USATF certified course runs through the historic Hollin Hills neighborhood in Alexandria, VA.
The Hawks 5K goal, in conjunction