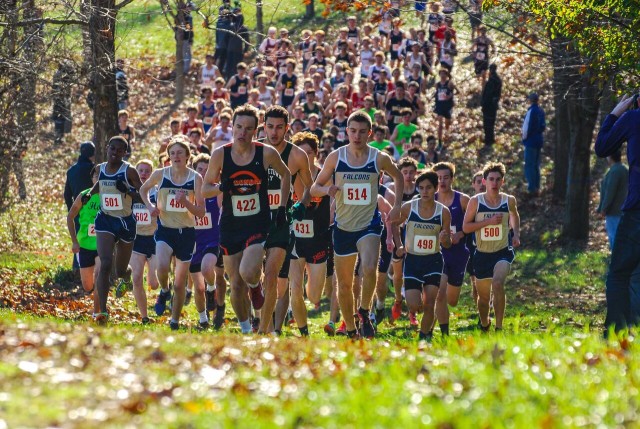 For McDonogh sophomore Dalton Hengst, the hay was in the barn.  He had a great week of practice, a healthy taper and all that was left was about fifteen minutes of hard work plowing through the fields in his racing shoes.
[button-red url="http://www.mocorunning.com/meet.php?meet_id=3296″ target="_self" position="left"] Results [/button-red]A controlled pace combined with a final surge over the last quarter mile paid off for Hengst as he crossed the line in 15:49 to beat out Good Counsel senior and defending champion Jack Wavering by two seconds (15:51) and claim his first Maryland-D.C. Private Schools Cross Country Championship.
Cool temperatures and clear skies made for fast conditions.  Only the rolling hills and gusty winds threatened to slow the field of runners as they traversed the Agricultural Farm Park in rural Derwood,Md.
"I had never raced [Wavering] before. It kind of scared me," Hengst said. "But, this last week I really nailed my workouts. I ran a ladder workout and finished an 800 on the way down in 2:09, so I was feeling great. My coach was yelling at me at the top of the hill, 'You closed with a 2:09! You can do it! Your kick is better!' That workout really got me confident. I really tapered for this one and it paid off.  I was going for it. I am so happy!"
The two appeared set for a mid-season matchup at the Georgetown Prep Classic in October, and Hengst was salivating for the opportunity to race him, but Good Counsel did not make the trip.
Hengst got off to a fast start, well ahead of the pack before settling down and allowing Wavering and Georgetown Day's Tristan Colaizzi (third in 16:10) to dictate the pace.
"I let Wavering lead the whole way which was a great strategy for me, but probably hurt him a lot on a windy, windy day," Hengst said.
"I knew [Hengst] was fast," Wavering said. "The pace was really honest which usually benefits me a lot. I tried to break him on some of the hills by throwing in surges but he hung on for dear life and pulled it out in the last two hundred meters. My legs were burning up. The race went about as well as I could have hoped."
[Best_Wordpress_Gallery id="4″ gal_title="Md./D.C. Private School XC"]
For McDonogh coach Jeff Sanborn, there was little surprise that Hengst would deliver.
"We were expecting him to do well. When this kid arrived [at McDonogh], we knew we had a good one.  The kid is a tough racer — a beast. He's just built for cross country. He'll do anything you ask him to do.  He's got heart and he runs possessed," Sanborn said.
"When we came here today, we knew Jack Wavering was the guy to beat and it panned out to be the perfect race. Dalton was going to go with anyone who was going. If you're going to beat him you've got to go hard and go early. He doesn't hold anything back."
On the girls' side, there were few surprises as the one-two spots were reclaimed for a second consecutive year. Sidwell Friends senior Taylor Knibb, won the varsity large school race in an impressive 18:25, followed by National Cathedral sophomore Page Lester (18:53).
The only real drama was who would take third. Good Counsel sophomore Claudia Wendt claimed that spot (19:22) despite sitting out the last six weeks due to injury.
"This race is just not very comfortable in any aspect," Knibb said. "I noticed the wind a little bit, but that's just part of cross country.  It helped that we raced here two weeks ago (for the Independent School League championship) so I had a bit of a refresher of the course."
In the end, only three points separated first and second place as Georgetown Day (44) beat Good Counsel (47) for top honors in the varsity girls' large school division.  Georgetown Day scorers finished 4, 5, 9, 12 and 14.  Good Counsel runners came in 3, 6, 10, 13 and 15 to take second by a narrow margin.  Sidwell Friends captured third place with 82 points.
In the boys' varsity large school competition, Wavering's Our Lady of Good Counsel team took home the top prize handily besting second place Gonzaga 26-69. All five of Good Counsel's scorers finished in the top ten (2, 4, 5, 6, 9). Sidwell Friends took third (93) overall.
"It's nice to win, but I'm especially excited about how our guys have continued to make progress over the last five weeks.  Our 2, 3 and 4 guys have really closed the gap behind Jack [Wavering] and if we can continue to close that gap, we're legitimately a really good team as we head into Nike [Southeast Regional cross country championships]," said  Good Counsel coach Tom Arnold.
In the varsity girls' small school event, freshman Julia Luljak from the Park School finished with top honors in 20:33.  Joy Reeves from St. Andrew's Episcopal was second (21:08) and Julia Schaefer from Annapolis Area Christian came in third (21:17).
Team honors went to St. Andrews's Episcopal (50 points) followed by St. Maria Goretti (67) in second and Rockbridge Academy in third (76).
Recent Stories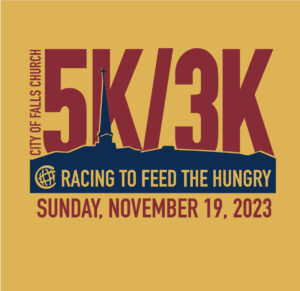 The out and back Falls Church City 5K/3K course is mostly flat on the W&OD Trail starting and finishing at 103 Columbia Street. Overall male and female winners earn free shoes and medals are awarded to all categories. Great family