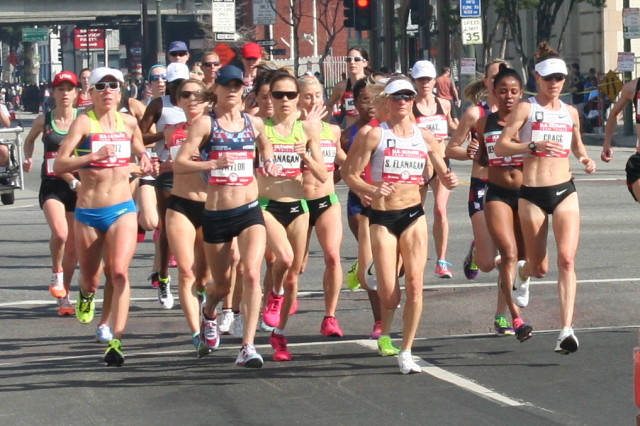 Maegan Krifchin finished seventh in the U.S. Olympic Marathon Trials Saturday in Los Angeles to lead eight women who live in or train around the D.C. area.
[button-red url="http://www.usatf.org/Events—Calendar/2016/U-S–Olympic-Team-Trials—Marathon/Results.aspx" target="_self" position="left"] Results [/button-red]Her 2:33:34 was only four seconds off her personal best time from last year's Hamburg Marathon. She was one of three athletes sponsored by Mizuno to finish in the top 15. Serena Burla, who lives in Stafford, was eighth in 2:34:28, and Lindsay Flanagan, who lives with Krifchin in Silver Spring, was 14th in 2:39:49.
Amy Cragg won the women's race in 2:28:20, followed by Desiree Linden in 2:28:54  and Shalane Flanagan in 2:29:19. The race started at 10:22 a.m. and temperatures on the sun-baked course topped 70 degrees. Runners found a few shady spots on the four-loop downtown course, but the attrition, 49 of the 198 starters dropped out, was apparent even as the pack thinned out.
Susanna Sullivan, a Falls Church native who runs for Capital Area Runners, was 20th in 2:41:25. Julia Roman–Duval, who lives in Columbia and was the last entrant, finished 50th in 2:46:54.
Kieran O'Connor, an Arlington resident, led the local men in 24th place with a 2:21:37 finish. Arnold, Md. native Matt Llano was sixth in 2:15:16 and Tim Young, of Fredericksburg, finished 11th in 2:17:10.
Galen Rupp won the men's title in 2:11:12, followed by Meb Keflezighi in 2:12:20 and Jared Ward in 2:13:00. Only 105 of the 167 starters finished the race.
Two other Arlington residents, Chris Kwiatkowski (76th in 2:31:35) and Tyler Andrews (2:33:40) competed. D.C.'s Carlos Jamieson ran 14 miles of the race before dropping out.
American University alumnus Mark Leininger finished 59th in 2:28:17 and George Mason alumnus ran 2:35:07 for 86th place. Baltimore resident Andy Weaver dropped out after the half marathon mark.
D.C.'s Teal Burrell ran 2:50:42 for 72nd place and Alexandria's Emily Potter, running her third marathon trials, was 102nd in 2:55:17. They both run for the Pacers Running / GRC New Balance team.
Also of local interest, Robinson alumna Bonnie Axman Keating finished 90th in Lake Braddock alumna Anna Corrigan finished 96th in 2:54:29, former D.C. resident Katie Sheedy was 110th in 2:57:41, former Leesburg resident Sarah Bard was 118th in 2:59:13 and former Baltimore resident Christine Ramsey was 145th in 3:14:52. Herndon alumna Hiruni Wijayaratne dropped out after eight miles.
Recent Stories

Both 5K and 1 mile courses are USATF certified. The 5K course has some moderate hills. The 1 mile course is flat making this a perfect PR course. We are really looking to get a broader participation base.
Funds go