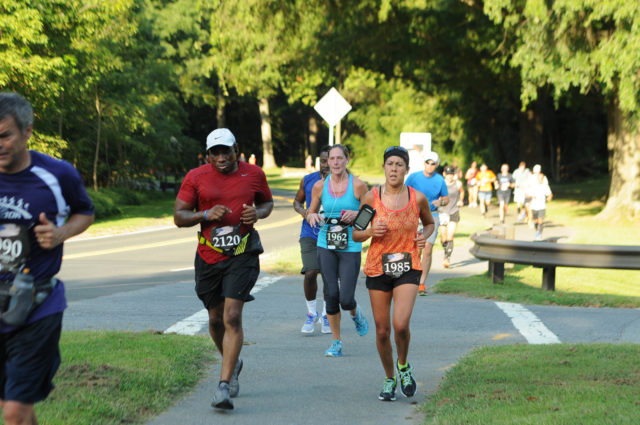 She might have had a little more sweat in her eyes this time, but Megan DiGregorio still found her way to Bethesda to win the Parks Half Marathon for the second time in three years.
The humidity made a difference this year, but didn't keep her from putting a nearly-one-minute lead over Michelle Miller, of Damascus, 1:24:45 to 1:25:40.
It was slower than DiGregorio, of White Marsh, Md. ran in 2014 — 1:23:37 — but that didn't bother her.
"Based on the temperature I'm happy for my time — it was tough," she said. "Every year I look forward to seeing the tunnel with the lights, and this year was no exception."
She said she felt chills as early as mile seven, which she attributed to dehydration exacerbated by the humidity. Though the race was shorter and flatter than the likewise-miserable Hatfield-McCoy Marathon on the mountainous Kentucky-West Virginia border, which she won in June, she said she was straining a lot more in what was a racing effort at Parks.
Even though some racers may have felt the effects of the heat, many complemented the race for being well prepared for the conditions. 
"There was great communication leading up to the race," said Laurie Themistos of D.C. "We were given advance notice of the heat and instructed how to prepare accordingly. There was also plenty of water and Gatorade on the course." 
Girma Bedada of D.C. led the pack for the men, finishing at 1:11:29, followed soon after by Brian Flynn of Bridgewater, Va. at 1:11:35. Flynn finished third last year in what was essentially a tie with second place. Coming in third was Andrew Brodeur from Bethesda in 1:12:35.
"I felt much stronger this year," Bedada said moments after zipping through the finish. "It's always good when you win and I'm looking forward to racing again next year."
Flynn explained his contentment for his finish time considering the heat and humidity.
"I let the leader get away a little to much. I caught up with him and almost brought him back at nine or 10 [miles] when we hit the uphill — that was good for my positioning."
The ease with which Flynn climbed the uphill portion didn't exist for everyone, unfortunately.
David Lank from Baltimore enjoyed the course until he met said hill at the end, climbing into Elm Street Park in Bethesda.
"Loved the course, even with that uphill at the end, but didn't love the weather," Lank said.
Another finisher complemented the beautiful scenery and setting of the race.

"I love Rock Creek, its beautiful and I love it for its non-paved trails! I also love the race swag," said Monika Schneider from Silver Spring.

This year's race included the addition of slew of children wearing Mickey Mouse hands, ready to give high fives all morning long at the top of a particularly-tough hill.
With D.C. humidity being par-for-the course, the Parks Half Marathon chalked up as a successful event with many happy finishers.
Recent Stories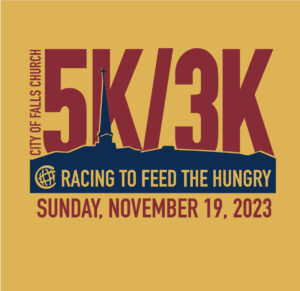 The out and back Falls Church City 5K/3K course is mostly flat on the W&OD Trail starting and finishing at 103 Columbia Street. Overall male and female winners earn free shoes and medals are awarded to all categories. Great family