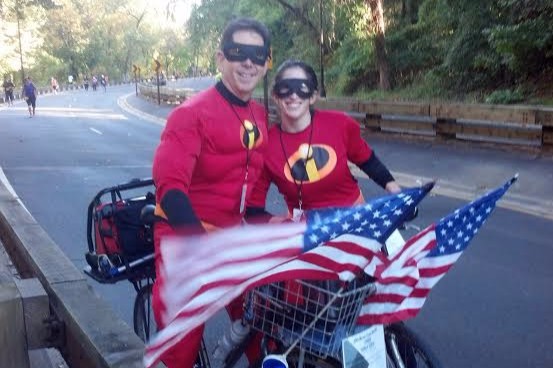 The Enthusiasm Behind the Mask
Max Nacheman saw a red dot in the distance as he approached mile 35 of the JFK 50 Mile. The D.C.-based first-time ultra runner was trudging along a lonely stretch of the course between aid stations and was tired. His knees hurt. Struggling to hit 10-minute miles, he could see his goal time slipping away.
"There was me and one other guy, but we couldn't see anyone ahead of us or anyone behind us," Nacheman said. "And we weren't really talking…we were just suffering next to each other."
As Nacheman closed in on the red dot on the horizon, he began to hear music. Moments later, the red dot materialized into Disney superhero Mr. Incredible, jumping up and down to music coming from speakers strapped to a bike. No, Nacheman wasn't hallucinating (though it's a fair question to ask, during an ultra). There was, in fact, a man dressed up in a costume cheering on runners and dancing to music. At that moment, the motivational song was "Be My Lover" by La Bouche.
"He yelled, 'take the power out,' and I hit the gas," Nacheman said. "I banged out a couple of eight-minute miles. Ultimately, I finished the race and I cleared my goal-time by 30 seconds. I was very happy about that."
Anyone who has completed a major race in the D.C. area in the last five years (the Marine Corps Marathon, the Rock 'n' Roll USA Marathon, JFK 50 Mile, Cherry Blossom) probably has something in common with Nacheman: both have been motivated by the electric jolt that comes from seeing Mr. Incredible among the spectators, dancing to music, dishing out his high fives.
But who is the mystery man who started showing up at races in costume around D.C. five years ago? Who hasn't missed a JFK 50 Mile since? Who has taken the job of cheerleader and elevated it to superhero status?
His real name is Paul Silberman, DDS. That's right — Mr. Incredible is a dentist Monday through Friday at his practice, the Silberman Dental Group in Waldorf, Md. While Silberman himself isn't a runner, his friends are. In fact, that's how his journey to becoming Mr. Incredible began.
The Road to Mr. Incredible
In 2002, Miles Haven, Silberman's neighbor in Potomac, Md. at the time, asked if he wanted to ride parts of the JFK 50 Mile course to cheer on members of Miles' running group called "MilesRun." Without hesitation, Silberman, who played doubles tennis with his neighbor, agreed. He was given speakers to strap on the front and back of his bike in an effort to create the "stereo effect."
When race day arrived, Silberman parked at the finish line, then strapped the speakers onto his bike with duct tape.
"He came out, played the music and we ran," Haven said. "I remember he just had a great time…and Paul continued doing it."
Silberman eventually upgraded his sound system to two large speakers, which require large and expensive batteries and puts the weight of the bike at more than 100 pounds. Six years after his first JFK 50 Mile, he came up with the idea of putting on the costume.
"I just put it on as a goof at the JFK 50 and the response of the people was so different than somebody on a bicycle with music," Silberman recalled. "It's like there was a superhero on a bicycle with music. People's jaws drop when a non-human is cheering them on. They're just so willing to smile and be receptive to cheering and high-fives."
His friends noticed the transformation, too.
"When he's in costume, people just treat him differently," Haven said. "Like he's a friend. Like he's one of the family. It's interesting to see that. It's like he's not a human, he's somebody else. They'll just run around and treat him a little different than if he was just a normal person. That costume does a lot, they're more gracious that he's there."
After several years of supporting runners in D.C.-area races, many runners now expect him at major races. But they aren't the only people who have noticed what Silberman brings to a race. By 2013, Mr. Incredible was part of the official "entertainment" of the Marine Corps Marathon and was given permission to ride the course with his bike while jamming out to Journey's "Don't Stop Believin'" or Survivor's "Eye of the Tiger."
In 2014, Marine Corps invited Silberman back again and earned a spot in the media guide as "Mr. Incredible, The Marathon Bike Guy."
"We're glad to have him as part of the team and we're glad he's an official entertainer for a variety of reasons," said MCM Operations Manager Charlie Harr, who approved Silberman's plan and credentials for the race three years in a row. "Having coached with a charity-based training program, I see what the people in the back are going through and know how hard it might be mentally for them to continue and see the value he brings to those runners."
Harr, who also benefited from Mr. Incredible's energy jolt at one JFK 50 Mile, said prior to race day, Marine Corps officials brief law enforcement partners on the entire entertainment plan, including Mr. Incredible's case.
"We provide him vehicle credentials for his bike so that law enforcement on the course know that he's supposed to be there and he has been properly vetted," Harr said. "We essentially just make sure that they're aware of what our intentions are and that Paul is part of plan."
No Easy Task
Silberman preps for races in the same way a runner would. He hydrates the night before, anticipating that he won't have many opportunities to stay hydrated during the race. He spends hours perfecting his race-day playlist. He arrives early. He makes one last trip to the bathroom before putting on his costume.
And just because he gets on his bike when runners' shoes hit the pavement, doesn't mean he's not burning any calories.
During this year's JFK 50 Mile, he rode nearly 60 miles. That's while lugging more than 100 pounds. The temperature at the finish line that day was a miserable 16 degrees — not  quite ideal biking temperatures.
During Marine Corps, Silberman starts his day at 6:30. He rides the course until he reaches mile eight and stays there to give out high-fives and cheer on runners until 10 a.m., when most of the runners have gone past this point. Then he rides down the course to the 14th Street Bridge at mile 20 where he sets up to give runners one last boost to the finish. Getting from one place to another isn't always smooth.
"Each year I learn a lot," Silberman said. "Next year I won't go around the Pentagon with the runners. I got stopped every 50 yards by security with semi-automatic rifles."
It's a good thing they did. While cheering during the 2014 Marine Corps Marathon near mile 25, Silberman came across a  wheelchair-bound disabled veteran who couldn't move his arms anymore.
Silberman told the veteran that he could help push him in an effort to get some momentum to the crest of the hill and onto the downhill prior to reaching the last hill in the race. Silberman added, "But if I do, I don't know if that disqualifies you for a medal."
Silberman contacted the race coordinator the day after the race to confirm the vet received his medal, which he did.
"It doesn't matter, I'm stuck and I can't move," the veteran told Silberman.
Silberman ran with the veteran from the Pentagon parking lot and helped him take off to the steep hill at the end of the race. He recounts this experience as "the first time he has run in the last 20 years."
A Runner at Heart
Mr. Incredible most recently picked up a sidekick: his daughter, Lauren, who lives in D.C. Lauren ran cross country and track in high school and college and has started to join her father in costume at races as "Violet." She said that her father understands running culture even better than some runners.
"He gets running, running culture and running life better than any non-runner I've ever met," Lauren said. "He has a feeling of what's in a runner's head at a certain point of the race. That sheer exhaustion when you can't think of anything, then this character pops up. Or how sometimes you need just a little bit of encouragement, you need to be told to go just a little faster."
Silberman typically never crosses the finish line himself in races, except for in the JFK 50 Mile. But even then, he doesn't receive a medal or any of the other race memorabilia participants get to take home with them after a job well done. Yet he keeps showing up to the next race year after year.
"He's not just a guy putting on a costume," his daughter said. "He's a guy who found a way to insert himself in running culture and  to make that a hobby without necessarily running the full 26.2 miles."
After a long day of dancing, biking and running back and forth cheering on runners, the man in the costume will unload all of his equipment, mount his bike on the back of his car and head back home. He'll hang up his costume and mask until the next race. When Monday morning rolls around, the avid cyclist will walk into his dental practice and start seeing patients.
"I have come to appreciate what a runner does to be able to complete a marathon, much less an ultra," Silberman said. "The physical and mental training is remarkable. I have a huge amount of respect for the runners. There are times during the race when I clearly am receiving as well as giving … and there is something powerful about helping people when you know they have nothing to give in return."
This article originally appeared in the Winter 2015/2016 issue of RunWashington
Recent Stories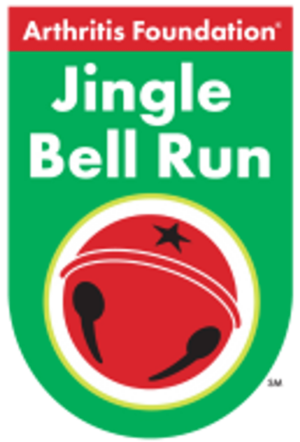 Be part of the original festive race for charity and signature Arthritis Foundation holiday event! Wear your favorite holiday attire and together, we'll jingle all the way to a cure! Register as an individual or bring a team of friends,