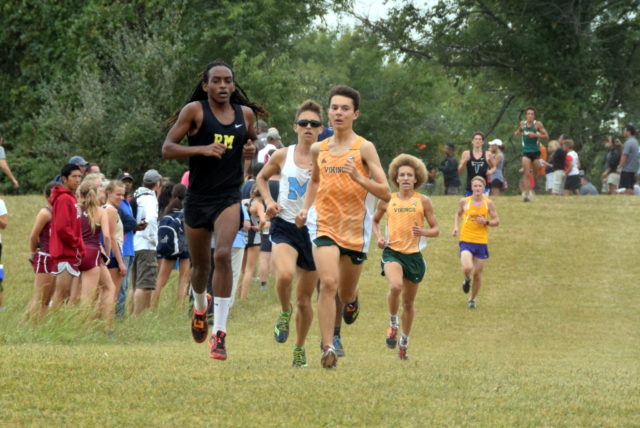 The rolling, sometimes steep, hills of Leesburg's Oatlands Invitational are a wake up call for a lot of runners.
"This is the race that snaps you back into cross country," said Abbey Green, a Walter Johnson junior who finished second. "This is where you get some great competition on a hard course and really test yourself."
Green and the Wildcats (third place), the three-time defending Maryland 4A champions, did so against 46 other teams and trailed only George C. Marshall and Osbourn Park. With five runners in the top 50, Marshall built a 30-point lead over Osbourn Park, and was led by junior Heather Holt in 17:52 over Green's 18:17 on the 5k course.
In the boys' race, Rohann Asfaw pushed the pace early, which his Richard Montgomery coach Davy Rodgers said wasn't the initial plan, but Asfaw said a slower pace demanded it.
"I'm not afraid to take the lead early on if I have to," he said. "I'm going to run my own race and sometimes that's what it will take to go fast."
At the end of the second mile, nearing a long climb, Loudoun Valley juniors Peter Morris and Colton Bogucki caught him, with plans to take him out on the way back down, but Asfaw was already planning to push down the hill. He whittled his chase pack down to Morris, then pulled away on the series of stretches and turns to pull out a 15:47-15:50 win, what was roughly 15 seconds faster than his race last year.
"I feel a lot better after the race is over this year," he said. "Going up the hill didn't seem to slow me down the way it has before."
Morris, for his effort, was five seconds off of his track 5k PR, set in the heat of June. He had run 16:41 at his conference meet last October.
"I've gotten a lot better with my uphill running," he said. "I like to make my move based on how other people are doing on the hills."
Loudoun Valley, Virginia's defending 4A champion, was dominant, scoring 85 points to Albemarle's 226. Freedom, of South Riding, was third with 237. Bogucki was fifth, Jacob Hunter was 18th, Chase Dawson was 21st and Jacob Windle was 45th.
Spectators had to look farther back for tension in the women's race. Holt was clear of Green and third-place Cactoctin senior Julien Webster early on, though she still heard their footsteps.
"I tried to just focus on myself," she said. "If I pay attention to my form, it helps me block out thinking about other runners. Sometimes I'll listen to people cheering, but then I'll hear them cheering for someone else and then I get nervous that someone's catching me."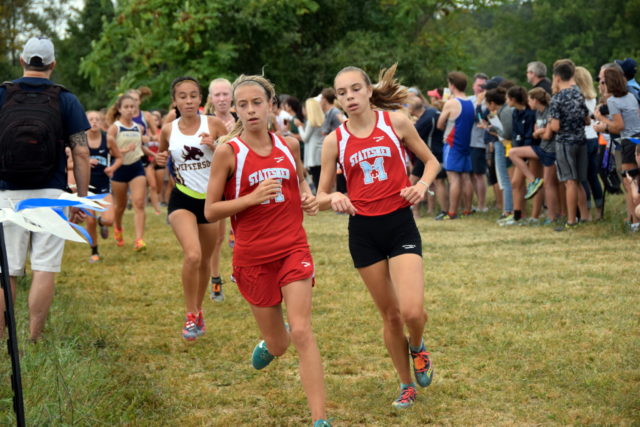 Ava Bir didn't have that trouble finished 10th, one spot and eight seconds behind Ava Hassebrock from Tuscarora, Marshall's chief rival.
"I heard people cheering for Ava, this week and last week," Bir said. "She's running really really well and it's nice to know I am finishing close to her."
Her teammate Jenna Robbins (23rd) went even further.
"I pretend everyone is cheering for me, I don't care what name they're yelling," she said. "A lot of coaches will shout advice to their runners, and it's good advice, so I take it, too. If they say move your arms, I move my arms, too."
The Oatlands course reminds all of them of Panorama Farms, where their 5A regional meet is held, and where they'll be competing to return to the state meet for the third consecutive year, and the third time in the program's history. They were fifth in Virginia's 5A last year. 
Along with Holt, Bir and Robbins, Marshall had scoring runners in Sophie Tedesco (27th) and Natalie Bardach (43rd).
"We've had so many hard workouts this week," Robbins said. "When your goal is a race in November, things seem a long way off in August. Now that we're into September and we're racing and seeing how the team is improving, it's easier to get excited."
Freedom's team is excited, after their boys improved to third place from 13th in 2015. And no member of the team quite as much as Niklas Becker, a freshman who ran his first 5k, finishing second in the underclassman junior varsity race in 17:46.
He was scheduled to debut at the distance a week prior in Winchester, but hot muggy weather prompted meet officials to shorten the race.
Becker has been running since he was 8, inspired by his older sister, Elena to join the Dulles South Youth running program, which fit well with this soccer schedule. He finished his soccer career last year, though.
"I got serious about running last year," he said. "I like racing and I know that if I tried to do both, I wouldn't be able to do my best with running."
Now he's in harrier heaven at Freedom, where he has a team ready to move ahead, and quickly.
"I like the hard workouts; there's always someone to help you get faster," he said. "Everyone is supportive and nice."
As for what he's learned from his older teammates, "patience."
"You should never panic in a race," he said. "There's always time to make up for things."
That fits what coach Karen Richardson sees for her Freedom team, which was seventh in Virginia's 4A division last fall.
"This is week seven in what could be a 14-, 15-week season," she said. "It was a very good finish for our program. We set some high goals for ourselves, put together a very deliberate training program with a few key races and this meet was one of them."
What encourages her most is the team's closeness and personal investment a system that prides itself on reliability, dedication and selflessness.
"We have a tight spread," she said. "Our number two was our number four last week. Our number four this week was our number two last week. There's not a competition within this team, it's a competition with other teams."