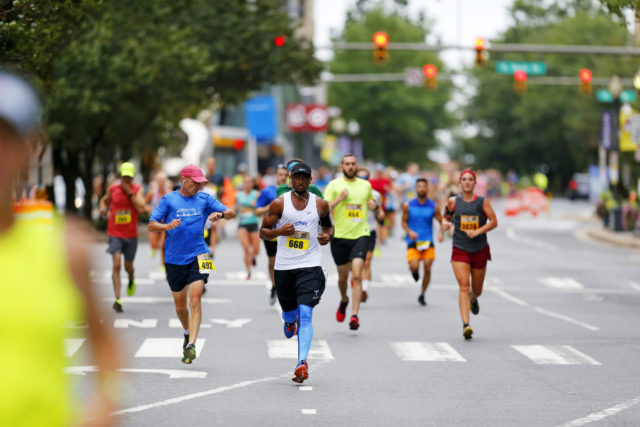 With fall racing season upon us, runners of all ages and abilities converged on the 2016 Clarendon Day races. The 5k/10k/double race fell a week earlier than usual, and though September weather can be unpredictable, the morning dawned mild and slightly overcast. Undeterred by Safetrack delays, 1,145 runners gathered atop Wilson Boulevard to start the 5k. After the races, daylong festival 
Clarendon Day 5k/10k
Sept. 17, 2016
The course was quiet except for the pounding of shoes and panting of the fastest runners. Dashing towards Rosslyn, Clint McKelvy (14:36) of Arlington took an early lead that became insurmountable by the end of the second mile. At the finish line, McKelvy and his cheering squad debated his finish time, which fell just two seconds short of the course record.
"I thought I could have [the record] with a really good day," McKelvy said. "I did not expect to get it when I was running solo for the last mile or so. It definitely helped having Stewart [Reich], the guy in second, pushing me the first two miles."
Behind him, Reich (14:45) of Frederick and Tripp Southerland (15:11) of D.C. rounded out the top male finishers in the 5k. In the women's race, Maura Carroll (17:35) of Arlington took first, followed closely by Jennifer Brill (17:51) of Arlington and Elyssa Gensib (17:54) of Alexandria.
Runners throughout the pack had strong performances and positive outlooks after the race. Waiting for her friend Tina to finish, Vinita Ollapally (28:32) mused about finish times. "I used to run a lot faster," she said. "I'm not used to seeing 28 minutes on the clock. But I think it's just, you know, you're a runner no matter what. So even if you run slowly you're not any less of a runner than the runners who are running really quickly." She and Tina chose the race to set fitness goals for themselves.
Elizabeth Bolton (38:24) of Alexandria (who is this writer's sister) smiled at the finish line and announced, "I just ran a personal worst!" with equal enthusiasm. She wasn't disappointed, as she hasn't been training and is now in the third trimester of her first pregnancy.
Another runner, Lizzie Gomes (38:59), chose the race for her first 5k at a friend's suggestion. "I thought I was going to struggle and probably be last but I wasn't!" she said quietly. That friend's boyfriend, who declined to be interviewed, couldn't help but chime in, "She's a superstar today." Although Gomes plans to stick to 5ks for the near future, she liked the course and felt positive about running the race again.
Shortly thereafter, 910 runners began the 10k. Many of them had trudged back uphill from the 5k finish–some 250 runners doubled up this morning. As in the 5k, a small lead pack broke away on the downhill, but even with the longer flat around the Pentagon, the winner proved unstoppable. Desta Beriso Morkham crossed the finish in 30:50, so nonplussed that he looked around and asked, "Finished?"
Morkam, who is Ethiopian, won his first American race by 40 seconds. "It's good, it's good" he said, grinning. "I am very happy because of this good weather for me."
Behind him, Stewart Reich (31:40) and Matthew Barresi (31:52) took second and third, making Reich the overall top finisher in the double. Still panting, Reich said, "It went well. It was fun. I've never done anything like that." Like Morkam, Reich and Barresi appreciated the conditions and shrugged off the morning humidity.
"The wind was in your face for a bit, but it's September in DC so that's what you get," Barresi said. He added, "If the sun was out, it would have been baking us."
In the women's 10k, GRC runner and recent Northwestern grad Elena Barham dominated her first road race. Her 36:16 finish placed her ninth overall and was fully two minutes faster than the next woman, her teammate, Keely Eckberg (38:17). Barham's strategy was to "just get out there and compete," which she certainly did.
"There were some great men right around me and they were very, very helpful… [They were] just running really steady so I could kind of like, tuck in. Profit off their hard work a little bit," Barham said.
Behind her, Eckberg seemed flustered by her finish. "I'm training for a marathon so [my strategy was] just hold a steady tempo pace, I guess. I've been feeling good in my workouts, so I dunno. Just to go out and run it," she said, still trying to catch her breath.
She added, "I live right around here so it was motivating to see my apartment on the way back."
Just past the finish line, third-place woman Barb Fallon Wallace (38:25) joined fifth-place Amy Nichols (39:56) to stretch and discuss returning to running after pregnancy. Wallace recently had her third child, and Nichols is newly returned to running after her first.
"[Barb] said just try not to set expectations and your body will get back into shape when it wants to," Nichols said. "Of course I had impractical expectations but I was pretty happy with it, although I finished extremely out of breath. I thought I was going to die."
For her part, Wallace simply wanted to run a controlled race. The first downhill mile challenged her, but she humbly accepted her finish, saying, "I figured if I didn't catch [the leaders] then I wasn't gonna be fast enough to run with them."
Reich, Wallace, Nichols, and many other doublers used the race as a tune-up, particularly for the upcoming Army 10-Miler. Many set PRs thanks to the speedy first mile. Some, like Madeline Shepherd (22:03/49:44) and Justin Hewitt (17:55/38:55), thought they had taken down two personal bests. "This was my first time running any of the Clarendon Day races and it definitely is exactly as described — super downhill, really flat, really easy PR. Lot of fun," said Shepherd, who also enjoyed the bananas.
"Couldn't have asked for a better day," Hewitt agreed. "Overcast, cool conditions, really  well-organized like [Shepherd] said." He is training for Marine Corps after a friend unexpectedly transferred a bib to him. Shepherd is training for the Army Ten-Miler after appendicitis knocked her out of last year's race. Both felt good about their fall season after today's shakeouts.
An outsider would be forgiven their confusion at the sight of so many grimacing runners grunting, "I'm happy," at the finish line. We don't usually associate this much wincing or sweating with easygoing happiness. But with the pleasant conditions, PRs dropping like dominoes, and legs tested for upcoming goal races, these runners earned their good vibes.
Recent Stories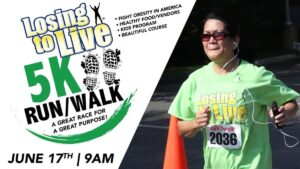 WHEN Saturday, June 17, 2023 at 9:00 am WHERE This convenient location is just minutes from your house located 1/2 mile inside the 1-495 Capital Beltway at exit 51. Spectators are welcome to watch and cheer on the runners. Capital