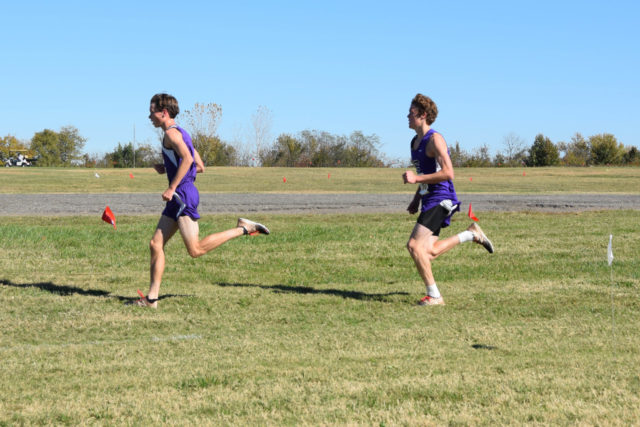 Fort Dupont Park offered a cross country course that is challenging, full of character and surprise for any spectators trying to follow the race through the winding trails.
But if the D.C. cross country championship wanted to grow in its fourth year, it was going to need a new home. After three years, spectator-friendly Kenilworth Park had proved itself as host of the DCXC Invitational and thus, the "state" meet had a new course, this time measured out to a full 5,000 meters. With it came some new teams who made themselves at home.
Gonzaga, which had held many of its top runners out of previous state meets, came back and won the boys' team title, lead by Harry Monroe and John Colucci finishing first and second. Will McCann (sixth), John Travis (eighth) and David Giannini (14th); Amal Mattoo (fifth) and Julian Dixon (seventh) led Sidwell into second place. Gonzaga also swept the top five places in the junior varsity race.
Monroe and Colucci ran together ahead of the pack until about halfway, when Monroe opened up a gap and went on to win in 16:19. Colucci finished 30 seconds back.
"We run our workouts together, so we're used to starting out our races together," he said. "After I got ahead of him, it felt a little weird because I'm not used to running on my own. I checked behind me to see how close I was to john; imagined someone running ahead of me to keep me focused."
The pair finished first and second on the rugged new Lake Fairfax course at the Washington Catholic Area Conference championships, where Gonzaga took second to Good Counsel.
Though Kenilworth Park was flat and fast and he came out on top of what is finally a collection of the district's best runners, Monroe thinks back to his fourth place finish at the Glory Days Invitational a month prior as his defining race so far this year.
"I was closer to Rohann (Asfaw, of Maryland's Richard Montgomery) than I ever expected," he said. The target on Asfaw's back comes from his finish at Nike Cross Southeast that was one place away from qualifying for the national meet. "I showed I could run when the course was muddy, and I am looking forward to trying to race him again (in three weeks)."
The Georgetown Day School duo of Josh Shelton and Jackson Todd remembered that race. Shelton went down in the first minute of the race. A half mile in, Todd, in the midst of a comeback from an IT band injury, saw his teammate run by "with a look of fury in his eyes."
Though he finished the race, Shelton limped away from the finish line. Todd, too, was out for a few weeks before both returned for last weekend's MAC championship, when Shelton and Todd finished third and seventh. They both improved to finish third (Shelton, in 16:54) and fourth (Todd, in 17:15).
"I'm disappointed, I wanted to do a lot my senior season, I had a lot of races to look forward to," Todd said. "Being able to come back at race here, though, is pretty great. We just kept our cool early on and ran strong second halves of the race."
Todd raced the Fort Dupont course last year in the rain but felt afterward like he had been put through a wringer.
"My hips and IT bands felt awful the next day," he said. "It's a cool place to run, but those trails are so narrow and half of it is broken up concrete…this is just a much better place to have a championship race. You just worry about running fast."
And Todd ran almost 20 seconds faster for fourth, coming off of an injury, than he did for second last year.
On the girls' side, Page Lester made her debut at this race after the National Cathedral School sat out during her freshman and sophomore years.
She and Georgetown Visitation freshman Megan Lynch jumped clear of the pack early on.
"I put in a few moves in the first loop to see how she'd respond and she stayed on me," Lester said.
After a mile and a half, Lester started pushing the pace consistently and shook free of Lynch and went on the win in 18:12, a minute ahead of Lynch, the same order as a week prior at the ISL championships. Lester thinks she has a new racing strategy.
"I just relax early on and not try to go out too hard," she said. "It turns out it's a lot more fun that having people pass you because you killed yourself in the start of the race. I was doing that for a long time."
That's how she's treated her season, after taking part of August and all of September off of running while she recovered from a stress reaction. And while being injured wasn't great, it gave her a break between triathlon season and cross country.
"Usually just go from one right into another and by the time championship season starts, I'm getting tired of it," she said. "Now I feel ready for more."
Lynch left soon after her race, but GVS coach Kevin Hughes said that despite being primarily a lacrosse and basketball player, she has adapted well to cross country.
"She can run all day long," he said. "I knew she had some endurance from those other sports, but not like this. She's been a great leader for us this season."
Lynch was followed by Michaela Kirvan and Michelle Horner in fourth and fifth places, Lauren Cormier in 17th and Brennan Dunne in 20th to win the team title over Wilson, which was led by Zakyrah Haynie and Arrington Peterson in sixth and seventh.
Cady Hyde, a St. Johns freshman, finished third in 19:28, a week after winning the WCAC individual title.
"I knew Page and Megan would go out hard, so I just wanted to hold back and work the second half and see if I could catch Megan," she said. "I was close, I think I was about six seconds behind her at one point, but she pulled away."
Recent Stories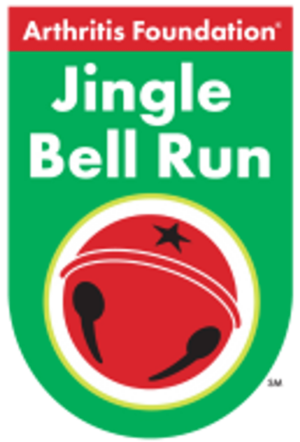 Be part of the original festive race for charity and signature Arthritis Foundation holiday event! Wear your favorite holiday attire and together, we'll jingle all the way to a cure! Register as an individual or bring a team of friends,