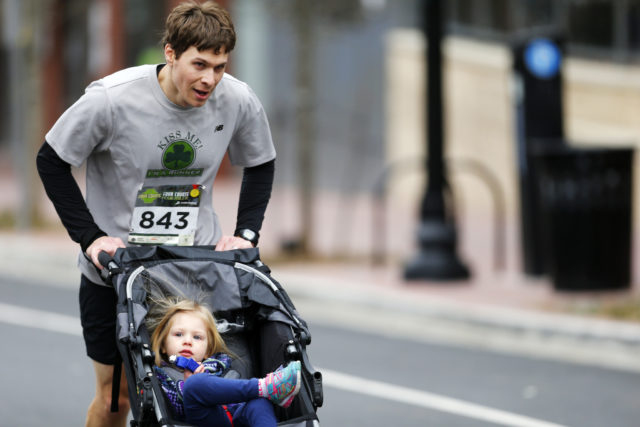 Let's get something out of the way early: There's nothing wrong with people passed by a running pushing a stroller.
When Alexandria's Matias Palavecino breezes by with Leo or Chloe in their BOB, know its an Ironman world championships qualifier getting in a little resistance work. He and young Leo trounced the competition several times at the Patent and Trademark Office Society Innovation 5k.
At last year's Alexandria Turkey Trot 5 Miler, he finished fourth in his age group with a time of 28:43 and earned himself a first-place finish in the stroller category.
Meanwhile, former Alexandria resident Emily Potter did most of her training for the Olympic Marathon Trials while pushing a double stroller.
So just because they're running for two, or three, that's no reason to discount them, or, race directors, listen up, relegate them to the back.
"Just because someone has a stroller doesn't mean they're going to be a slow runner," said Virginia Martinez, a mom of two who lives in Alexandria. "They're wanting to race just as hard."
Earlier this month, Martinez finished the Crawlin' Crab Half Marathon. Like with many races, they were required to start in the back of the pack.
"We were pushing about a 9:30 pace, so basically the whole race we were just passing people. I don't think we ever caught up to our pace group," she said. "Some people cheered for us as we went by. With other people you could tell it was kind of demoralizing for them to be passed by a stroller."
A member of the "Alexandria/Arlington, Va. Moms RUN This Town" Facebook group shared her thoughts on queuing up at the starting line with a stroller.
"Though race directors tell you start in the back, collectively, we all feel it's safer and more fair that we start with our predicted pace group," she wrote. "The typical experience (and this was true for me) seems to be that you listen to that instruction in your first race, run over a bunch of walkers in the first mile, and never start in the back again!"
Whether that's literally or figuratively run over, David Coia, of Arlington, still opts for races that don't allow strollers. And you can't blame him.
He started off 2016 at the New Year's Day Predictions and Resolutions 5k this year, when he was clipped from behind by a runner with a stroller just about 200 yards into the start of race.
"Like a cartoon, I went straight down, my right shoulder first, into the paved path — and literally rolled a couple times into the grass," Coia said. "Being clipped from behind, there's no warning. I couldn't see it coming. I couldn't prepare for it."
Unable to finish the race and in immense pain, Coia waited for EMTs to arrive. He spent the rest of the day in the emergency room. The diagnosis? A separated shoulder.
"It was a life-changing event," said Coia, who had finished the Marine Corps Marathon a few months prior and several 10ks and 5ks in between. "I was running regularly and I was weightlifting regularly. Of course I couldn't weightlift anymore. I had to stop that for a considerable amount of time. And to this day I'm still having trouble getting back into it because my shoulder's still sore."
While Coia doesn't seem to hold a grudge against all stroller runners, he does think there's no place for strollers at certain events.
"When they're just working out, I think it's a wonderful thing. I saw a woman on my running path pushing a stroller, walking her dog, feeding her dog, taking care of her child — it was a very impressive thing. I respect that. I can understand why they do that," he said. "But I think it's extremely selfish of them to run in crowded races. Especially given that it's apparently difficult to control those strollers. I don't know how this guy [at the Predictions and Resolutions 5k] ended up so close to me."
Victoria Sievers, of Arlington, thinks some races throughout the year — like Turkey Trots — attract participants who don't run very often and therefore aren't well versed in the usual rules of the road.
"People may not be familiar with someone running behind them yelling, 'Stroller up!'" explained Sievers, who has two sons, ages three and one.
Sievers recalls running the Alexandria Turkey Trot where she maintained a 9:00 pace with her stroller — but spent most of the time "trying to dodge and weave" while getting little support from other participants.
"There's a level of vitriol from other runners that really turns me off from running in races with a stroller," she said. But she appreciates why some races don't allow them.
"It's a safety issue. It adds another layer for the planners," she explained. "But I know for a lot of moms who have a spouse who is deployed or works a non-traditional schedule job, racing becomes impossible if they can't take the stroller with them."
"If I wanted to get a run in, I'd have to be out there with the kids," Martinez said. "You do what you have to do."
A runner since high school, Martinez said that for a long time the only way she could get her daughter to nap was if she put her in the stroller and went out for a run. For Sievers, being able to take her son on a run with her first thing in the morning meant she didn't have to pump before she left the house or worry about leaving milk for a bottle.
"I could stay out as long as I needed to," she said.
Many moms, like Laura O'Hara feel incorporating their kids into their running routine has had a positive impact both on themselves and their children.
"I enjoy racing with the stroller because it gives me a new competitive outlet at a time in my life when I do not have the time or energy to return to my previous fitness and it allows me to share the experience with my daughter and that's extremely gratifying," O'Hara said. "She already loves the road racing atmosphere — she refers to every sporting event as a 'race' and participants are all 'runners.'"
Martinez's daughter, now almost four years old, has grown to love her mom's running days.
"She loves it. She'll say some days, 'Are we going for a run today?' or if it's a rest day she'll say, 'Sigh… It's a rest day?'" she said. "She had an experience in a race environment and she had a really good time. She was holding her sign and her cowbell. She really loved it."
Recent Stories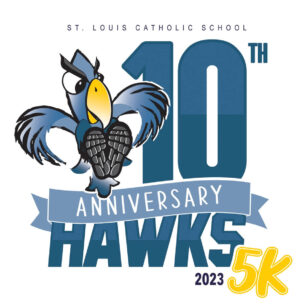 2023 will be the 10 year anniversary of the St. Louis Hawks 5K and Fun Run for Health & Wellness. The USATF certified course runs through the historic Hollin Hills neighborhood in Alexandria, VA.
The Hawks 5K goal, in conjunction