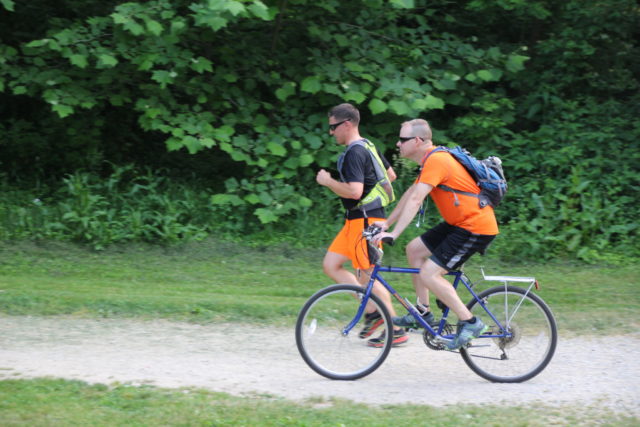 Joe Stammer never considered himself much of a runner. And yet, there was something appealing about signing up for a 200-mile relay. Tom's Run offered more than just a flat course and a good time, it offered a logistical challenge that intrigued Stammer: Runners have 35 hours to get their team from Cumberland to the finish line in Alexandria.
His team was welcoming, and Stammer took on the shortest legs–all under two miles. He wasn't too concerned with his speed. It was Tom's Run that helped him become a runner.
"It's a fun run. There's no race. It's all about camaraderie," Stammer, 52, explained.
Stammer, a Marine veteran and civilian worker with the Coast Guard, has now completed 15 Tom's Run Relays in the last 16 years, oversaw several teams over the years, and will lead a team this June. He's planning his legs of the race this year so that he's run the entire course while participating.
"By the time you get to your third leg, everyone is pretty exhausted and pretty beat. That's the challenge of it," Stammer said. "You're running way more than you usually do."
With an emphasis on team building and logistical challenges, Tom's Run has carved out a unique niche in the running world. It's also become popular among local Coast Guardsmen.
"Tom's Run is so representative of the Coast Guard," said Roger Butturini, race director and Tom's Run veteran. "The teams include many different kinds of people and they do a great deal of planning together. They embark with a goal, preserver, adapt along the way, see other teams on the trail, and everyone comes together at the end. It's magic."
The race is in tribute to Coast Guard Chief Warrant Officer Tom Brooks. Brooks was known to his family and friends as a sociable, caring and active guy. He loved spreading his passion for fitness with others.
"He had a reputation for energizing people. He did believe that getting up and getting around led to a happy lifestyle," Butturini said.
Brooks learned he had amyotrophic lateral sclerosis – ALS – in the late 1990s, and his friends rallied together in support. They initially created the race as a fundraising event. Even while sick and wheelchair bound, Brooks made appearances. Brooks passed away in 2003, but his legacy lives on through the yearly race.
With Brooks' ties to the Coast Guard, several Coast Guard organizations support the event, and the race has become a favorite among local Coasties. As a member of the Coast Guard himself, Butturini truly understands the power of a supportive community. And this race acts like "a showcase to advertise" what he appreciates most about the Coast Guard. Coast Guard values like perseverance, team work, self-sufficiency are all celebrated in the race.
While not everyone would describe a 200-mile run as "fun," Butturini swears that it is.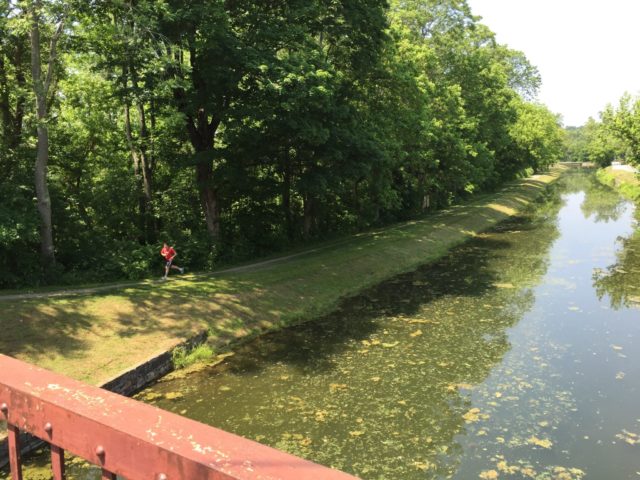 The only finishing time that truly matters is the time set by race officials. All racers must be at the finish line at 11 a.m Sunday morning and are given a 35-hour window to make the 200-mile trek.
This is where things get strategic. The official race start is midnight Saturday, but depending on a team's size and speed, they may alter when they start. Single racers are able to start earlier on Friday and several past teams have started late in the morning on Saturday.
"We're not running away from each other in Tom's Run. We're actually running towards each other," Butturini said. "And it's about helping other people."
And, there are very few restrictions. On average there about 30 teams and only 500 participants. Teams can be as small as one runner, or as many as a dozen. All teams are in charge of their own logistics, Butturini said, and that's what makes it an experiment in team building. If a runner isn't able to organize a team, they're able to join a team.
Teams are completely self-sufficient along the 200-mile course–no support is given aside from course directions. Runners reconnect with their teams at different transition stops. There are 32 legs in the course, varying in distance from about two miles to just under 12 miles.
Over 180 miles are on the C&O Canal Towpath. The course winds through the National Mall and ends at Fort Hunt Park near Mount Vernon. A party winds down the weekend.
Runners must be accompanied by a cyclist at all times. Some teams switch off bicycling duties, while single runners may bring in a support crew. Two participants may split up running and cycling duties during one leg based on their endurance.
You can learn a lot about your teammates when you're sleep-deprived, hungry and running before dawn. Butturini and his team have a cookout. Some teams eat s'mores or order pizza. Other teams send goofy photos of themselves to each other or play Frisbee at the transitions.
The run is also able to be completed virtually, Butturini said. A few years ago, a deployed reservist was able to run his six-mile leg while stationed in Iraq. They've had runners virtually participate in Oklahoma City, San Francisco and as far away as Sitka, Alaska.
Some Coast Guard Cutters completed their own Tom's Run while on board their ship by running around the flight deck several years ago.
The race doesn't make a profit. The website is bare bones and Butturini is a one-man show. He takes pride in the inexpensive entry fee ($14) and the race's minimalist style.
"It's not a fundraiser. It's about celebrating the concept of community among the people who are participating.
For Tom's Run veteran runner and Coast Guardsman Kelly Merchen, it's not another race.
"I love the concept of the team, unity, cohesiveness and support. When you do a regular 5k, you do it yourself…It's just you," said Merchen, 46. "But when you do this as a team, it's fun. It's not just running. It's staying up and running while sleep deprived. It's like going to church camp as a kid or doing a road trip; it's just fun."
This article originally appeared in the Summer 2017 issue of RunWashington
Recent Stories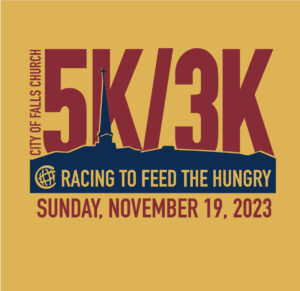 The out and back Falls Church City 5K/3K course is mostly flat on the W&OD Trail starting and finishing at 103 Columbia Street. Overall male and female winners earn free shoes and medals are awarded to all categories. Great family