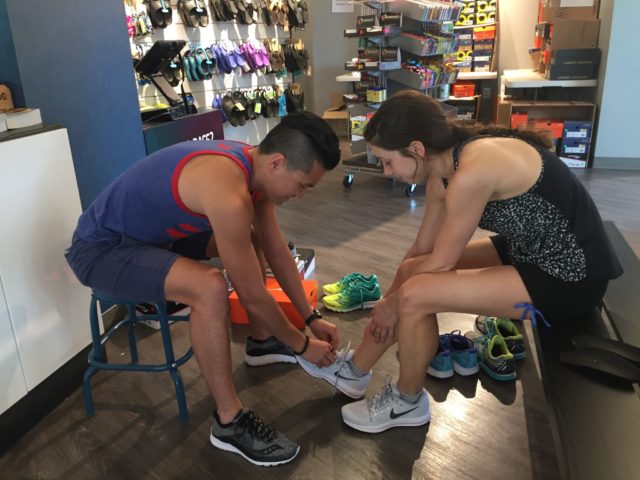 While their peers may be slurping down ice cream cones or putting in hours at their part-time job, local high school runners are gearing up for the upcoming cross country season.
With little turnaround between the last school bell and the start of summer practices, athletes don't have long to go before they lace up their shoes.
And their shoes are pretty important: It's pretty common for a high school runner to log hundreds of miles over the course of one season. And they need gear up to the challenge. Like pads for football, sticks for hockey or swimsuit and kickboards for swim team, it's important to get the right gear.
"Running is going to be the most efficient way of getting in shape and the least expensive sport a high schooler is going to participate in," said Chris Farley, owner and general manager at Pacers Running stores.
Training Shoes
Training runs can be long, much longer than a race day 5K, so runners need a shoe durable enough to stand up to the demands.
"The most essential piece of equipment is going to be a training shoe," said Ryan Long, COO of Potomac River Running. "The training shoe is going to be an everyday running shoe and typically a high schooler is going to like something a little lighter weight."
Purchasing shoes can be overwhelming, so Long recommends runners head into their local running store and get a gate analysis, if they haven't done so already. A gate analysis will check their movement, and result in a running shoe recommendation for their needs.
"Younger athletes are not accustomed to picking out their own shoes," Long said. "They don't really know what they're looking for."
Runners are looking for the proper amount of support and cushion based on their gate and foot type. And with shoes that have minimal cushion to those that look like pillows, a running store associate can provide the right guidance.
As their heel strikes down, some runners roll from their heels onto their toes and their arches bow in. This over–pronation is the result of too much movement of the foot and can put a lot of pressure on the ligaments up the leg. Stability shoes are designed to help alleviate the problem, with a dense piece of foam underneath the arch.
"The shoe will keep the runner in neutral position, all the way from heel to toe off," Long said.
0
Comments