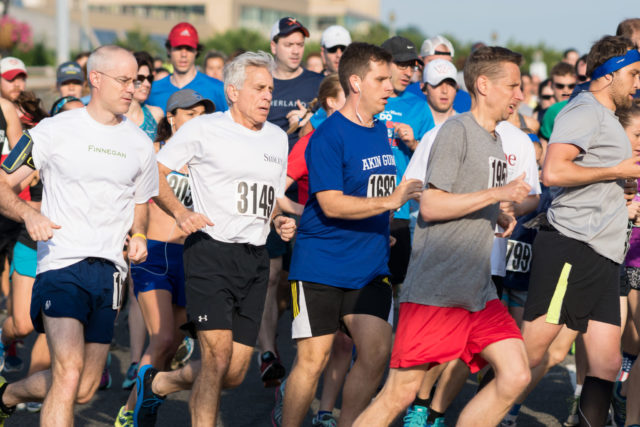 When life is dictated by 6-minute increments and responding to multiple competing demands every single day without breaking a sweat, you have a high-stress job. People who practice law are driven, competitive and have a massively high tolerance for pain and repetition. They aren't strangers to hard work. And, when they do take time for themselves, running seems like an easy transition: just a different set of rigors. They can compete when they run – against others or their own goals. They can push their limits each and every time they throw on their shoes. But strangely, they can simultaneously use the sport to clear their heads and lose themselves in the sheer joy of pounding pavement.  
And it just so happens you can't seem to swing a pair of shoes in this region without hitting a lawyer.

The personality profile of those who proudly attach "esquire" to their name is exactly what Jenny Paul, 29, contributes much of her success in both running and law. Paul does litigation and enforcement work at a large law firm and typically puts in a 50-60 hour week.
"Type-A, type-A, type-A!" Paul says. "I like structure, and I like goal setting, so I tend to be pretty rigid about making sure I follow my training plan and try to assess which workouts work and which don't." For her, the match between being an attorney and a runner is a perfect pairing of her passions and personality.
Paul not only won the 2016 Baystate Marathon last October and Virginia Beach's Shamrock Marathon in March, but also went sub-3, a huge mental barrier that she was extremely proud to break, reinforcing the driven, competitive nature of both lawyers and runners. She is also a member of a running club called The Dojo of Pain, composed of many local lawyers.
Despite the ties between determination and achievement, Paul also notes that "[running is] a great stress relief and it's an excuse to leave the house without your Blackberry."
Kelsey Feeheley, an insurance claims attorney who lives in Bethesda, agrees.
"A lot of what happens during my day is out of my control," Feeheley says. "Planning runs gives me control over a small part of my day and getting fresh air helps clear my mind."
While Feeheley doesn't consider herself a competitive runner, she has found that running has added many positive attributes to her day, mostly giving her something positive to look forward to.
While Paul and Feeheley admit to being part of a profession known for its high-stress, high demand expectations, they also feel that attorneys in the D.C. area aren't that different from other professionals. One great thing about running is it that your age, sex, religion or profession don't matter — we're all just here to run.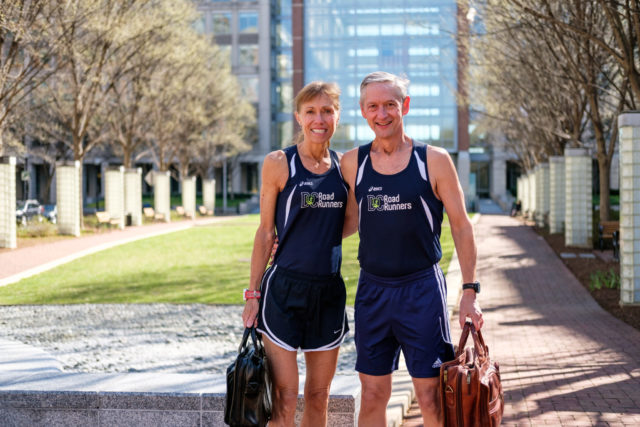 For Bob Draim and his wife, Ida, of Alexandria, running has been the backdrop of their lives. Now 62, Bob is breaking records left and right but he doesn't focus on the parallels with his profession when he contemplates his accomplishments as a runner.
"Yes, running has benefited me indirectly by keeping me focused physically and mentally," he says. "I don't know if there are a lot of lawyers who run since we do not usually discuss work at races — we might not even know someone's profession."

Bob's passion for running began after he finished law school while he was serving as a federal law clerk in Virginia. One day, a fellow clerk turned to Bob and asked if he'd like to join him in running the Shamrock Marathon in Virginia Beach. Almost on a lark, Bob took the plunge and ran the race. He was hooked. Over the years, Bob ran the Marine Corps Marathon, the Richmond Marathon, and countless other running races before switching to triathlons in the 1980s. During the 1980s and early 1990s, he completed over 50 triathlons. All the while, Bob was also busy building a career as a practicing attorney as a civil litigator, a career now spanning over 30 years. Bob is currently a partner with the Hudgins Law Firm in Alexandria. He is the author of two legal treatises: one on Virginia products liability law and the other on Virginia tort and personal injury law. Bob is the poster child for the hard-driving, committed lawyer and runner.
Ida's record is impressive, too. She ran her first competitive running races, mostly 10Ks, when the two were dating and engaged in the early 1990s. While raising their two sons, Ida kept in shape with early morning treadmill workouts, often at 4:30 a.m. so she could catch the early morning shuttle to New York City. Recovery from a health scare prompted her to resume competitive racing. In 2011, she had emergency surgery for a near-fatal twisted bowel and spent two weeks in the hospital. Back home, she would walk the neighborhood as part of her recovery and then started running with the goal of doing the MCM, which she ran in the fall of 2013 at the age of 57. She qualified for the 2015 Boston Marathon, which she ran in 3:56. Her marathon PR came this past fall in the New York Marathon, and her 3:53 was good for 7th in her age group.
One year after Ida's surgery, Bob underwent radiation and chemotherapy for treatment of stage 4 neck cancer, and when treatment was over, Bob followed Ida's lead and started training for running races and Nation's Triathlon.
After marrying Ida and starting a family, Bob was happy to race less while helping to manage a travel soccer team and officiate at swim meets. He may not have been running as much but the drive and competitiveness were still there. They were just focused on the success of their two sons.
Ida had a pretty impressive legal career in her own right. After serving as Special Counsel to the Chairman of the Securities Exchange Commission, she subsequently practiced securities regulation law for over 30 years, including as a partner in a Wall Street law firm. She retired in 2015.
Running has been part of the fabric of this dynamic couple for their entire marriage, and has helped them cope with adversity in a way their impressive legal talents could not.
Together, Bob and Ida joined Potomac Valley Track Club and were part of the team that won the Master's National Indoor Championship two years ago. They also joined D.C. Road Runners and each won the past two race series (Snowball and Bunion). 
While Bob and Ida might not link their careers to their passion for running, it is pretty clear that their personal characteristics have equipped them well to tackle both.  
There are lots of lawyers out there who have found their way to running and are pretty good at it, just like Jenny Paul, Kelsey Feeheley, and Bob and Ida Draim. In fact, the Lawyers Have Heart 10k and 5k in June gives them a chance to compete, individually and as part of their firm or agency's teams, all while raising money for heart disease research — a vulnerability for many attorneys.
If there's anything these runners can agree on, it's that running is for everyone, no matter your profession.  
This article originally appeared in the Summer 2017 issue of RunWashington
Recent Stories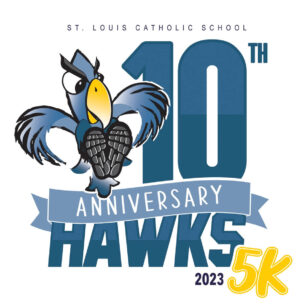 2023 will be the 10 year anniversary of the St. Louis Hawks 5K and Fun Run for Health & Wellness. The USATF certified course runs through the historic Hollin Hills neighborhood in Alexandria, VA.
The Hawks 5K goal, in conjunction