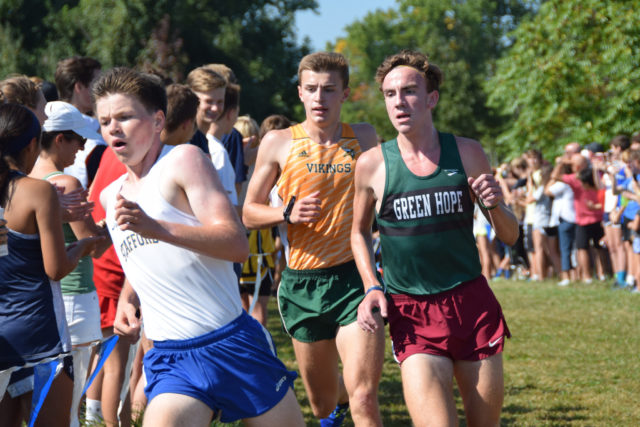 The Oatlands Invitational in Leesburg served as a showcase for the nearby Loudoun Valley, but not just the school's nationally-top-ranked boys' varsity team. Junior Sam Affolder's 15:43 win for 5k led the way for five team titles and three runner-up finishes for various Viking teams.
Affolder, seniors Peter Morris (third, 16:01) and Colton Bogucki (ninth, 16:19), and juniors Jacob Hunter (13th, 16:29) and Jacob Windle (20th, 16:52) scored 46 team points and had all finished before second place Cary, N.C.,'s Green Hope had two runners in. The Falcons, who also came up for the 2014 DCXC Invitational, scored 117 points and Delaware's Salesianum School was third with 194 points.
Oatlands Invitational
Sept. 16, 2017- Oatlands Plantation
Leesburg, Va.
3.1 miles
Boys
1.Sam Affolder Loudoun Valley 15:43
2.Price Owens Grafton 15:59
3.Peter Morris Loudoun Valley 16:01
4.Philip Lambert Stafford 16:01
5.Peyton Barish Green Hope 16:14
1.Loudoun Valley 46
2.Green Hope 117
3.Selsianum 194
4.Tuscarora 197
5.Calvert 246
Girls
1.Emma Wolcott Tuscarora 18:52
2.Julia Ghiselli Annandale 18:59
3.Allison Fick Colonial Forge 19:07
4.Natalie Morris Loudoun Valley 19:14
5.Abigail Church Freedom 19:19
1.Loudoun Valley 104
2.Chantilly 214
3.Tuscarora 220
4.Albemarle 239
5.W.T.Woodson 315
In the varsity B races, the all-age junior varsity division, the Viking boys missed only second place out of the top six, and the girls had five in the top 18.
"As a coach, at this point in the season, that's what you want to see," coach Marc Hunter said of the down-slate results for the Vikings. "Those guys on the varsity B team, they could probably qualify for states in 4A. Sometimes you can lose heart if you're the 17th guy on the team, but nobody's hanging their heads. They're really competing in each race."
Affolder and Morris both expected Stafford's Philip Lambert to take the first mile hard, and while Morris remained around 30th place into the second mile, Affolder and Green Hope's Peyton Barish gained on Lambert.
"I was going to chase him so he didn't get too far away and let the other guys know he wasn't out of reach," Affolder said. "We were out here on Wednesday and I saw how much deceiving uphill there was in the second mile, so I was ready for that. (Barish) and I communicated during the race that we should start moving up on Philip."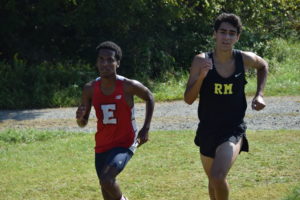 Affolder was on his own at the two-mile mark, and at the top of a long hill, he surged around a blind spot. Barish, Lambert and Foot Locker finalist Price Owens of Grafton were in pursuit.
"I looked and saw them suffering on "The Wall," so I put the burners on so once they hit the corner and see how far ahead I am, they'll be mentally broken," he said,
Meanwhile, Morris focused on the ankle-deep creek crossing at the bottom of a hill about 1.5 miles into the race, and trusted his experience with the Oatlands course to propel him through the water, confident that he'd find the best footing.
"A lot of people get to the bottom of the hill and get discouraged because they have to start going back up," he said. "That's when I started to move up," and he was fifth at the end of the second mile.
Morris caught Lambert at the line for third place in 16:01. Owens had finished second just ahead in 15:59.
"I don't think he knew I was back there," Morris said of Lambert.
On the girls' side, Morris' twin sister Natalie was fourth (19:14) to lead the Loudoun Valley girls to their third straight invitational win, following Great Meadow in August and Pennsylvania's PTXC the week prior. While she has been a steady contributor for the Vikings for the past few years, she's been joined near the top of races by freshman Ricky Fetterolf, who finished ninth in 19:43. Also for the Vikings, Alice Roberts finished 27th in 20:46, Elise Abbe was 32nd in 20:51 and Noelle Saine was 42nd in 21:03.
Hunter said Fetterolf has improved steadily from her Nova Athletic Club days once she started running six days a week.
"It's amazing how kids blossom when they have these long, extended training periods," Hunter said. "We just have to keep challenging her, and she'll keep trying to run with Natalie."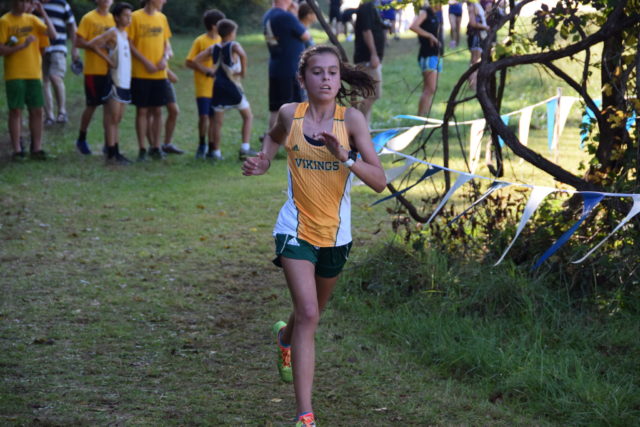 Tuscarora senior Emma Wolcott, second last week to Annandale freshman Julia Ghiselli at the Monroe Parker Invitational, gapped Ghiselli on the way down the hill in the third mile and held on for a 18:52-18:59 win.
"I didn't really have a plan, but we had some of the top girls in the state coming here so I wanted to see how they would run," Wolcott said. "I don't usually get out fast, but that's okay because this is a tough course."
Coach Troy Harry told her the second half of the race should belong to Wolcott, which motivated her.
"I wasn't expecting to win, but it shows me that I'm pretty tough."
On a hot day, with little shade on most of the course by the time varsity races started at 10, more than a few runners also challenged themselves and were pleased to see how they ended up.
Chantilly's girls are riding the momentum from their state championship qualification last year, which has been driving their season so far.
"It woke them up a little," said coach Matt Gilchrist. "They saw what they could do and they want more of it, especially since we hadn't made it for a while."
He said their goals for the day were to finish in the top 10.
"It was a little bit of a surprise, but it's a good one," Gilchrist said. "They can look at those results and see that what they are doing is paying off."
Bethesda-Chevy Chase senior Adam Nakasaka edged Richard Montgomery's Mark Unger for sixth place in 16:15, making him the first Maryland finisher.
"This year, I was racing guys like Sam Affolder, Price Owens and Peter Morris, guys who have made nationals," he said. "Last year I just felt like I was running in the same race. I feel like I'm stepping up."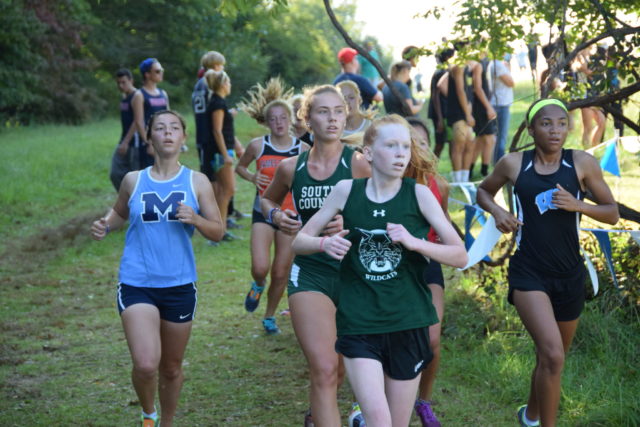 Recent Stories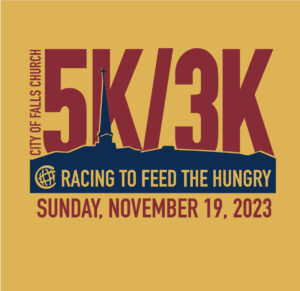 The out and back Falls Church City 5K/3K course is mostly flat on the W&OD Trail starting and finishing at 103 Columbia Street. Overall male and female winners earn free shoes and medals are awarded to all categories. Great family